Sports
College Football Week 14 Predictions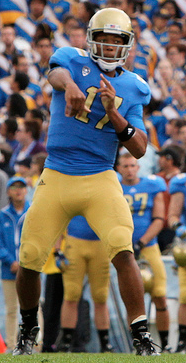 It's deja vu all over again for Pac-12 fans. as Stanford faces UCLA once again in the conference championship game. Even though the Cardinal won handily last week, expect Friday's matchup to be a contentious affair with the Rose Bowl on the line. Meanwhile, no one seems to be giving Georgia much of a chance in the SEC title game. Let's see what our writers think, with the Big 10 Championship thrown in for good measure:
No. 16 UCLA at No. 8 Stanford
Jeremy Shapiro (25-13 season pick record): Stanford 24 – UCLA 20: This is the Pac-12 Championship game that no one saw coming. Stanford's stout defense made Brett Hundley look like a freshman in last week's victory, and don't expect that to change in this week's rematch. Stepfan Taylor will continue his monster season while opening up play-action opportunities for Kevin Hogan and Zach Ertz down the field.
Matthew Tufts (23-24 season pick record): Stanford 28 - UCLA 17: Stanford won the first matchup last week fairly easily, but as UCLA - Stanford Part II draws nearer, the pressure mounts for "The Farm." The Cardinal defense has been lights out in all but one game, capped by a stunning performance against Oregon where they held the offensive juggernaut to a mere 14 points. It's difficult to beat a team twice in a season and even more difficult to beat a team twice in the span of a week. However, if there's a team to do it, it's Stanford.
No. 2 Alabama vs. No. 3 Georgia
Shapiro: Alabama 27 - Georgia 17: Both teams have a golden opportunity with a trip to the national championship on the line. The outcome of the game is going to hinge on Aaron Murray's shoulders. Unfortunately for Georgia, the consistent passer's lack of mobility will be exposed by Alabama's ferocious front seven. Alabama will prove that defense still wins championships.
Tufts: Alabama 20 - Georgia 14: As SEC Armageddon is set to kick off this Saturday, the winner will take the responsibility of representing the conference that has produced the BCS champion six years running. Both teams suffered one critical loss, but benefited from late defeats by many of the top teams. Experience and style of play will have an effect though. Georgia won't be able to match the Crimson Tide's methodical defense, sending Alabama to a third BCS Championship game in four years.
No. 12 Nebraska vs. Wisconsin
Shapiro: Wisconsin 23 – Nebraska 21: Wisconsin's 7-5 record is not an accurate representation of its caliber of play after losing three overtime games and two others decided by a total of six points. Montee Ball is the Badgers' lone constant, and he will have to find room to run in order to take pressure off inexperienced quarterback Curt Phillips. The Badgers will find a way to contain Taylor Martinez and stamp their ticket to Pasadena.
Tufts: Wisconsin 24 - Nebraska 23: Nebraska's high-octane offense has fueled the team for most of the season. Sophomore running back Ameer Abdullah contributes much to the Cornhuskers' offense, but he hasn't scored a touchdown since October. However, if there's someone out there who can slow down the game and run the ball better than Nebraska, it's Montee Ball and the Badgers.