Sports
College Football Week 11 Predictions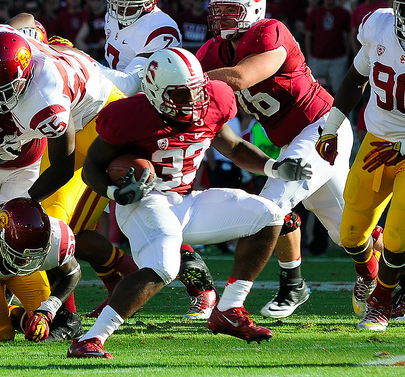 We've reached the point in the college football season where reality has sunk in. These teams know who they are, and what they must do to have a successful season. For some that means continuing to dominate everything in their path, while others will be looking to define their season with a huge upset victory. But not everyone can have their way. Let's see how our writers see things playing out:
No. 11 Oregon State at No. 14 Stanford
Fuentes: Oregon State 24 - Stanford 17: Mike Riley wisely handed the reins of the Beaver offense to Cody Vaz last weekend and the QB rewarded him with three touchdown passes in a win over Arizona State. On the other sideline, Stanford head coach David Shaw has entrusted redshirt freshman Kevin Hogan with the starting quarterback job in place of the inconsistent Josh Nunes. Vaz, with all of three starts on his resume, is the "veteran" in this game, so the edge goes to the Beavers.
Fuster: Stanford 24 - Oregon State 21: I believe that the Beavers' rise to prominence is legit, but Stanford has already been here for a few years now and know what it's like to play a top-25 game like this. Stanford's backup QB Kevin Hogan will have some hiccups, but the strong Cardinal defense, led by their D-Line that has bagged 39 sacks this season, will give him plenty of support. Stanford holds on in a game that won't be decided until the fourth quarter.
Shapiro: Stanford 20 – Oregon State 17: Both Stanford and Oregon State have squads that mirror each other with swarming defenses and questionable quarterback play. This Pac-12 showdown will be a slow, grind-it-out game. Stepfan Taylor, the reliable senior workhorse running back for the Cardinal, will be the difference on Saturday.
Tufts: Oregon State 24 - Stanford 23: It is unlikely that the winner of this game will overtake Oregon for the top spot in the Pac-12 North, but a win by either team can certainly add legitimacy come bowl season. Both teams have impressive defenses and the quarterbacks have both been pleasant surprises. This game is bound to be close, but in the end the Beavers will get by with a narrow win to set up a huge game against the Ducks in two weeks.
No. 15 Texas A&M at No. 1 Alabama
Ferreira: Alabama 35 - Texas A&M 14: The Aggies are doing well for themselves in their inaugural SEC season, but they aren't ready to knock off the mighty Crimson Tide. Alabama had a scare last week at LSU, and if A&M can implement a similar gameplan to that of the Tigers, they could keep this one from getting too ugly. But in the end, 'Bama prevails, as usual.

Fuentes: Texas A&M 31 - Alabama 28: There's just something about about Texas A&M head coach Kevin Sumlin and his freshman wunderkind, Johnny Manziel. Johnny "Football" has taken Sumlin's high-paced offense and revolutionized the SEC. Alabama's defense will certainly look to take Manziel down a notch, but as we saw last week against LSU, the Crimson Tide are beatable and this Aggies team is built to put points on the board and steal a win in Tuscaloosa.

Fuster: Alabama 28 - Texas A&M 14: The Tide looked mortal for the first time this season against LSU, but the Aggies defense isn't of the same caliber as the Tigers'. Johnny Manziel has yet to be totally defeated by a defense, but when he faced Florida and LSU, he was held to an average of 43 rushing yards. Judging by that data, the Alabama defense should be able to contain his explosiveness and keep the A&M offense from taking the lead.

Shapiro: Alabama 33 – Texas A&M 20: Alabama cemented their status as the premier program in college football with a last-minute win against LSU last weekend. Texas A&M's potent offense poses the Crimson Tide's last real obstacle before the SEC Championship Game. Freshman phenomenon Johnny Manziel will show why he's still a freshman when facing the insurmountable task of playing Alabama in Tuscaloosa.

Tufts: Alabama 24 - Texas A&M 17: This week's marquee matchup pits Johnny Manziel and the high flying Aggies offense against the top-ranked defense of the Crimson Tide. If Johnny "Football" is on, his maneuverability and the fast-paced, no-huddle offense of Texas A&M could keep this game closer than expected. However, keeping it "close" won't bother Alabama and the Tide will improve to 10-0.

No. 21 Mississippi State at No. 7 LSU
Ferreira: LSU 21 - Mississippi State 10: The Tigers almost delighted college football fans everywhere last weekend by knocking off Alabama, but as the saying goes, "close only counts in horseshoes and hand grenades." LSU now looks to prevent a third loss this season and the Mississippi State Bulldogs don't seem poised to upset the Tigers. Les Miles and his squad will control the atmosphere in Death Valley and win the equivalent of a blowout in the SEC.

Fuentes: LSU 21 - Mississippi State 7: The Bulldogs' 7-0 start was a bit misleading -- they're good, but not yet good enough to compete with the top programs in the SEC. Meanwhile, even as their hopes of a National Championship vanished, the LSU Tigers still have a lot to play for this year, and it'll be a cold day in hell before they drop another contest in Death Valley. In other words, don't bet on a bounce-back game for Tyler Russell this Saturday against an LSU defense with a lot to prove.

Fuster: LSU 28 - Mississippi State 17: It's a battle between two teams trying to bounce back from tough losses, and say it with me, folks ... "It all comes down to Zach Mettenberger." Whether the talented but much-debated LSU quarterback can perform against a Bulldogs defense adept at forcing turnovers will be the key to the game.

Shapiro: LSU 34 – Mississippi State 13: Mississippi State is reeling after two consecutive drubbings at the hands of SEC opponents, prior to a surprisingly hot start to the season. LSU is going to take out its anger stemming from last week's devastating loss against an overmatched Mississippi State team.

Tufts: LSU 27 - Mississippi State 10: LSU couldn't edge out Alabama last week, but the Tigers did show that they can hang with any team in the nation. An absolutely tenacious defense will shut down the Bulldogs offense that has struggled to put up double digits in the past three weeks. Fun fact: Mississippi State hasn't beaten LSU since 1999.