Los Angeles
99Rise Activist Recounts Past Life Of Drugs And Jail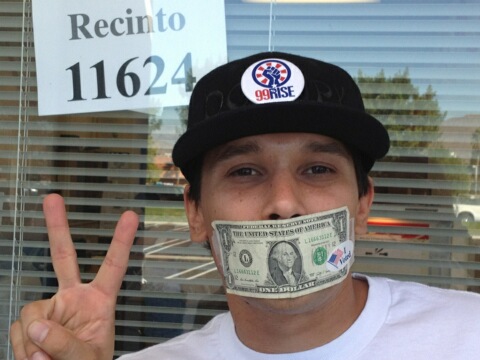 In the Riverside home he shares with his fiancé, mother and stepfather, Nick Wagner lives next door to a foreclosed house that's been conquered by squatters. The squatters found a way to reroute the home's paperwork to avoid eviction, and have turned the place into a flophouse, Wagner said.
While the nearby squalor puts Wagner constantly on edge, he said that he feels bad for his new neighbors. "I've lived on the street before and it's no joke. It's hard," he said. "I would do the same thing."
The 33-year-old Occupy L.A. and 99Rise activist spent his mid-twenties addicted to meth, living on the streets because his mother had kicked him out and placed a restraining order against him. His former fiancé left him for their drug dealer.
He hung around Hollywood Boulevard, watching one day as a group of guys stole a car and made it look easy. He and a couple street pals noticed a car on Wilcox that had its window down and keys in the ignition. Inside were several cartons of cigarettes, and instead of stealing the car Wagner decided to swipe the cigarettes to sell them. Suddenly cops swarmed him with guns drawn, and he was headed to L.A. County Jail for three months on attempted burglary charges.
At L.A. County, Wagner, half-white, half-Mexican—"a mixed breed," he calls himself—got caught in a near-comic tug-o-war over which racially segregated prison gang to join for protection: the "Woods" (whites) or the "Southside" Hispanics. Thinking that the Southside way of life would get too violent, Wagner chose to live as a white man, soon finding that gang allegiance irked his sense of individuality.
"I got really irritated by hearing 'Wood' all the time," Wagner said. "They were like 'Wassup Wood? Hey, good morning Wood. How you doin, Wood?' I went up to the representative—each race has a representative—so I went up to the Woods' rep and I was like 'Hey dude, you know, I have a name. My name is Nick. If these guys just call me Nick I'm cool but that 'Wood' shit has got to go.'"
His insubordination earned him a beating and expulsion from the white orb of protection. In a barracks of 40 or 50 inmates, Wagner soon became the guy nobody wanted to be friends with, since he was in limbo and the subject of conversations in Wood and Southside meetings, both groups trying to figure out what to do with him.
Soon he was approached by the Southside rep, who told him to go back in the showers to "get jumped in" to their gang. "I was like 'No, I'm not gonna get jumped. Who are you to tell me what to do? I'm not down with all this racial politics shit. I'm here to just do my time. Leave me the fuck alone,'" Wagner said.
After some more political deliberation, the Southsiders gave Wagner the choice to "get jumped in" or to "roll out" (to ask the guards to change barracks). The latter, apparently, was "the lowest of the low" way to go. "You're a major pussy if you do that," Wagner said.
So after taking introductory and expulsive beatings from the white gang, Wagner then accepted the 30-second beating as a rite of passage into acceptance as a Mexican inmate. After that, the rest of his jail sentence went smoothly. "If you get locked up," Wagner said, laughing, "know who you're gonna roll with, and don't bitch about it."
Three months in jail also afforded Wagner the fortitude to kick his meth habit, and once he got released he called his mother, who realized he'd changed and accepted him back. Wagner insisted that he'd had the mind of a political activist the whole time, especially since he said he "hated [George W.] Bush."
Authority issues have followed him everywhere he's gone. He had first been homeless as a teenager in the nineties because he couldn't get along with his father, and he claims that he's never been able to hold down a job for more than a year because he starts taking issue with the companies and supervisors he works for. He said he voted for Roseanne Barr in the 2012 election.
Now, facing two years of probation for his participation in a September protest at the downtown L.A. Bank of America, Wagner has to worry every day about having contact with the police, which he says is nothing new because he's been "profiled" by police his whole life.
Living at his mom's house, he knows that he needs to start looking again for a regular job to support his acting career. When he was 15 years old he was in a Capri Sun juice commercial and since then he's done extra work and helped with friends' independent films.
He's also enrolled at L.A. City College, but took the semester off to make some money, even though he's been more urgently pursuing his life as an activist, trying to make things fair in this country—and getting arrested for doing it.
Read more of Neon Tommy's coverage of 99Rise here.
Reach Assistant News Editor Michael Juliani here.