National
What Is It Like To Attend A Presidential Debate?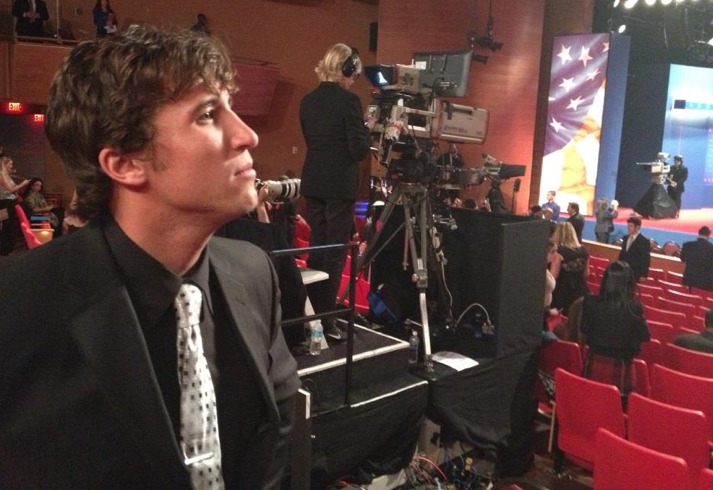 Gavin Simnock, a senior at Lynn University, called the experience of seeing the two presidential candidates in person "epic."
He and about 100 other Fighting Knights at the Boca Raton, Florida school won tickets on Sunday to the last presidential debate of 2012. Of Lynn's 2,100 students, 756 applied to win tickets.
"I can't tell you what it is like seeing Mitt Romney and Barack Obama in person," Simnock said, still unable to find the right words the morning after the debate. "I'm not a guy that follows politics that much, but this was a once-in-a-lifetime opportunity to see them with your own eyes."
Simnock lined up to enter the debate hall about 90 minutes before moderator Bob Schieffer asked the first question. He sat about a dozen rows behind the wooden table where the candidates debated on stage. While he and the others were able to bring their cell phones, the devices had to be turned off during the debate. Only when the families of the candidates walked on stage to greet Obama and Romney post-debate were the 500 audience members allowed to start snapping pictures.
"You got to be on your best behavior," Simnock said. "If you do anything silly, they'll chuck you out."
Like one in four Lynn students, Simnock is an international student. Because he carries British and not American citizenship, he can't vote yet. But he said he would be leaning Obama if could vote.
He said the debate would attract even more fellow international students and others from the U.S. to Lynn. The university spent at least $5 million to put on the debate.
"Lynn will definitely be on the map because of this," he said.
Simnock had returned to working on projects for his six classes Tuesday morning, but the memories from Monday night won't disappear anytime soon.
As far as the rest of campus, about 3,000 people watched the debate at a viewing party on Lynn's soccer field after a pool party in the afternoon.
"A giant tent featured two massive televisions surrounded by chic couches, cash bars and candy stations. Waiters and waitresses moved through the crowd offering trays of mousse to partygoers.

Outside the tent, inflatable TV projectors were set up along with even more seating. A band played in the corner while students got their faces painted, posed for pictures with cutouts of Obama and Romney, or took turns going down an inflatable slide. More than 20 food trucks parked near the soccer field sold everything from gourmet grilled cheese sandwiches to deluxe hot dogs.

…

Although evidence of alcohol was notable among some partygoers — a few students yelled rowdy comments, and others fell asleep during the debate — the majority of students watched and responded with enthusiasm as the two candidates sparred."
Like reporter Paresh Dave on Facebook, follow him on Twitter, circle him on Google+ or send him an e-mail.