Los Angeles
Watchdog Organizations Give Sheriff Baca Shot At Redemption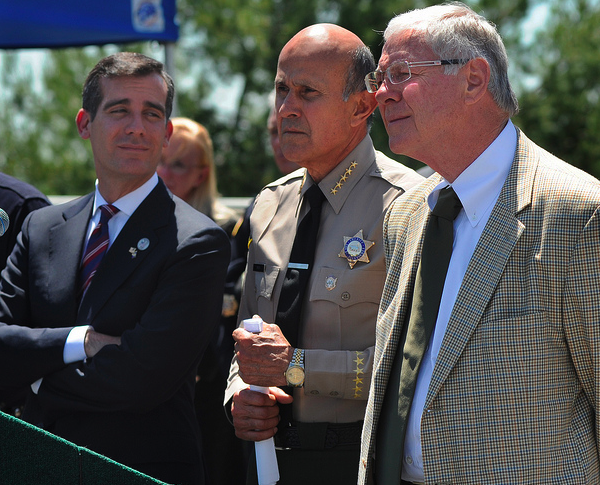 The American Civil Liberties Union of Southern California, ACLU, and the Citizens' Commission on Jail Violence are giving Sheriff Lee Baca a second chance on fixing prison deputy behavior amid mounting evidence of inmate abuse.
"If the sheriff commits himself to a process to structural change and true change of personnel, the sheriff can achieve the type of change we suggested," said Miriam Krinsky, the executive director of the Jail Commission at the Citizens' Commission on Jail Violence.
Baca agreed on Wednesday to a list of proposed reforms by the Citizens' Commission, including adding a new custody expert to his work force by Jan. 1 and harsher punishments for abuse.
Changes aim to increase the number of supervisors watching deputies and dishonest deputies will be dismissed rather than suspended, according to the L.A. Times.
The ACLU, which demanded Baca's resignation in 2011, is also giving Baca another opportunity to change the way deputies treat inmates.
"This week's indication that the LASD intends to follow the Commission's recommendations is a welcome departure from its tired mantra… However, we have heard about his intentions to turn things around in the past, with little to show for it. So, we intend to watch closely to make sure he keeps his eye on the ball and lives up to his commitment," the ACLU's website said.
Nicole Nishida, public information officer for the L.A. County Sheriff's Department, said that because Baca is cooperating, no one is asking for his resignation, despite the alleged abuses.
"He agreed to all the suggestions of the Citizens' Commission and already implemented 20 of the 63 changes," Nishida said.
The Citizen's Commission realizes that a new sheriff would have little or no intimate knowledge of the current prison system in Los Angeles and would need to start from scratch. Instead of replacing Baca, the Los Angeles County Board of Supervisors appointed an independent monitor to oversee changes.
"These are changes that are achievable and can be and should be accomplished. The sheriff should be given the opportunity to achieve these changes by recognizing, that at the end of the day, if he fails to do so it will be up the voters to hold him accountable," said Krinsky.
The ACLU and Citizens' Commission can call for his resignation, but since Baca is an elected official, he has to be removed from office by a popular vote.
Reach Staff Reporter Katherine Ostrowski here.