USC Sports
USC Weekly Roundtable: Colorado Edition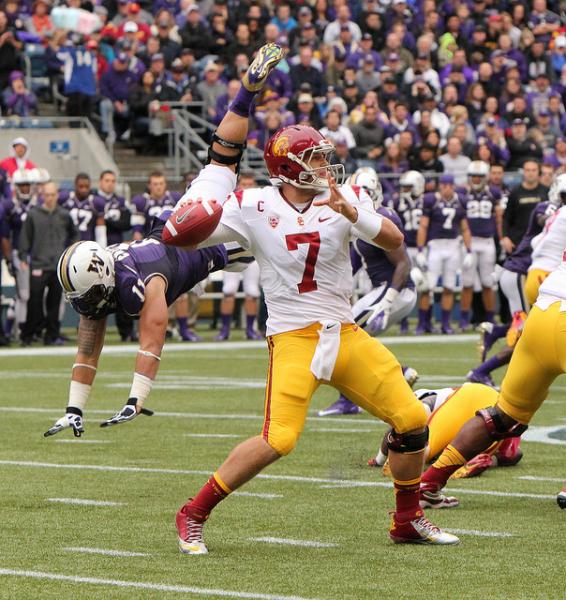 Ask five people what's wrong with USC's offense and you'll encounter the college football equivalent of a Web M.D. forum where everyone has a different answer.
Too much Robert Woods and Marqise Lee.
Too little downfield passing.
The offensive line can't pass protect.
Lane Kiffin is a terrible play caller.
Matt Barkley needs to pick it up.
And on, and on it goes.
Here at the USC Weekly Roundtable, we're not sure which diagnosis is correct – but we do have the wonder cure.
Ladies and gentlemen, it's Colorado week.
We'll go out on a limb and say it now: USC's going to win on Saturday. By a lot. They're probably going to throw the ball a lot, too, and we're betting that Barkley, Woods, and Lee all have pretty stat lines when it's all said and done.
But there's a lot more to be said about the state of affairs, and Mike Piellucci and Omar Shamout have it covered.
Lane Kiffin has caught a lot of flak for his playcalling last weekend. Was he too timid, or was he simply being smart and sitting on his lead?
Mike Piellucci – I didn't have too much of an issue with it. Kiffin said this week that he's less apt to take risks on the road, and given some of the issues USC's had in recent years at Washington, I can't blame him. The bottom line is if Kiffin wanted to go for the jugular, he could have. Instead, he minimized risk, ran down the clock, and beat a good team in one of the loudest road venues in the country by double digits. I'll take that any day.
Omar Shamout - USC has a 3rd-and-6 on the Washington 28-yard line with about six minutes to go in the fourth and up by 10. However, they've also just had a major reprieve when Jawanza Starling forced a Keith Price fumble on the USC four-yard line and could really use a score to put this game on ice. Last year, and even in the first few games of this season, you would have put all your money on a pass from supposed Heisman Trophy-candidate Barkley pass to either Woods, Marqise Lee or tight end Xavier Grimble. Instead, Kiffin chooses to run up the gut with Curtis McNeal, who gains one yard. As if that wasn't strange enough, he then chooses to pass on 4th down, only to see Barkley get sacked. Those have to be two of the more baffling back-to-back calls in Lane Kiffin's three-year tenure as head coach. It's hard to even say he was being timid when he dialed up a pass on fourth down. What if Barkley fumbled and a Washington defensive lineman ran it back for a touchdown. What then?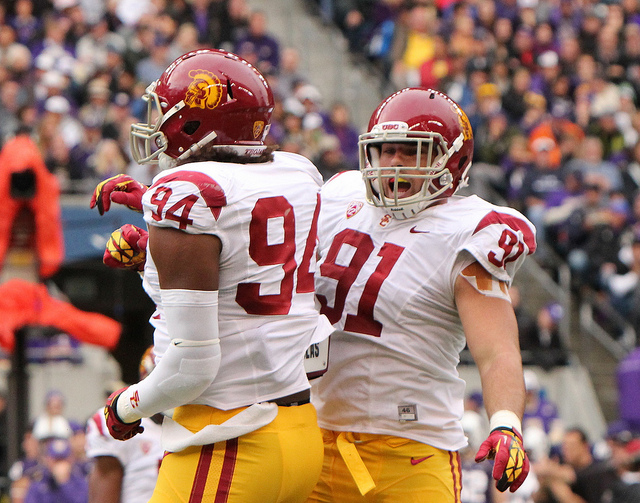 After arguably its best performance of the season, USC's defense is getting plenty of attention. What, in your mind, is its best unit - defensive line, linebackers, or secondary?
Piellucci – Thanks to the emergence of Morgan Breslin and Leonard Williams, the defensive line has emerged as a force and in the process given USC a bevy of playmakers in all three levels of the defense. But Kiffin has harped time and again about this team's lack of quality reserves, so I'm picking the linebackers not because of the Dion Bailey-Hayes Pullard-Lamar Dawson triumvirate, but because of two guys who come off the bench. Anthony Sarao is tantamount to a fourth starter, frequently coming in at weakside linebacker and shifting Pullard to the middle to give USC one of the fastest combinations in the conference. Tony Burnett, meanwhile, has gone from a walk-on safety to a competent backup for Bailey on the strong side. Neither is a game-changer the way Clay Matthews was in 2008 but they're both reliable and on this team, that's more than can be said for the second string at a lot of positions.

Shamout - Well, it's not the secondary. Nickell Robey has been solid, but Kiffin admitted last week that he still hasn't decided who his starting cornerback is on the other side of the field. Over the past three weeks, the defense has allowed only 91 rushing yards per game on average, and that's mostly due to the strong play of the defensive line. Additionally, 21 of the team's 22 sacks have come from D-linemen, including 7 from Morgan Breslin and 5.5 from Leonard Williams. It's got to be them.
Silas Redd put up another huge game and is now on pace for 1,140 rushing yards. Buy or sell, Redd is the best Trojan running back since the Reggie Bush/LenDale White tandem?
Piellucci – If this question was about who was the most physically gifted Trojan back since Bush and White, then Joe McKnight would be the obvious answer. But McKnight really only put it together in his junior season after he reshaped his style from a scatback who tried to bounce everything to the outside to a one-cut-and-go runner. Redd's vision and self-awareness allow him to play exactly like what he is – a predominantly north-and-south runner, who has the quicks to turn the corner when the hole is there. It's no accident that he's averaging over five yards a carry or that he's currently on pace for 1,140 rushing yards, which would be more than a USC back since Bush and White. That's not to say Redd is in their league, but he's a cut above anyone since.
Shamout - Presuming Redd continues his strong play through the tough stretch run at the end of the season, I'll buy that. McKnight was more versatile, but in 2009, his most productive season, he rushed for 1,014 yards. Marc Tyler's final season was marred by injury, so if Redd can stay healthy and hold on to the ball, it would seem like he's well on his way.
The initial BCS rankings are out and USC is ranked 10th. Is that too high, too low, or about right?

Piellucci – Too low… by one spot. I'm sorry, but I can't take the hypocrisy of the entire college football landscape trying to one-up each other on who thinks Texas is no better than last year's 5-6 mess, only to then jump Oklahoma up to ninth for blowing out that same terrible team. Big picture, though, 10th isn't too far off the mark and if USC handles its business down the stretch, they'll climb up the ladder
Shamout - That's about right. The Trojans are still a week away from the red meat of their schedule, so a succession of wins would lead to a rise up the rankings.
Last year, Colorado went into its game with USC having one win and wound up losing by 25 points. This year, Colorado also boasts just one win before Saturday's game in the Coliseum. Does USC beat Colorado by more or less than 25 points this weekend?
Piellucci – More, but it'll be closer to 25 than the ludicrous 40.5 point spread. Kiffin said Thursday he wants the backups to play if at all possible, so I'm expecting plenty of Max Wittek in the 4th quarter – but not before arkley breaks the conference record for touchdown passes in a career and Robert Woods sets the USC mark for most-ever receptions.
Shamout - If there were a more perfect Pac-12 opponent for Matt Barkley to face in order to kickstart a final Heisman push, I'm not sure who it is. The Buffaloes have allowed at least two passing touchdowns in every game, including five apiece to ASU and Fresno State. Plus, their defense is giving up over 310 passing yards per game. Barkley and his receiving corps should have a field day back home in the Coliseum, so I expect the Trojans to finally cover the spread this week.