USC Sports
USC Football: Tight End Xavier Grimble Keeps Catching And Blocking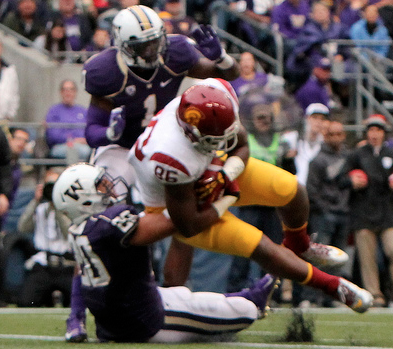 LOS ANGELES -- Wide receivers attract all the attention. Virtually all USC students know Robert Woods and Marqise Lee. Even the non-football fans must have heard these players' names hundreds of times by now.
Matt Barkley is also quite familiar with them. Nineteen of the senior's 25 touchdowns have been caught by his favorite pair of wideouts. Woods and Lee account for 76 percent of Barkley's passing yards. Against Arizona last Saturday, a 39-36 USC loss, Lee broke a school and conference record with 345 receiving yards.
Like receivers, tight ends are expected to catch the ball and run for extra yardage, but oftentimes they are not targeted as pass-catchers; they're simply told to block rather than run a route. Tight ends are regularly required to do their job without getting the recognition they deserve.
Redshirt sophomore tight end Xavier Grimble is the perfect example. Only three Trojans have caught at least one pass in each of the team's eight games: Woods, Lee and Grimble. Even so, Grimble has yet to eclipse three catches in a game this season. Still, the Las Vegas native never complains about the lack of throws coming his way.
"He's a very unselfish player," Grimble's friend and fellow tight end Randall Telfer said. "It doesn't matter for me and him, especially him. We could go the whole year without getting the ball and we'd still be fine, as long as we're winning games."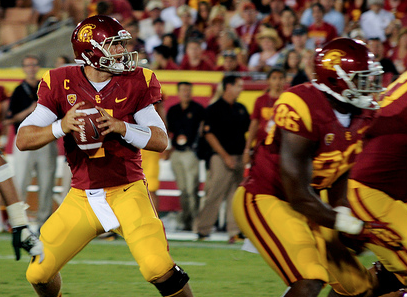 Tight ends coach Justin Mesa said, "You're asked to do a lot of things with a ton of detail at a highly skilled position." He may be biased, but he's right. The tight ends are always the last players to leave practice, because they spend so much time perfecting blocking techniques, as well as practicing route-running.
With the dominance of Woods and Lee over the last two years, USC tight ends are increasingly judged on their blocking skills. Typically, they aren't major players in the passing game.
"If you can't block, you probably won't be in the game," said Grimble. "Kiffin's pretty tough on guys. He wants the tight ends to block a lot, so we've got to get with the o-line coaches, get our steps right and just be physical."
Telfer and Mesa said Grimble has progressed as a blocker this season, but perhaps the most meaningful praise comes from a man who is expected to block on every single play, Kevin Graf. "He's definitely improved in his blocking area, and that's what's going to make him a really good player," said the starting offensive tackle.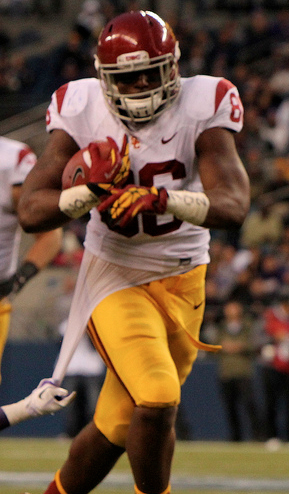 The physicality Grimble exhibits extends to the ball-carrying part of his game, as well. In a road win over Syracuse, Grimble fought off four Orange tackles en route to a 22-yard touchdown that critically extended the Trojan lead to two scores.
Like many tight ends, Grimble prides himself on being a player who is hard to bring down. "Ever since I came here, they wanted me to be a physical guy," he said. "That's pretty much my role--to catch the ball and get those hard-fought yards."
Part of what makes Grimble so adept at breaking tackles is the hard work he's put in with strength and conditioning coach Aaron Ausmus in the weight room. Visualization is also a key component, according to Mesa.
For motivation, Mesa shows his players reels of NFL and collegiate players shedding tackle after tackle. "In their head, I like to think we've ingrained in them, they're brainwashed that never will the first man make a tackle," said Mesa. "It's been something that we've expressed and stressed as a tight end group: never let the first man tackle you, and you're always thinking that you're going to score."
Grimble resembles San Diego Chargers tight end Antonio Gates, both facially and in build. "People always tell me that," confirms Grimble. Grimble is listed at 6-foot-5, 255 pounds. Gates' playing weight is the same, although he is one inch shorter than the Trojan.
Besides the physical similarities, Gates and Grimble share a passion and talent for the game of basketball. Supremely talented tight ends Tony Gonzalez and Jimmy Graham have also excelled in the sport.
Growing up in Las Vegas, Grimble played football from the age of seven. But basketball was always the kid's passion. "It wasn't until my sophomore year that I decided I was going to play football in college," Grimble said. "The whole time, I was going to school trying to be a basketball kid. I had a couple D1 scholarships to play basketball, but I just thought my size and the way I was built would be more useful in the football game."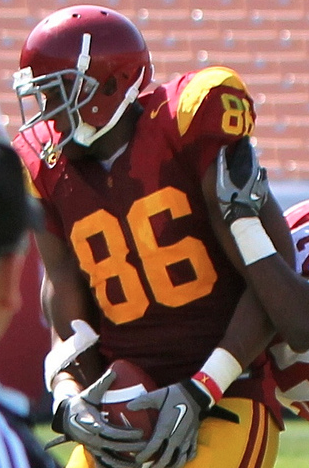 Although his focus has since shifted to football, Grimble's days on the court conveniently helped develop his football skills. "Being big and a physical person, you have to rebound and block guys out, got to be able to move quick, jump up and get balls," said Grimble. "When I have like a smaller defender on me, I can box him out and catch the balls, and the quarterback can put it where he (the defender) can't get to it."
Whichever technique Grimble is using to get open, it seems to be working. He's caught a touchdown pass in two consecutive games and hauled in at least two receptions in four straight contests.
"Once you can make a few plays like that (and) show some flashes to Kiffin, he wants the ball to be in the guys' hands who make plays," said Grimble.
Whether or not Grimble is afforded additional chances in the passing game, he remains one of the unsung heroes on this Trojan squad. Whether it's blocking, catching passes or breaking tackles, he's an effective football player, one that doesn't need media attention to validate that.
Reach Senior Sports Editor Aaron Fischman here or follow him on Twitter.