USC Sports
USC Football Takes On The Washington Huskies
In anticipation of Saturday's game, I conducted an audio interview with Jacob Thorpe of the University of Washington newspaper. We discussed the topics listed below, as well as many more. Here's the audio:
Washington-USC Preview Podcast w/ Jacob Thorpe by Aaron519
Sarkisian And Kiffin Meet Again
At the age of 38, Washington head coach Steve Sarkisian is already in his fourth season at the helm. The former Trojan assistant has been quite successful in turning around the Husky program. Washington finished last or second-to-last each of the five years prior to Sarkisian's arrival. Over four years, Tyrone Willingham's cumulative record was 11-37. Sarkisian was able to surpass 11 wins in just his first two seasons. This year, he's searching for his third consecutive season over .500.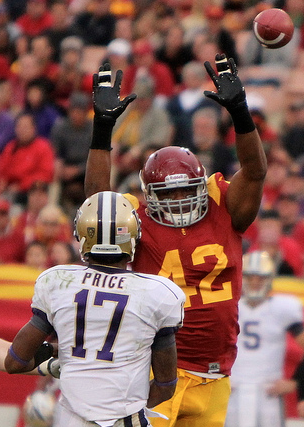 Sarkisian and Lane Kiffin, who is only 37, himself, know each other quite well from their days coaching the Trojans. According to Kiffin, Sarkisian has gradually transitioned to more of a pro-style spread offense in order to enhance his quarterback's gifts. Kiffin has added many more quick, lateral passes, according to Sarkisian. The Washington head coach has won two of three head-to-head meetings. Last year, Kiffin's squad easily won, 40-17.
Price Is "Elite"
The Husky quarterback has seen a drastic decline in his numbers, compared to a season ago. In Price's first five starts of 2011, he threw for 16 touchdowns and five interceptions. This season? Five touchdowns and four interceptions. He's thrown for fewer than 200 passing yards in four of five games, compared to last season when the quarterback failed to reach 200 yards in just three starts all season. Still, Price is an elite quarterback, according to Kiffin.
Price has been under constant pressure as a result of injuries to four members of the offensive line. He also lost his No. 2 wide receiver before the season began. "Obviously, we want those guys back, but there's nothing I can do about it," said Price. "I have to come up with a different way of being successful."
Five games into the season, only two Husky sophomores have caught more than seven passes: wide receiver Kasen Williams (31 catches) and tight end Austin Seferian-Jenkins (24 catches). Those players have accounted for 67.3 percent of Price's passing yards.
The State of Washington's Run Defense
The LSU Tigers and Oregon Ducks ran all over the Washington defense, but the Huskies have fared better against the run in their last two home games. Against the Portland State Vikings, the Huskies allowed fewer than 100 rushing yards for the first time all season. They also held their opponents to fewer than four yards per carry. In the following week's upset victory over the Stanford Cardinal, Washington held running back Stepfan Taylor to 75 yards on the ground.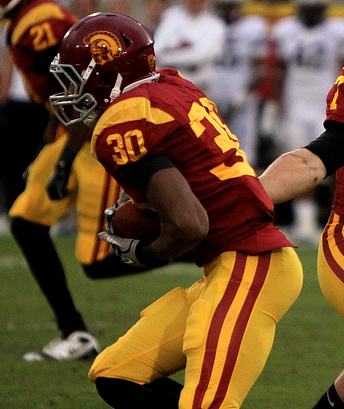 After last week's nine-carry, 46-yard performance, D.J. Morgan will once again be a factor in the Trojans' running game, according to Kiffin. Morgan will join Silas Redd and Curtis McNeal in a backfield rotation that is much deeper than a season ago. McNeal missed most of the Trojans' win over Utah after incurring a concussion in the opening quarter. He is expected to play against Washington.
Trufant Leads The Washington D
Much like USC's Nickell Robey, opposing offenses stay away from senior cornerback Desmond Trufant. Trufant is the brother of NFL corner Marcus Trufant, and he's widely regarded as one of the best defensive backs in the nation. The senior cornerback has always had tremendous gifts, but those skills didn't always translate to the field. "One of the challenges for him was to transfer everything he would do in practice…to the game and do it with confidence, and he is doing that this year," said Sarkisian.
Both Barkley and Price may be best served directing most of their passes away from the highly talented corners, Robey and Trufant. Each team has struggled to find stability at the other starting cornerback position.
Home-Field Advantage
Weather forecasts say it will rain during the game, conditions with which Washington players are naturally much more comfortable. For whatever reason, whether the Huskies or Seattle Seahawks are playing, CenturyLink Field tends to give the home team a sizable boost. Since 2011, the Huskies boast an 8-1 home record, including a Sept. 27 upset victory over then-No. 8 Stanford.
Reach Senior Sports Editor Aaron Fischman here or follow him on Twitter.