Sports
USC Football Notebook: Third Down Woes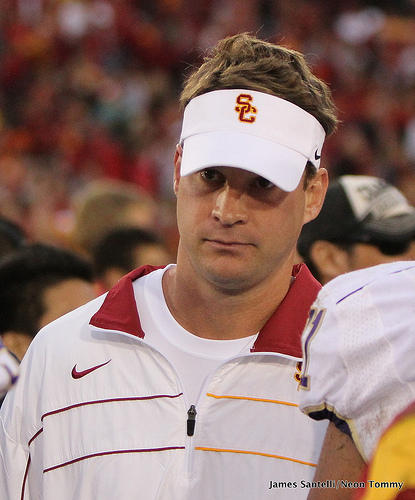 Offensive efficiency on third downs was the first issue on Lane Kiffin's mind in this weekend's teleconference, and it remained at the forefront when the Trojans head coach addressed the state of his offense Tuesday.
"Any time you're at where you're at on third downs, you're pointing to that first off," Kiffin told the media after practice. "I never would have guessed we'd be where we are on third downs."
The Trojans have converted just 30 percent of their third downs this season -- good for 112th out of 120 FBS teams -- and unsurprisingly, the offense has struggled at times, with the Trojans only cracking the 30-point barrier just once in their last four games.

It hasn't been all bad; USC is 5-1, after all, and Silas Redd and Marqise Lee are each putting up big numbers. But Kiffin knows the offense is a long way from where it needs to be, and that goes back to that pesky third down.
"I think we're running the ball really well," Kiffin said. "The passing game isn't where we'd like it, but if you're not converting third down you're just handing the ball back to the other team.
"We had another bad game on third down [against Washington] and that's ten possessions where we handed the ball back. That's going to stop your rhythm."
Lee, who ranks in the top ten nationally in both receptions and receiving yards, agreed with his head coach's assessment that the passing game is capable of much more than its shown so far -- but with a key added caveat.
"Everybody knows we're more capable in the passing game but if teams are going to play far back, then why not run the ball?" he queried. "So it's a concept thing. If teams step back, then you're going to run the ball; if they step up, then you throw it."
The Comforts of Home
One thing that could help the offense get back on track: home cooking. After playing just two games at home this season, USC will be in the Coliseum for four of its final six regular season games and plays outside of Los Angeles just once. It makes for a boost ahead of the second half of the schedule, in no small part due to being able to foster a routine.
"We're ready to be home," Kiffin admitted. "To be in the rhythm of being in your own hotel and practicing here and not having to get on airplanes is good."
"It's a very weird schedule, but we made it through," he continued. "It wasn't perfect, we screwed up once, but we're very excited to come back to L.A."
Of course, some of the benefits of playing in the Coliseum run even simpler than that.
"Finally getting cheers instead of boos," smiled Robert Woods. "It is fun and exciting to play at home."
Doubting Thomas?
One of the downsides of competing with some of the most talented players in the country is that someone has to be at the bottom of the depth chart.
Redshirt sophomore Christian Thomas is that guy at the tight end position. The former Highland standout is the fifth of five players who were four star recruits according to Rivals.com after falling behind classmates Xavier Grimble and Randall Telfer, and freshmen Junior Pomee and Jalen Cope-Fitzpatrick.
Thomas has battled injuries throughout his time at USC but is currently healthy according to tight ends coach Justin Mesa, who didn't shy away from giving an honest opinion on Thomas' progress.
When asked if he was satisfied with Thomas work ethic, Mesa simply responded, "no."
"I'm always going to challenge Christian in his preparation and the way… he approaches the game," Mesa said. "If I can get him to [change] his approach, to get him to be a little more serious and to get him to buy in a little bit more, then we'd like that and we'd welcome it."
Quick Hits
Kiffin said that the left tackle competition between sophomore incumbent Aundrey Walker and freshman Max Tuerk is once again open. Walker leads the team in penalties…Kiffin was non-committal about anyone having an edge on the second cornerback spot. "We're rotating guys through there and getting as many reps as we can from the guys that are banged up. We won't know [about a starter] until late in the week," he said…Both Kiffin and Lee said that Lee is growing frustrated with the number of holds he's faced going against opposing secondaries. "The holding stuff is getting really annoying, I'm not going to lie to you," Lee chuckled.
---
Reach Staff Writer Mike Piellucci here and follow him on Twitter here.