USC Sports
USC Football Notebook: 48 Hours From Utah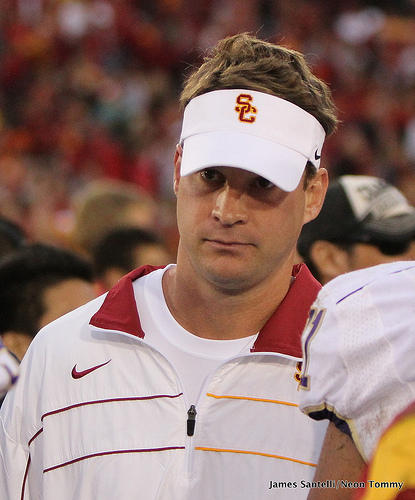 With just over 48 hours standing between the Trojans and a date with the Utah Utes, USC head coach Lane Kiffin knows the task at hand: get USC back to its winning ways on the road.
"It's just important to do; we need to play better on the road," Kiffin told the media after Tuesday's practice. "We really didn't do well last game. We finished last year doing well, but it's a new year, so we're going to hope to do better on third down, and we're going to hope to take better care of the ball."
One thing working in his favor: a well-rested, recharged team. USC will play its first game in 12 days following the bye week, and the time off proved to be a boon.

"We've been in the best physical shape we've been in all year long," Kiffin said. "I think it allowed us to clean up some things in all three phases of the game and hopefully that shows in this game."
Thursday night's clash offers its own set of mental challenges on top of the physical thanks to a sold-out crowd in Salt Lake City. It's something that Kiffin knows his players are prepared for, but admits will for an environment that some of them are unaccustomed to dealing with.
"We talk about weathering the storm any time we go on the road environment like it will be," he said. "You know, they're going to make some plays – it's going to happen. [So we need to] stay upbeat with the players, especially with the younger guys who haven't been in these types of situations."
Holmes' Status Uncertain
Among the most obvious benefits of a bye week is the extra time banged-up players are afforded to heal up from injuries – and no injury affects the Trojans' fortunes more than center Khaled Holmes.
Holmes started against Cal after missing the Stanford game with a right ankle injury, but was forced out late in the Cal game after apparently re-injuring the same ankle.
Kiffin was predictably ambiguous about whether Holmes' chances of being able to go against the Utes but pulled no punches about the redshirt senior's value to the offense.
"I hope that he plays, and obviously there's been a big difference when he does," Kiffin admitted. "The last two games that he's played, we've rushed for 250 yards."
See more of Seymour?
Among USC's biggest trouble spots this season has been the second cornerback spot opposite Nickell Robey.
Sophomore Anthony Brown started the season opener before giving way to junior Torin Harris, who has mixed flashes of brilliance with lapses in coverage. Harris is listed as the starter in this week's depth chart, but a new name has worked itself into the mix for playing time following a strong week of practice over the bye.
"I think Kevon Seymour played really well," Kiffin said. "As we go throughout the season, we'll expand his role at some point. I don't know when that's going to be, but it's good to have a young corner like that."
Seymour, a true freshman from Pasadena, has perhaps the most natural ability of any corner on the roster with an ideal combination size (6-foot-0) and athleticism for the position. The drawback, of course, is inexperience but based on Kiffin's comments, don't be surprised if Seymour is given a trial by fire with some key reps on Thursday.
---