NBA
Thunder Trade Sixth Man Of The Year James Harden To Rockets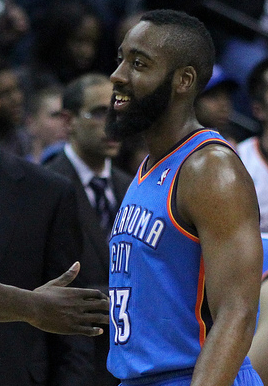 It's official. The young nucleus of Kevin Durant, Russell Westbrook, James Harden and Serge Ibaka has been broken up, as the Thunder dealt Harden to the Houston Rockets Saturday. Oklahoma City also sent Daequan Cook, Lazar Hayward and Cole Aldrich to the Rockets in exchange for Jeremy Lamb, Kevin Martin, two 2013 first-round picks and a 2014 second-round pick.
The Thunder traded the 2012 Sixth Man of the Year after contract extension negotiations fell apart.
The Thunder are already paying Durant and Westbrook maximum contracts, and they came to terms with Ibaka on a four-year, $50 million extension this offseason. Earlier, Harden reportedly rejected the Thunder's four-year offer worth $55.5 million. The Rockets are expected to offer Harden a $60 million extension now that they've acquired his services.
Harden was a crucial contributor to the Thunder's playoff run last season, but he shot poorly in the NBA finals. The Miami Heat limited Harden to 12.4 points per game on 37.5 percent shooting.
The trade furthers an offseason of widespread change for the Rockets, who no longer have any of their top six scorers from a season ago. Notable acquisitions include Jeremy Lin, Carlos Delfino and first-round picks Royce White and Terrence Jones.
Two picks before White, the Rockets drafted Lamb with their 14th overall pick. In Lamb, the Thunder have added a talented scorer who could stand to put on some muscle. Even so, the former UConn Husky possesses a good-looking jump shot and incredibly long arms that should produce a fair number of steals.
Unlike Harden, Kevin Martin is not regarded as a very effective defensive player, but he can put up points in bunches. Martin is a career 18.4 point per game-scorer, who is an accomplished three-point marksman. Martin is also like Harden in that he gets to the free-throw line a great deal and shoots a high percentage there.
Reach Senior Sports Editor Aaron Fischman here or follow him on Twitter.