Food
A Slice Of Chicago In Hollywood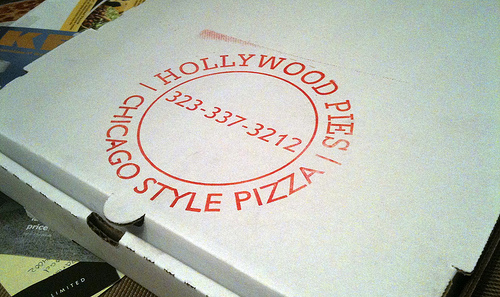 Hollywood Pies is Los Angeles' best kept Midwestern secret, serving up authentic Chicago style pizza.
Some of the pies are even named after a few of Chicago's famous mobsters, such as Bugsy and Fairbanks, and they are dangerously delicious.
The pizzas are deep dish with fresh crushed whole tomatoes on top and the cheese on the inside—the way it's supposed to be, as one Chicago native described it.
Most pizzas are stuffed with their homemade meatballs or Italian sausages, but there are a few great vegetarian options.
The Italian Garden, a personal favorite, is filled with sweet red peppers, baby bella mushrooms, whole milk mozzarella, and onions. It may seem simplistic, but together each ingredient precisely complements another.
The prices aren't as cheap as Domino's or Papa John's—a small pizza can range between 13 and 16 dollars, but it's well worth the price.
A note to big eaters: don't turn your nose up at a small pizza because it may seem petite—after two slices you will fall deep into a happy food coma.
But don't feel defeated; the remaining two slices are just as good the next day for lunch, or even breakfast if you're a committed fan.
Also don't expect to sit inside a cozy Chicago style pizzeria. Hollywood Pies is only delivery or pick-up.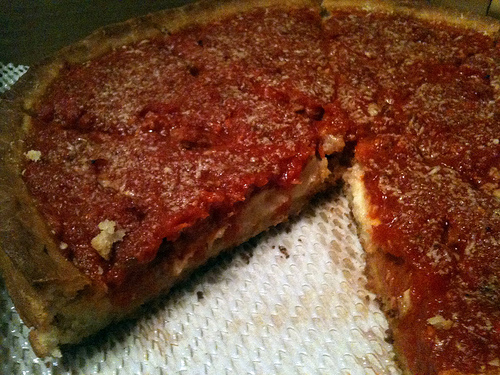 Sometimes Hollywood Pies is slammed with orders, so the best option would be pick-up, which is an experience on its own. An added perk of pick-up is the 15 percent discount on your order.
Hollywood Pies is on South Robertson Blvd. and Pico, and if you didn't know to look for it, you would most certainly drive right past it.
There is no sign that indicates the storefront is in fact Hollywood Pies; just the numbers 1437 lit up above the door.
Once parked, you arrive at a white door with a fence on the exterior and ring the bell. One of the young and hip employees will poke their head out the door and ask for your name and then slip back inside. After a few minutes of waiting the employee will reemerge with the pizza and the smell will almost knock you out.
Behind the door is just a kitchen and no one outside the staff is allowed in for health code reasons, but it just makes Hollywood Pies seem that much more secretive and cool. Like you just discovered a treasure that no one else is supposed to know about.
The aroma and anticipation on the drive home is frustrating and the urge (at least for me) to pull over and just take a bite can be overwhelming.
I wish I were over-exaggerating about Hollywood Pies, but it really is one of the top pizza spots in Los Angeles—and this is coming from a genuine pizza snob.
Hollywood Pies
1437 S Robertson Blvd
Los Angeles, CA 90035
View Hollywood Pies Locations on a map.