Sports
Pac-12 Football Six Pack: Observations At The Halfway Point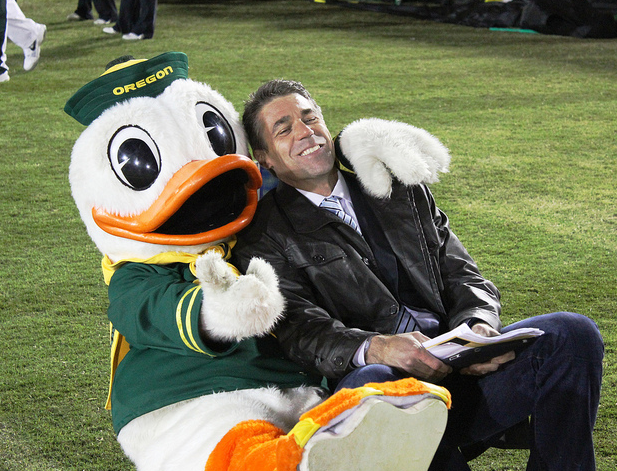 The Pac-12 conference has risen as one of the elite conferences in the nation. This is largely due to the rise of the middle of the Pac-12, after the conference was once considered too soft to compete on the national stage. Here are six observations from the first half of the season.
1. Oregon On Top
Chip Kelly rolled the dice and gave the starting quarterback job to Marcus Mariota, who has taken over beautifully. Mariota is leading the second-highest-scoring offense in the nation, and a team which will be once again in the hunt for the National Championship.
As the No. 3 team in the most recent BCS Standings, Oregon has taken care of business in every game this season, winning by no fewer than 17 points in each contest. The Ducks can not only score but also they continue to score in bunches, leading the nation in drives lasting under four minutes.
The key for Oregon this season has been their improved defense. Take away some games in which the second-string defense let up easytouchdowns and you see a very talented squad. Oregon shut out the explosive Arizona Wildcats and have limited their opponents to only 20 points per game this season.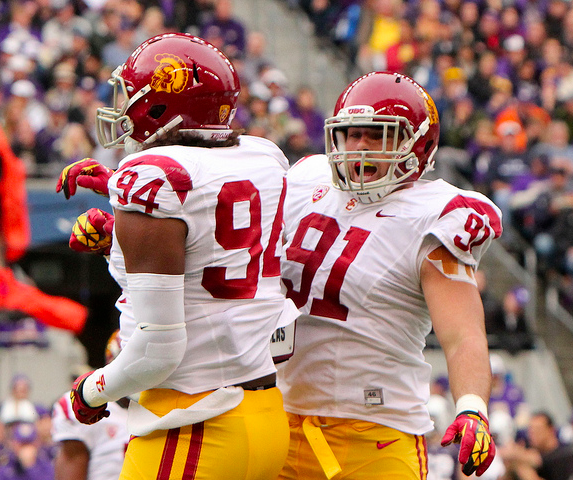 2. USC's Identity Crisis
The Trojans are 5-1 this season but have not looked overly impressive in any contest. USC has come up short in one aspect of the game in almost every contest. Whether it's numerous penalties, bad play calling, or pure lack of consistency; the Trojans are struggling to find a complete groove on the field.
READ: USC NOTEBOOK -- TROJANS' THIRD-DOWN WOES
However, the Trojans' D-Line has outplayed expectations, especially Morgan Breslin and George Uko. Dion Bailey and Hayes Pullard have been tackling machines this season, anchoring an athletic and much stronger linebacker unit.
Special teams has been an adventure for the Trojans, who have allowed big plays to Stanford and Syracuse, made huge plays against Washington and Utah. Andre Heidari's health has been a big issue all season and the Trojans need their all-Pac-12 kicker to return to form. Regardless, this unit could really help solidify field position and swing contests for the Trojans.
3. Oregon State is Here to Stay
The Beavers are currently undefeated and sit at the No. 8 spot in the BCS rankings, largely in part due to their stellar defensive line and strong quarterback play.
In five games this season, Sean Mannion had passed for 1358 yards including seven touchdowns alongside a 63-percent completion percentage. Cody Vaz stepped in against BYU and played right to form, completing an impressive 62 percent of his passes while recording three touchdowns.
The Oregon State D-Line is stout and has shut down talented running backs Johnathan Franklin, Montee Ball and Ka'Deem Carey and BYU star Jamaal Williams this season. Scott Crichton and Dylan Wynn are two of the most intense defensive ends in the league. Inside, the Andrew Seumalo and big Castro Masaniai have done an excellent job of stifling the run up the middle.
Look out for the Beavers to have a shot to run the table. That is, if they can beat their in-state rival Oregon during the last game of the Pac-12 season.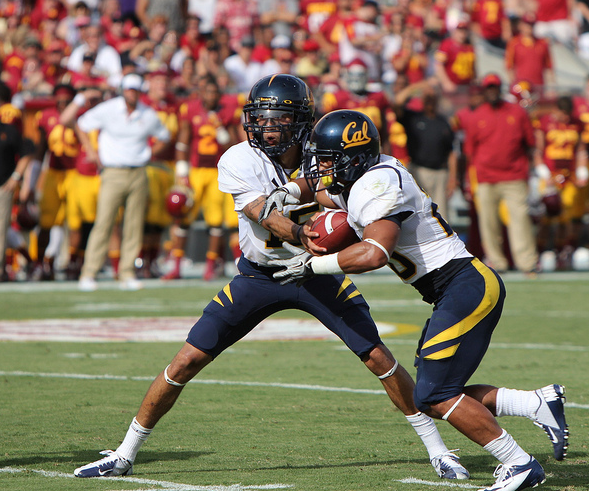 4. Jeff Tedford's Days are Numbered
Although California head coach Jeff Tedford is the longest tenured coach in the Pac-12, it is time for change in Berkeley. The Bears are currently 3-4 this season, while vastly underperforming in all aspects of their play.
A lot of the blame should be placed on senior quarterback Zach Maynard, who has only played one strong game this season. Tedford should not get the pass on this one, because he was the man to recruit Maynard and adjusted the entire offense from pro style to the spread option for him.
Keenan Allen and Bryce Treggs are two excellent receivers who should give Cal the weapons to compete. Isi Sofele and C.J. Anderson are a solid running back tandem for this offense. Plus, Brendan Bigelow has added explosive plays against Ohio State and UCLA, a game-changing player when healthy and fed enough touches.
READ: PAC-12 ROUNDUP -- RECAPPING WEEK 7
The bigger issue for Cal has been their special teams. Kicker Vincenzo D'Amato has missed 66 percent of his kicks this season, plaguing the Cal offense in the red zone. This team has the talent to be one of the top-five teams in the conference, but at this point has not reached its stride.
Cal has won two straight against Washington State and UCLA, so maybe the Bears can take that momentum in this week's highly contested rivalry game with Stanford.
5. UCLA Will Make the Holiday Bowl
The UCLA Bruins are only one win away from bowl eligibility. Going into the season, who would have thought this would come so early? Jim Mora has done an outstanding job of getting his players to buy into his system.
The best part about their transformation has been offensively, starting with quarterback Nick Hundley. Hundley is a dual-threat nightmare that has racked up 19 combined touchdowns, while passing for close to 2,000 yards.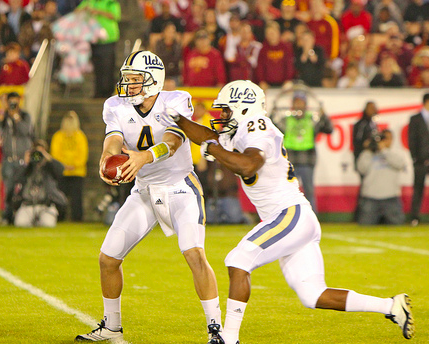 Johnathan Franklin is a premier runner and Shaquelle Evans and Joseph Fauria have become a great wide receiver tandem in this offense.
Defensively, the Bruins are also improving, allowing 10 fewer points per game this season from last. The Bruins' schedule shakes out very favorably, with only two ranked matchups remaining, USC and Stanford.
Expect the Bruins to finish 8-4 and land in the Holiday Bowl as a strong representative of the future of Pac-12 football.
6. Coaching Changes Have Worked Tremendously
So far this season, all four new coaches have been successful at their programs but in completely different ways. Jim Mora transformed UCLA from the laughing stock of Los Angeles into a instant Pac-12 South title contender, something Rick Neuheisel could not.
Rich Rodriguez has revived the run-and-gun offense in Tucson and found the quarterback of the future in Matt Scott. Arizona is fielding a competitive team that can score with anyone in the nation. They defeated Oklahoma State on Sep. 8 and only lost to Oregon State and Stanford by one score.
Todd Graham's Sun Devils are 5-1 and is currently first in the Pac-12 South. ASU is led by Taylor Kelley a dual-threat machine who has led on of the most efficient offenses in the nation.
Finally, Washington State's Mike Leach has struggled to win games but is starting to recruit at the level to compete in the conference. As the years progress, Leach will earn every penny for WSU as he develops one of the fastest offenses in the conference.
Final Thoughts:
The Pac-12 will field eight bowl teams, and will finish the season as the third-best conference in all of college football.
Colorado is atrocious and needs to move back to the Big 12, while Utah looks like a team that can compete for years to come.
USC vs. UCLA, Oregon vs. Oregon State and Arizona State vs. Arizona will have tremendous meaning in the standings for the first time in years.
Reach Staff Writer Evan Budrovich here or follow him on Twitter.