Los Angeles
Occupy Protester Fights Against Corruption, With Personal Causes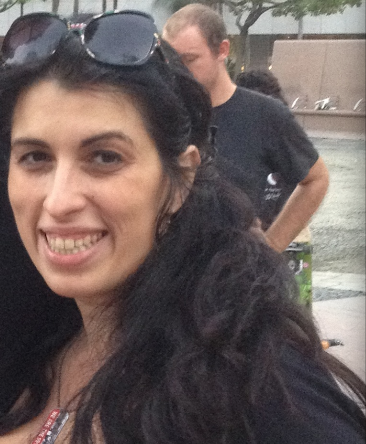 Freelance screenwriter Alissa Kokkins, 36, has lived in Los Angeles for the past 10 years and became a part of the Occupy L.A. movement when it began last year. She joined dozens of other activists at Pershing Square Monday night in celebration of Occupy L.A.'s
one year anniversary
.
Kokkins and other Occupy L.A. activists were inspired by the anti-corporate Occupy Wall Street 2011 protests in New York to begin similar protests in L.A.
The movement takes issue with corporate influence on government and the shift of wealth and political authority towards the richest 1 percent of the population.
"A small financial elite is destroying our world," Kokkins said. "Our planet is being destroyed. People are being killed in unnecessary wars. People are losing their homes and jobs. Our food is being poisoned.
"I have been in this fight for the past year to try to put an end to the corruption by any means I can."
Many of the causes that Occupy L.A.'s protesters are fighting for are personal to Kokkins.
"I have more than $100,000 worth of student debt," she said. "I know people who are losing their homes. I have been unable to afford health care. I am fighting to see a world in which your life means more than how much money you have."
Although Kokkins has had some negative experiences as a protester, she remains a determined proponent of the Occupy L.A. movement. She said she was mistreated by police on Feb. 9 while protesting outside of the Ronald Reagan Building in downtown after Attorney General Kamala Harris announced an $18 billion settlement with banks involved in the foreclosure crisis.
"When we tried to walk into the office building, we were locked out and I was thrown by police who were standing guard several times," she said. "It was a public space and we had every right to be there."
Still, Kokkins said the positive experiences she has had as a supporter of the movement outweigh the negative. She described the sense of unity within the group.
"I get to meet and befriend great people I would have never otherwise known."
Read more of Neon Tommy's coverage on the Occupy movement here.
Reach Staff Reporter Sarah Zahedi here, follow her on Twitter here.