Politics
Obama To Make Fundraising Stop In L.A. Sunday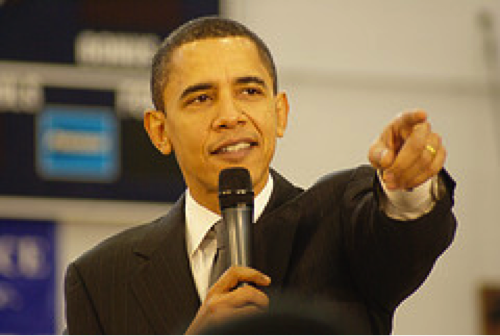 This Sunday, President Obama will be holding a fundraiser in Los Angeles. The "30 Days to Victory" concert at L.A. Live will feature Jon Bon Jovi, Jennifer Hudson, Stevie Wonder, Katie Perry and Earth, Wind & Fire, with remarks by George Clooney and San Antonio Mayor Julián Castro (this year's Democratic National Convention keynote speaker).
Although tickets to the concert cost up to $2,500, and a photo op will cost concertgoers $10,000, the cheapest tickets were sold for $44 to supporters under the age of 40. The price is a reference to the fact that Obama is the 44th President of the United States.
The Obama campaign will gain far more, however, from the dinner for wealthy donors being hosted by film producers Jeffrey Katzenberg and Harvey Weinstein at the nearby Wolfgang Puck Bar & Grill. Tickets to the exclusive dinner are being sold for $25,000 per person.
Both hosts of the dinner are prolific fundraisers for the President.
In August Weinstein hosted a $35,800-per-plate fundraising dinner at his home in Connecticut. He is a co-founder of Miramax Films and a co-owner of his own film company, which is currently producing, among other things, a documentary called "Seal Team Six: The Raid on Osama Bin Laden," which is set to be released a few days before the election.
Katzenberg, the other co-host, is the CEO and co-founder of DreamWorks Animation and former chairman of Walt Disney Studies.
He was an important fundraiser in 2008, and helped host a fundraiser last May at George Clooney's home in Studio City that netted $15 million for the Obama campaign.
In addition, Katzenberg personally donated $2 million to the Priorities USA Action super PAC, which supports President Obama, making him the Obama campaign's top donor in the state of California.
The majority of the money raised by Katzenberg's fundraiser in May did not come from the wealthy donors who paid 5-figure sums to attend, but from smaller donors who entered in a lottery for tickets to the event.
Contributors of as little as $5 could enter the "Dinner with Barack" lottery, which allowed four average Americans to attend the May fundraising dinner. Likewise, this Sunday a small number of ordinary Obama supporters will get the chance to dine with the president and mingle with major donors.
Read more about the election here and President Obama here.
Reach Staff Reporter Axel Hellman here.