Food
Michelle Obama Beats Ann Romney In Presidential Cookie Contest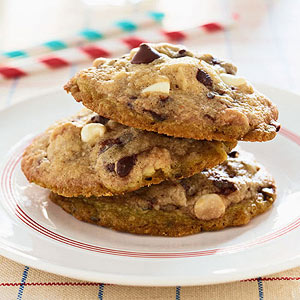 The results are in: First Lady
Michelle Obama
has claimed victory in this year's
Family Circle
presidential cookie contest.
Each election year, the magazine holds a cookie recipe contest between the current First Lady and the spouse of the opposing candidate.
In the last cookie battle, held in 2008, Cindy McCain's oatmeal-butterscotch cookies dominated Obama's lemon-orange shortbread cookies.
Interestingly, that was the only year that the cookie contest failed to predict the winner of the impending presidential election.
This year, 4,844 Family Circle voters gave the First Lady's white and dark chocolate chip cookie recipe the seal of approval, as she edged out Ann Romney's M&M cookies by a mere 287 votes.
It was "the smallest margin ever," according to Family Circle. The breakdown of votes was 51.5% for Michelle Obama's cookie and 48.5% for Ann Romney's.
Like many election-related events, the presidential cookie contest has also had its share of controversy. Back in 2008, there were rumors accusing Cindy McCain of cheating by using a Hershey's recipe, according to TIME.
In light of the first 2012 presidential debate tonight between President Barack Obama and Mitt Romney, speculations swirl as to whether this is yet another foreshadowing of what the actual presidential election results may bring.
Other than being a tasty sweet treat, can cookies really serve as a prediction? Maybe not, but both recipes seem like good options to munch on while watching the upcoming presidential debates.