USC Sports
Marqise Lee's Heroics Can't Overcome USC Mistakes, Trojans Lose 39-36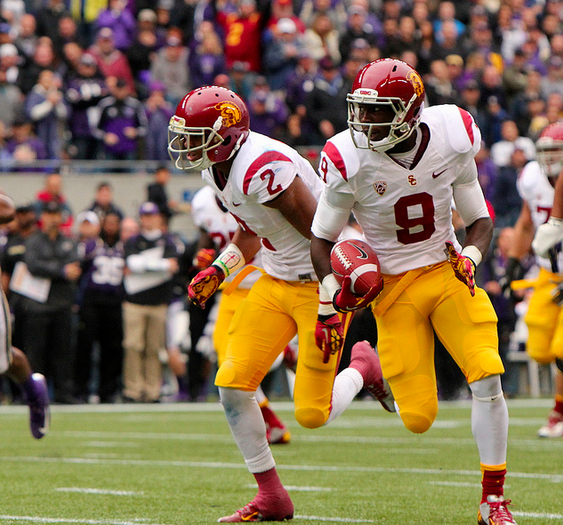 USC's championship bid imploded Saturday afternoon in Tucson, despite the record-breaking efforts of wide receiver Marqise Lee.
After the Trojans' 39-36 loss to Arizona, Lee trudged off the field with tears in his eyes. The sophomore wideout caught 16 passes for 345 yards, more than any other Pac-12 receiver before him and fifth-most in FBS history. His performance featured game-breaking speed and tackle-breaking jukes, two touchdowns, a two-point conversion and even a key 72-yard kick return.
But the result was instead decided by USC giving away five turnovers, including on drives that took the Trojans' offense into the red zone only to see their half of the scoreboard stay frozen. It was also decided by Arizona scoring 26 unanswered points in the second half, a run that exemplified USC's conservative playcalling on offense and inability to slow the Wildcats' hurry-up attack on defense.
When USC had one final chance to escape Tucson with a win, it was somewhat fitting that Matt Barkley's Hail Mary throw tipped away from Lee's fingertips and to the ground. For 60 minutes, Lee orchestrated a performance that frustrated Arizona's defense and sent writers searching through the record books. But in the end, victory was just inches from his grasp. One player can only do so much.
"He caught everything else today," head coach Lane Kiffin said about Lee after the game.
Here are my five takeaways from Saturday's loss:
1. Miscues and Marquis plagued USC early. The Trojans' first three offensive drives to them to Arizona's 21-, 15- and 16-yard lines. But they scored zero points for the trouble. You can thank Arizona safety Marquis Flowers for the first stop (intercepting Barkley on 3rd down) and the third stop (stripping the ball from Silas Redd at the 10-yard line). After USC finally strung together a touchdown, Flowers picked off Barkley again on the ensuing drive. Clearly the Trojans had their chances to take command early, but could not finish.
2. Credit to Austin Hill. Lest we forget, Arizona had a receiver post some eye-popping stats of his own. The sophomore Hill finished the day with 10 catches for 259 yards. His final two catches helped to sink the Trojans. Late in the third quarter, QB Matt Scott connected with Hill for 42 yards on third down to set up an Arizona touchdown. That put the Wildcats within a score of tying the game. Then in the fourth quarter, Scott found Hill again on 3rd and 22, and his 60-yard dash put Arizona on the doorstep to take the lead.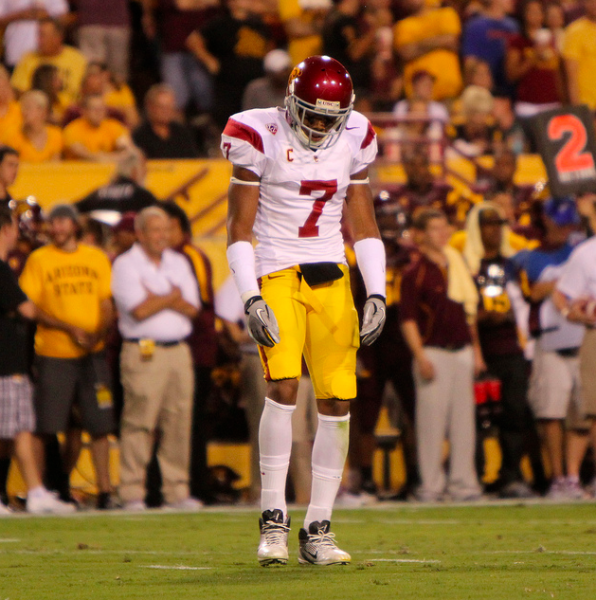 3. Penalties, penalties, penalties.
Okay, the flags were about equal for both sides: USC had 13 penalties for 117 yards and Arizona had 14 penalties for 129 yards.
But as the most-penalized team in the country, the Trojans have more than earned any criticism coming their way. USC committed six personal foul penalties on the afternoon, demonstrating a lack of discipline that often kept drives alive.
"Our mistakes caught up with us," Kiffin said. "Key turnovers and penalties at critical times on the road."
4. Matt Barkley was fine -- but one throw will haunt him. You can't say too many bad things about Barkley overall. Yes, he did throw two early interceptions to Flowers, though one was on a tipped ball. He set a new USC record with 493 passing yards, going 31-for-49 when the game called for him to make plenty of throws.
So what about that 3rd-quarter incompletion? It was the first play of the drive and Robert Woods was racing down the sidelines. Barkley threw it Woods' direction just as one of Arizona's safeties fell trying to cover him. But what could have been an 87-yard TD sailed over the receiver's head. Instead of USC taking a 35-13 lead, they went three and out and allowed Arizona to start their comeback.
5. Many will question Kiffin's play-calling. Early in the second half, Barkley completed a 44-yard touchdown pass to Lee, giving USC a 28-13 lead. That play gave Lee the Pac-12 record for receiving yards in a game. He looked unstoppable on deep balls. But then the Trojans' offense went stagnant. USC had two straight three-and-outs, then a D.J. Morgan turnover. When Kiffin finally called Lee's number again, it was for an odd reverse on 4th and 2 that gave Arizona the football back with a chance to take the lead. They did.
Perhaps the most frustrating decision came on the final drive of the game. USC had only 55 seconds to get from their own 13-yard line into game-tying field goal range. The offense held up their end of the bargain, as Barkley completed three straight first downs to start the drive (with some help from Silas Redd). Though stopping the clock certainly seemed to be more important than having four downs, Kiffin never told his quarterback to spike the ball. Instead, precious seconds rolled off the clock until a Hail Mary was the only option left.