Politics
Latino Texas: 'San Antonio Is A Peek At The America Of Tomorrow'
This piece is part of an Annenberg News 21 collaboration with The Guardian examining the Latino vote in the 2012 presidential election.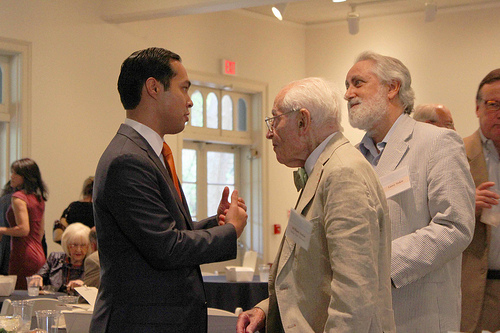 Julian Castro, the mayor of San Antonio who burst onto the national political stage when he made the keynote address at the Democratic national convention in September, is selling his vision of the future to the city's top moneymakers.
He pictures a Manhattan-like metropolitan core, with walkable streets and arts and culture worthy of America's seventh-largest city.
Castro calls this vision "San Antonio 2020." In a city where two-thirds of the 1.3 million residents are of Latino heritage, it is tempting to call it "veinte veinte."
In fact, Castro hardly speaks any Spanish. But that is part of what makes his vision so powerful. In the fastest-growing major city in the country, a well-heeled and mostly white audience at the Witte Museum listens to the new-generation Hispanic leader, who is aged only 38, share his plans. In doing so, he is advancing a slow-motion political takeover of Texas.
"San Antonio is a peak at the Texas of tomorrow and the America of tomorrow," Castro says. "We've called it the new face of the American dream."
The year 2020 is, by coincidence, the projected date by which, if current trends continue, the state will come full circle. Texas, which was once part of Mexico, will return to being majority Hispanic.
Read the full story here.