Los Angeles
L.A. Coliseum's Lightbulbs Not Ready For NFL Spotlight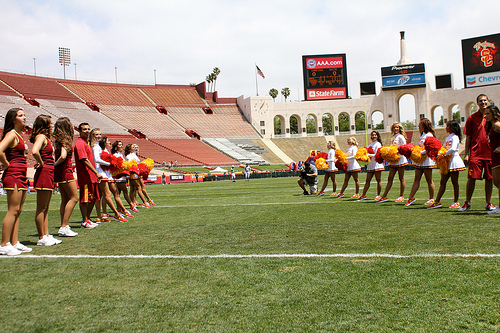 If
AEG convinces
an NFL team to relocate to Los Angeles and wants to stash the franchise at the L.A. Memorial Coliseum temporarily, someone will have to buy a few hundred new bulbs to fill the stadium's eight light standards.
Blame the foot-candle -- a measurement of how much light falls on a given surface. The sun, for example, produces more light than big lamps, which is why afternoon football games look better on TV than games inside domed stadiums.
The NFL requires 250 foot-candles of light on the field. The lights at the Coliseum barely register the NCAA recommendation of 100.
When Fox Sports officials recently measured the Coliseum's lights, they recorded about 93 foot-candles. The lights produced 127 foot-candles when installed in 2009, Coliseum General Manager John Sandbrook said.
Lights are just one of many things that would have to be examined if an NFL team or two played in the Coliseum until the possible opening of Farmers Field by AEG in 2017.
"Those are issues for the future and not 2012," Sandbrook said this week to the stadium's governing board, the Coliseum Commission.
He said dirt may have kicked up onto the lights when a new turf was being installed. So the lights will be washed before USC's Oct. 20 game against Colorado. Sandbrook said he would bill USC for the work.
The NCAA has a higher requirement of 125 foot-candles for "big games."
Kristina Raspe, USC's vice president for real estate development and asset management, said the university would be willing to make any investment eventually needed.
As it unwinds from a financial scandal, the Coliseum Commission has been relying on cash advances from USC to pay monthly bills that total about $550,000. Rent paid by USC is the commission's largest source of revenue.
USC is in the midst of finalizing a deal with the Coliseum Commission to assume control of the stadium and sports arena. Raspe told commissioners this week that the California Science Center's board of directors likely would be given a proposal at its Nov. 7 meeting that would give USC control of Exposition Park parking lots. If the board approves the deal, a transition to USC-control of the Coliseum could begin as early as January.
Like reporter Paresh Dave on Facebook, follow him on Twitter, circle him on Google+ or send him an e-mail.
Stories Trending Today: