Politics
Jon Stewart Faces Bill O'Reilly In Mock Debate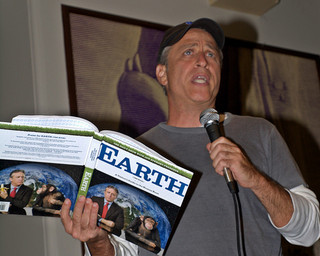 Jon Stewart and Bill O'Reilly faced off at a mock debate called "The Rumble in the Air-Conditioned Auditorium" Saturday night. The event was a 90 minute affair where the two discussed birth control, George Bush and other political issues, according to the
Seattle Times
.
"The Daily Show" host Stewart came to the debate with a mechanical pedestal to make himself appear taller.
Stewart and the Fox News anchor have been "feuding" for more than a decade and have appeared on the other's program before.
Around 1,500 people attended the event at George Washington, and others viewed it online. There were many complaints, however, from viewers that the online stream crashed from high demand, reports the Slate.
For those who did manage to see the debate, a few highlights included O'Reilly saying he would like to see Clint Eastwood as president and Stewart sitting in O'Reilly's lap and then being asked what he would like for Christmas.
Watch the full debate here.
Reach Senior News Editor Hannah Madans here.