Books
"Jester Has Lost His Jingle" Republished In Spanish
Animated shouts resonated throughout the children's section at the Barnes and Noble at The Grove on Sunday. The rhymes were echoed by another energetic voice, but this time they were said in Spanish.
Curious passerbys peeking over to the book signing stage would see Barbara Saltzman waving a rainbow banner in the air, reciting the musical rhyme of "The Jester Has Lost His Jingle," a children's book that was republished in September with a bilingual translation added.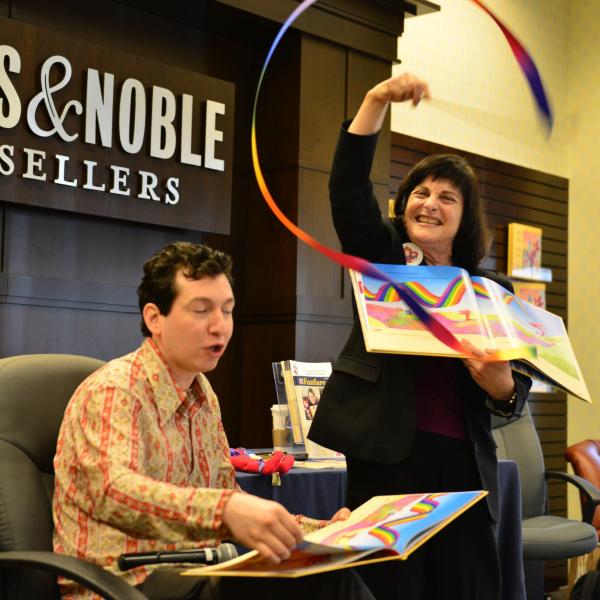 "The Jester Has Lost His Jingle" tells the story about a world where laughter disappears. The Jester and his magical wooden friend Pharley then go on a quest to find where laughter is hiding. In the end, they realize that laughter and happiness is found inside everyone, they just have to seek it out within themselves.
Why is a children's book first published in 1995 still relevant today?
According to Lita Weissman, Community Relations Manager of Events at the Grove Barnes and Noble, "It's a universal message and I think it resonates with everyone."
Weissman also said that "Jester" is still special today because it's "David's story." "David" is the author and illustrator, David Saltzman; he wrote "The Jester" for his senior thesis at Yale. Saltzman died from Hodgkin's disease a few days before his 23rd birthday. His parents promised that they would publish his book and make sure that every ill child had a copy.
The book was published in 1995 to national success, but one audience was missing out on the Jester and Pharley's adventures -Spanish-speaking readers.
Barbara Saltzman, David's mother, said that they received countless requests to have the book published in Spanish.
"Many of the children we donate the book to may speak English but their parents don't, so when they go home with this book, the whole family can understand it," Saltzman said. "It has so much more meaning for the whole family."
Why did it take the Saltzman family 17 years to republish the book with a Spanish translation?
"We had been looking for a good translation, literally, for 17 years," Saltzman explained. "It's taken this long to find a translation that was so good that we couldn't not do it."
Saltzman sees a bright future for the Jester – she hopes that they can earn enough money to see the Jester with an app, an e-book, and, maybe someday, on the big screen in a musical film.
Aurick Canete, Community Relations Manager at Barnes and Noble, read "The Jester" in Spanish for the reading. Although he hadn't heard of the book before, he immediately took a liking to it.
Canete was admittedly skeptical of the book before reading it, thinking that it might just be another typical fantasy book set in a kingdom far, far away.
But Canete was surprised that the author takes the readers to familiar places and faces.
Canete notes, "You're surrounded by things that are every day – the subway, the smoking guys, the punk rockers, the business people who are too busy to talk to you… and he goes to visit homeless men and kids in the hospital. It just brings you from fantasyland to a really gritty, real place that I think people can relate to."
Reach Staff Reporter Laura Santana here. Follow Staff Reporter Laura Santana on Twitter.