MLB
Infield Fly Rule Causes Uproar In Braves-Cardinals Wild Card Playoff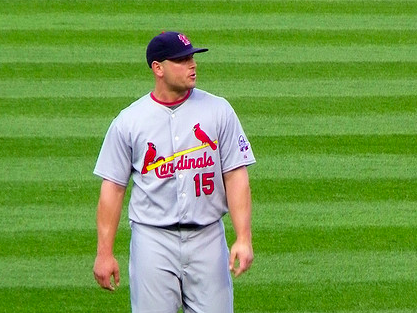 On Friday Night in Atlanta, a fly ball landed in the outfield grass, but was ruled an out based on the infield fly rule. That decision helped a team move on in the playoffs. Allow me to explain.
It happened in the 8th inning of the National League Wild Card game between the St. Louis Cardinals and the Atlanta Braves. The Cardinals were eading 6-3 in this one-game playoff to decide who will move on to face the top-seeded Washington Nationals in the NL Division Series.
Despite trailing by three runs, the Braves had two runners on base with one out. Andrelton Simmons stepped up to the plate representing the tying run. Simmons hit a pop-up into shallow left field. Shortstop Pete Kozma was trotting backwards while left fielder Matt Holliday sprinted in from deep left. Kozma abandoned the pop fly around the same time Holliday did, and the ball dropped in between the two fielders. It appeared to now be bases loaded with one out.
Not so fast. About one second before the ball hit the grass, left field umpire Sam Holbrook (outfield umpires are added in the playoffs) signaled for the Infield Fly Rule, indicating an automatic out. Here is an abridged version of Major League Baseball's Infield Fly Rule.
An infield fly is a fair fly ball (not including a line drive nor an attempted bunt) which can be caught by an infielder with ordinary effort, when first and second, or first, second and third bases are occupied, before two are out. The pitcher, catcher and any outfielder who stations himself in the infield on the play shall be considered infielders for the purpose of this rule.
When it seems apparent that a batted ball will be an Infield Fly, the umpire shall immediately declare "Infield Fly" for the benefit of the runners. (Emphasis added)
Watch for yourself and judge to see if Pete Kozma would have caught the pop fly with an ordinary effort. The ball doesn't necessarily have to land in the infield, but only require ordinary effort. This photo from Jon Bois indicates where the ball landed.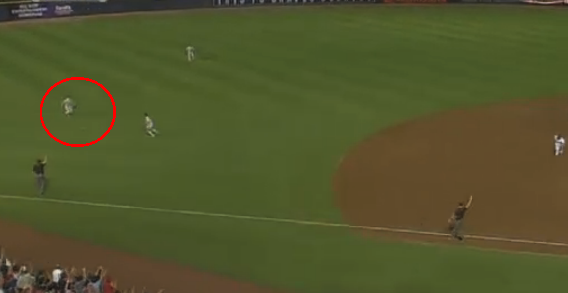 Braves fans were downright furious, chanting "BULLSHIT" and throwing objects on the field. Home plate umpire Jeff Kellogg was hit with a liquor bottle, according to TBS reporter Tom Verducci. The littering combined with an official protest from Braves manager Fredi Gonzalez (which was quickly denied after the game) to result in a 19-minute delay.
According to Dave Cameron of FanGraphs, the Infield Fly call changed Atlanta's win probability from 22 percent to 9 percent.
When play resumed, pitcher Jason Motte entered to try to get the final out of the inning for St. Louis. He walked pinch hitter Brian McCann to load the bases, but struck out Michael Bourn to end the frame. The Cardinals eventually won the game 6-3 to advance to the NLDS.