California
Howard Berman Wins Fight Against Brad Sherman Among Immigrants' Rights Activists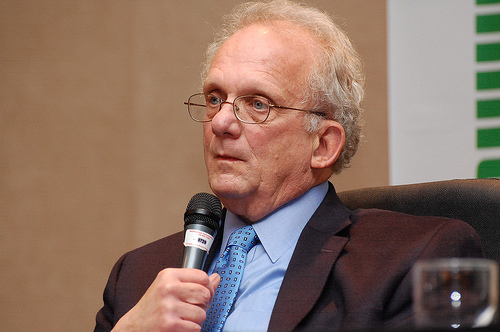 Immigrants rights activists defended Representative
Howard Berman
the morning after
his race to represent most of the western San Fernando Valley in Congress
against Rep.
Brad Sherman
witnessed a physical and verbal altercation about whether Berman spearheaded important immigrants rights legislation.
"Howard Berman is one of the greatest champions of immigration and immigration rights that U.S. Congress has ever seen," said Frank Sharry, executive director of the activist group America's Voice, during a teleconference with reporters. He said the call was organized without consulting Berman's campaign.
At a debate Thursday night, Sherman said Berman was not one of the original co-sponsors of legislation to give young adults in the country illegally a path to legal residency. Sherman grabbed Berman around the shoulder and asked him, "Do you want to get into this?", causing a sheriff's deputy to walk in between and place his hand on Sherman's back as if to make sure no punches were thrown.
Sherman said it was Rep. Luis Gutierrez who originally introduced such legislation. Though Gutierrez was integral to getting the conversation started, Sharry said it was Berman, responding to a plea of a teenager in his distrct, who offered the first comprehensive solution with Reps. Chris Cannon and Lucille Roybal-Allard in May 2001. Sherman never signed on as a co-sponsor of that 2001 legislation. Cannon, a Republican from Utah, was the lead sponsor of the bill because Berman felt it would have better chance of passage if a Republican's name was attached to it, thus making it the Cannon-Berman bill.
This Student Adjustment Act was eventually combined with Sen. Dick Durbin's Dream Act in the Senate, and collectively became known as the Dream Act as it evolved during the 2000s. MyNumbersUSA, an anti-immigration group which gives out low grades to members of Congress who support immigrant rights, has awarded Berman a D for his career. Sherman has a received a slightly higher C-.
"We can say Sherman has not voted the wrong way, but he has rarely engaged with the Latino immigrant community," said Angelica Salas, board chair of CHIRLA Action Fund.
Berman and Sherman are engaged in a rare general election contest between a pair of Democrats because redistricting last year folded Berman's district in Sherman's. The district is about 45 percent Asian and Latino, two key immigrant voting groups. One of the fiercest Congressional elections in Los Angeles County, the deciding factor may actually be Republican and independent voters in the San Fernando Valley. That could explain why Sherman has a double-digit lead in polls. Even on Google, more people are searching for Sherman.
"We're on a campaign to hold accountable all the candidates who opposed the Dream Act," said Cesar Vargas, managing partner of DRM Action Coalition. "We're not fighting for parties, we're not fighting for candidates. We're fighting for people who will stand up for the Dream Act. Howard Berman has really set the standard for what it means to be a Dream Act supporter."
Vargas said he was in Congress has Berman explained the importance of the Dream Act before a crucial vote.
"It was Howard Berman who stood his ground," Vargas said. "For us, that was really incredible."
The measure didn't pass out of Congress that month. But President Barack Obama signed an executive order this year giving two-year work permits to young adults in the country illegally.
Like reporter Paresh Dave on Facebook, follow him on Twitter, circle him on Google+ or send him an e-mail.