Art and Design
Akram Khan's "Vertical Road" Leaves A Perplexing Impression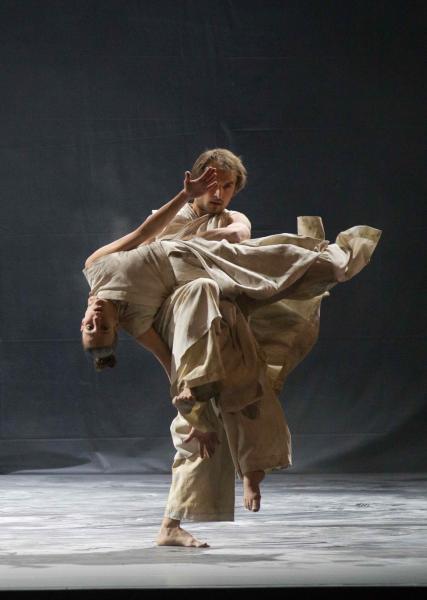 Should a journalist research a performance before going to see it? For the purpose of this review I decided that some preliminary digging was a good idea.
I found mostly negative reviews and disappointed comments from those who had seen Akram Khan's Vertical Road.
The piece is about time, timelessness, spirituality and our ability to transcend. Khan explores horizontal and vertical movement in the context of time.
He uses two definitions of time, the first is Western time, that constrains and controls our movement. The other is Eastern time, which he describes as 'feminine' time. This circular sense of time deals with seasonal change, life and death. The work explores the battle to move from physical, western, horizontal space and time, to vertical time.
The dancers are still at various times during the performance adding tension between static and the moving energy. You become more aware of movement once it is juxtaposed with stillness, which becomes the way in which to transcend.
Khan uses a variety of dancers from Eastern and Western backgrounds. The merging of cultures and movement is gentle and the dancing beautiful, as are the use of simple props such as a plastic screen and powder. It allows the dancers to create visible energy. They beat against the screen and it ripples across the space. They move and the powder engulfs them. They stand still and the white energy settles. As the ticking clock turn into violent beats, the powder rises and engulfs the dancers which gives a sense of mysticism and timelessness.
Despite the two years of performances, Friday night at UCLA's Royce Hall was only the second time composer, Nitin Sawhey, saw it. He says that it is a difficult piece to watch. "I was surprised by how moved I felt, it was overwhelming". he says. "It's a very powerful piece, they evoke religious imagery and I found it quite dark as well. So from my point of view I needed to step away from it."
So did the men who walked out of the performance halfway through, apparently.
This was not the only disturbance. A handbag dropped, an iPhone buzzed, reminding me what the piece was trying to achieve, an escape, momentarily, from our horizontal and time-bound lives. Perhaps it is our restlessness that confines our ability to appreciate work of this nature.
In the aftermath buzz of people attempting to get on with their Friday evening, I received more mixed reviews.
A young dancer, Melissa Bourkas, enjoyed the performance, "There were beautiful well thought-out phrases but it told the story in a non-literal way. It was interesting to see the merging of Eastern and Western movement". While another gentleman called it "predictable" and "over-produced".
I do wonder whether my research affected my ability to appreciate Vertical Road. Did it inform my viewing or detract from it? Visually it was a graceful, beautiful performance, but it did not make me want to dance all the way home.
Reach Reporter Leila here.