Entertainment News
A Grammy Salute To Whitney Houston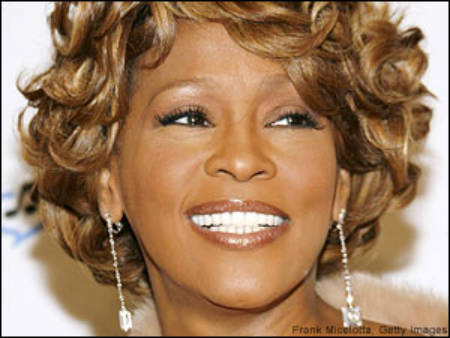 The room was brightly illuminated and a beautiful "WH" heart symbol covered the walls. There were small lights covering a black wall giving the audience the illusion of space, or of a dream. Whitney Houston's music was softly playing in the room as the audience waited for the star-studded event to commence.
On October 11, 2012, some of the biggest names in the entertainment industry attended the Whitney Houston Grammy Salute to celebrate the life of the late and great Whitney Houston. The event took place at the Nokia Theater at LA Live.
Houston's Daughter Bobbi Kristina and her recent fiancé Nick Gordon were sitting in the front row, along with some of Houston's family members and Clive Davis - the man who is credited with discovering Houston and guiding her throughout her career.
The event started off with a few interviews of Whitney Houston and iconic videos of her singing her hits at her prime. One of the first celebrities to take was stage was Academy-Award-winning actress Halle Berry. Looking upset and distraught after watching the emotional videos, Berry spoke about the huge powerful influence that Whitney had on the world. She stated, "She inspired a generation of little girls and women to believe in their own dreams and to know that they had within themselves the greatest gift of all."
After Berry's tearful speech she introduced the first performer: Grammy and Academy-Award-winning actress/singer, Jennifer Hudson. Dressed in an 80's enthused outfit and rocking Houston's hair style from the iconic video, "I Wanna Dance with Somebody," Hudson got the crowd on their feet singing some of Houston's most famous upbeat songs. Hudson sang 3 songs total, Houston's "How will I Know," "I'm Every Woman," and "I Wanna Dance with Somebody."
After Hudson's fun performance, more videos were played of interviews and performances of Houston - some of which were never before seen. Among those videos was Houston's famous 1991 Super Bowl performance of "The Star Spangled Banner," in which Taraji P. Henson, one of the nights speakers, said that Houston made the song "her own." Brittney Spears also spoke about how as a child she would always sing Houston's hits.
The most moving performances of the night came from Usher, CeCe Winans and Yolanda Adams. Dressed in all black, Usher sang "I Believe In You And Me." Right before his performance he stated that Houston "possessed one of the greatest voices we have heard in this lifetime." Gospel singers Yolanda Adams and CeCe Winans sang "Waiting to Exhales Count on Me" and shook the entire room with their powerful and spiritual piece. Their performance left numerous people in the crowd, including Houston's daughter Bobbi Kristina, crying.
Celine Dion was also confirmed to perform but could not at the last minute; however, a 1987 video of Dion singing Houston's "The Greatest Love of All" was shown in place of an actual performance.
LL Cool J said the closing remarks. The event brought up none of Houston's past struggles as it was an event created for the sole purpose of celebrating her achievements. Houston passed away after an accidental drowning evoked by drug use and heart disease at the young age of 48. The event was truly a showcase of her talent and the enormous impact that Houston had on the music industry and the lives of individuals.
"I decided long ago never to walk in anyone's shadow; if I fail, or if I succeed at least I did as I believe."
-Whitney Houston
Reach Staff Reporter Rebecca Sai here.