Los Angeles
Endeavour Space Shuttle Locations And Street Closures: Where Can I Watch Endeavour?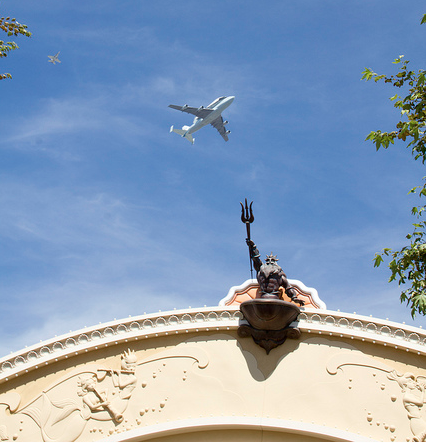 Retired space shuttle Endeavour departs LAX at 2 a.m. Friday and is scheduled to arrive at the California Science Center at about 9 p.m. Saturday.
The official viewing areas are:
Saturday 8:00 a.m. as the shuttle passes by Inglewood City Hall
(Parking available at this location.) The shuttle will be parked at Manchester Blvd. between Cedar Avenue and Inglewood Avenue overnight.
Saturday 9:00 a.m. the shuttle will stop at Inglewood Forum for about 30 minutes.
Public is welcome as early as 4 a.m. (Free parking at Hollywood Park.)
Saturday 2:00 p.m. at Crenshaw Blvd. & Martin Luther King Jr. Blvd. for 30 minutes.
Space is limited.
Saturday as early as 8:00 p.m. at the California Science Center
(Access via the Expo Line or free parking in four large parking lots between Bill Robertson Lane and Vermont Avenue north of MLK Boulevard.)
Find an interactive map of street closures because of Endeavour's journey here.
Tag pictures with #spottheshuttle.
[gmap line=33.9426924038602,-118.38014245033264 |line=33.94229632603945,-118.37998956441879 |line=34.012471213302035,-118.2744312286377 |line=34.014392144829415,-118.28370094299316 + 34.014392144829415,-118.28370094299316 |line=34.01424985509564,-118.28417301177979 + 34.01424985509564,-118.28417301177979 |markers=treasure::34.0197278376915,-118.28698396682739 + 34.01933656494357,-118.28593790531158 + 34.019065340730315,-118.28606128692627 |markers=big red::33.95453828406229,-118.41390609741211 + 33.94236308085747,-118.43278884887695 + 33.95752841840947,-118.40849876403809 + 33.95485866062568,-118.40352058410645 + 33.956175751601826,-118.4007740020752 + 33.95984214072637,-118.39128971099854 + 33.959806545475,-118.34343910217285 + 33.961159154557045,-118.33142280578613 + 34.010977125400075,-118.33502769470215 + 34.010941551558155,-118.29151153564453 + 34.014374358625744,-118.28497767448425 + 34.01478344036767,-118.28573942184448 |zoom=16 |center=34.015619383884605,-118.28513860702515 |width=500px |height=400px |control=Small |type=Hybrid]