USC Sports
Cushing Out For Season With Torn ACL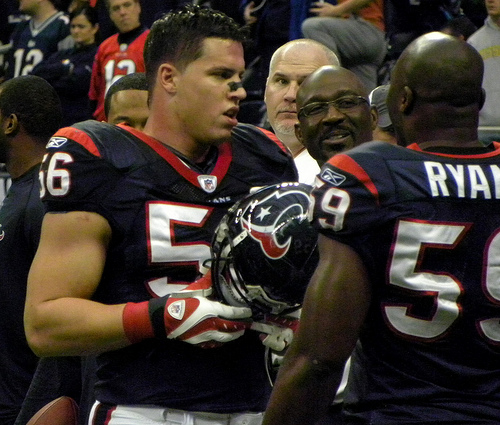 Brian Cushing's season is over.
The former USC All-American and current Houston Texans All-Pro linebacker tore his left ACL in the Texans' win over the Jets Monday and will have surgery once the swelling in his knee subsides, head coach Gary Kubiak confirmed.
"[It's a] big blow to our team," Kubiak told HoustonTexans.com's Nick Scurfield. "You feel bad for Brian because he works so hard and was playing so well."
Cushing, 25, went down in the second quarter after receiving a chop block from New York's Matt Slauson and did not return.
The play sparked plenty of controversy, including a noteworthy salvo on Twitter from Cushing's former USC teammate, Packers linebacker Clay Matthews III.
"If the NFL really wants to increase player safety, start protecting players on BOTH sides of the ball," Matthews tweeted.
"Where is the NFL's protection on blocks below the waist like that on Cushing. Double standard!"
Raiders quarterback Matt Leinart, himself a teammate of Cushing's at USC and in Houston, took a more diplomatic stance.
"Hope my boy @briancushing56 is ok! Praying for u buddy," tweeted the Heisman Trophy winner.
This marks the second year in a row the Texans have had to endure a season-ending injury to one of their best players. Houston lost starting quarterback Matt Schaub to a Lisfranc injury in his right foot in Week 10 of last season. One week later, Leinart, Schaub's backup, went down with his own season-ending ailment after breaking his collarbone. The Texans went on to lose their last three regular season games with third-stringer T.J. Yates at quarterback before being eliminated by the Baltimore Ravens in the second round of the playoffs.
While Cushing doesn't play as crucial a position, his absence could loom just as large as Schaub's did last year. Inside linebacker is one of the weaker areas on the Texans' roster after the team jettisoned DeMeco Ryans in the offseason, and top reserve Daryl Sharpton is currently on the league's PUP list with a quadriceps injury. Journeyman Tim Dobbins will take Cushing's spot and while he has started games for three different teams, the drop off in both talent and leadership (Cushing is a Texans captain) is steep.