California
CSU Tuition To Rise 5 Percent If Proposition 30 Fails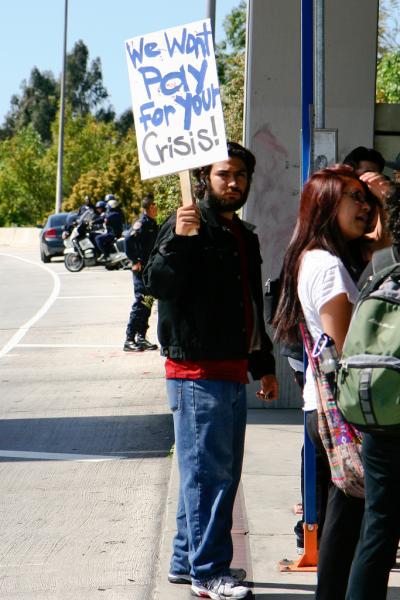 When Asher St. Pierre started college five years ago at California State University, Long Beach, the tuition and costs of attending amounted to $3,392.
This year, St. Pierre's senior year at CSULB, Cal State students are paying $6,738 in annual tuition – the tuition almost doubled in a five-year window.
Just last month, California State University trustees approved an additional tuition increase of 5 percent if the Proposition 30 tax measure fails in the November election.
"It seems like every single semester I come back, the tuition goes up another couple hundred dollars," said St. Pierre.
The tuition increase, if instituted, would be the twelfth hike since 2001. The 5 percent increase means students would have to pay an extra $300 in tuition. Though only a few hundred dollars, the hike would strain the limits of the financial aid packages granted to lower-income students, like CSULB freshman Maribel Marquez.
"That'll be less money I can use on my resources because it's not just tuition we have to pay for, it's books, it's gas [for] commuting. We have to eat," said Marquez. "It adds up. It's a lot."
The trustees' tuition hike proposal would only be implemented if Proposition 30 doesn't pass. The proposition would initiate a quarter of a percent increase in sales tax – it would be raised from 7.25 percent to 7.5 percent – and a raise on the personal income tax rate of people who make more than $250,000 a year.
A Proposition 30 failure would trigger a $250 million cut to the California State University system's funds.
Education advocate Kimbery Tso said Proposition 30 is not about giving schools more money but rather about creating new revenue streams.
"Proposition 30 is a way to pass the budget," said Tso, "It's not going to mean new money available for schools, it's just going to mean that the state's going to make good on its obligations to the schools that they already have."
The funds raised from the tuition increase would mitigate the impact of the budget cuts triggered by a Proposition 30 loss. Additionally, Cal State universities are admitting fewer and fewer students – many accepted applicants are put on a wait-list for the subsequent year– and cutting courses and programs with low graduation rates.
"We're all kind of pissed off, " said Alex Barrett, a student a CSU Los Angeles. "It's so hard to find classes."
Mona Lydia, a student at CSU San Diego and supporter of Proposition 30, recently took out her first loan to pay for college.
"For the past five years all of my tuition came straight out of my pocket," said Lydia. "We're paying more for fewer classes. "
In the 2008-2009 school year, the California State University Board of Trustees passed a tuition hike of 10 percent, sparking angry student protests across the state at schools in the CSU system. Every year since then, the CSU Board of Trustees has proposed and passed motions to raise tuition fees, citing California's fiscal crisis as the main cause.
However, many students see the administrations' excessive salaries, perks such as automobile and housing allowances, and pay raises, as an example of the trustees' fiscal irresponsibility. Last March, the trustees approved pay raises of 10 percent for two CSU presidents – they both make more than $300,000 a year.
Later in July, they approved pay raises for seven CSU executives, including the presidents of CSU Northridge, CSU San Bernardino, San Francisco State and California Maritime Academy.
"It seems that the chancellors' are doing really funky things, like making unnecessary renovations to their houses with our money or taking increases in pay," said St. Pierre. "It's really unfair."
Trustee Pete Mehas told the SF Gate that presidents were worth the investment.
"I know (presidential pay) is an easy target when people are truly starving in many areas of the system," said Mehas.
The trustees will have to appease a growingly unhappy student population. Last year, said St. Pierre, the CSULB campus erupted in protests over the salary raises.
"The chancellors can make very inflated statements about what they're going to change," said St. Pierre, "but as soon as the protests stop they forget about it completely."
Read more of Neon Tommy's coverage on tuition here.
Reach Senior Staff Reporter Tasbeeh Herwees here.