Sports
College Football Week 9 Predictions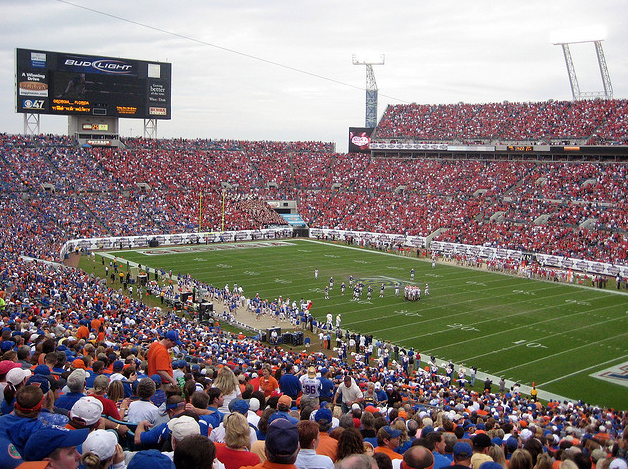 Thanks to the BCS, it's that time of the season when college football fans are stressing not just about their own team, but about the strength of schedule of their team's opponents.
This week, Notre dame faces its toughest test yet on the road in Norman, Okla., and our writers are split on the likelihood of their success. Meanwhile, the Florida Gators look to continue their surprising run back to the summit of the SEC East, and they've converted many believers on our staff - except one.
No. 2 Florida vs. No. 10 Georgia (Jacksonville, Fla.)
Ferreira: Florida 37 - Georgia 28: At one point in the season, many thought Georgia would win this game. But they were exposed as pretenders when South Carolina easily blew the Bulldogs out. Florida is on a mission to dethrone Alabama atop the SEC and playing in front of virtually a home crowd will help them pull this one out. Florida's offense still isn't great, but their defense will overwhelm and stifle the "Dawgs."
Fuster: Florida 28 - Georgia 24: More SEC! And it's the "World's Largest Outdoor Cocktail Party!" I have Florida for the simple fact that they have come hard for every game thus far while Georgia collapsed against their first big opponent of the season, South Carolina. Jarvis Jones is back to full health for this game, so Georgia's defense should allow them to stick around. But Florida head coach Will Muschamp has Jeff Driskel and the Gators offense at full power, and they should stay that way until an SEC title game with Alabama.
Piellucci: Georgia 27 - Florida 17: It's been said that the definition of madness is doing the same thing repeatedly and expecting a different result. In that case, I'm probably insane for sticking by my staunch refusal to believe in the Gators after they continue to prove me wrong. But I can't be that crazy to bet on the team with the better quarterback and deeper cache of impact players, can I?
Tufts: Florida 27 - Georgia 14: Georgia knows it will have to beat Florida to get to the SEC East title game, but after the the way the Gators dismantled South Carolina last week, that does not appear to be any small task. Aaron Murray has been more consistent than Florida quarterback Jeff Driskel, but was shut down by South Carolina's defense two weeks ago. Florida's defense is even better than the Gamecocks' and will have little problem shutting down the Bulldogs.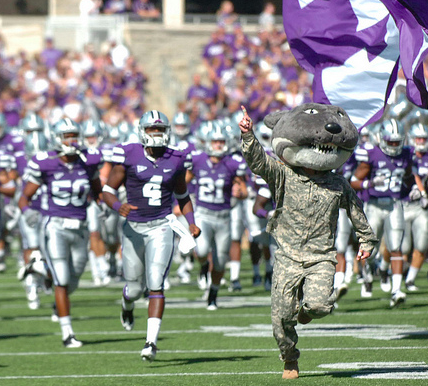 No. 14 Texas Tech at No. 3 Kansas State
Ferreira: Kansas State 37 - Texas Tech 30: The Red Raiders are going to give the Wildcats yet another top-ranked challenge this season, but with the way Kansas State is playing, they'll be able to meet it. Tech will make it close thanks to their newfound confidence after upsetting West Virginia in spectacular fashion and a close win over TCU last week. But they will run out of steam and Kansas State will roll on with its undefeated season.
Fuster: Kansas State 35 - Texas Tech 28: The Red Raiders look to jumpstart their Big 12 and BCS bowl hopes with another upset. The major question mark lies on Tech QB Seth Doege. He threw seven TDs against the Horned Frogs last week, but when he played against Oklahoma three weeks ago, he was held to zero TDs and three picks. K-State has an equally strong defense and should be able to contain Doege just enough for Optimus Klein and his offense to pick up the victory.
Piellucci: Kansas State 38 - Texas Tech 24: Every Big 12 team but two - Iowa State and Kansas - has a big offense. Only two, however, have a defense to match and Kansas State is one of them. This is the week Texas Tech reverts to form as a team bound for the middle of the Big 12 pack.
Tufts: Kansas State 45 - Texas Tech 35: Collin Klein was electric in his performance against West Virginia last week, and Seth Doege has been phenomenal in all but one game, leading the nation with 28 touchdown passes. This matchup has implications not only on bowl games, but for the Big 12 crown. It's guaranteed to be a high-scoring affair. Doege will keep the Red Raiders around later than expected, but few teams in the nation can actually keep up with the Wildcats when Klein is under center.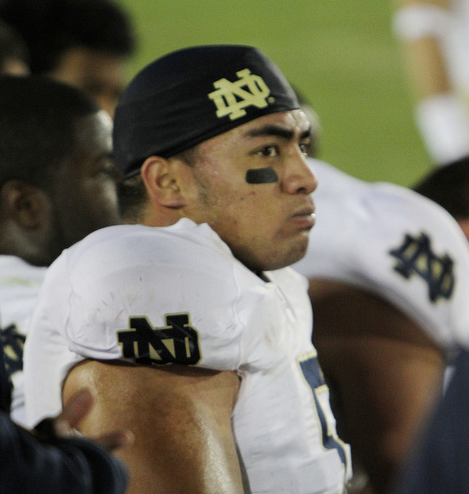 No. 5 Notre Dame at No. 8 Oklahoma
Ferreira: Notre Dame 38 - Oklahoma 35: If the Fighting Irish win over fellow top-10 team, Oklahoma, their game against USC in late November will be even more of a headliner. Since the Irish have yet to trail all season and have only given up one touchdown in the second half, fortune is in their favor. Though the Sooners will hang tough, Notre Dame emerges unscathed.
Fuster: Oklahoma 21 - Notre Dame 10: The key matchup will be Sooners' RB Damien Williams against Notre Dame's run defense, which hasn't given up a rushing TD this season. Of course, there is also the question of whether Manti Te'o and the Irish linebackers will hold up against a high-caliber QB like Landry Jones. I have the Sooners because they are more explosive offensively than ND.
Piellucci: Oklahoma 24 - Notre Dame 13: What ought to trouble the Fighting Irish more than Oklahoma's defense is that it's being played in Memorial Stadium, where the Sooners are a mind-boggling 78-4 under Bob Stoops. That's exponentially more hostile than anything Notre Dame QB Everett Golson has encountered thus far, while hostile doesn't even begin to cover how Landry Jones and his fleet of receivers will treat Notre Dame's swiss cheese secondary.
Tufts: Notre Dame 28 - Oklahoma 24: Oklahoma's offense has been torching opposing defenses (156 points in their past three games), but that is the task for Notre Dame linebacker and Heisman hopeful Manti Te'o. The Fighting Irish defense hasn't given up over 20 points in a game this season. While that streak may end, expect Notre Dame to hold off Oklahoma enough to stay undefeated and in the championship hunt.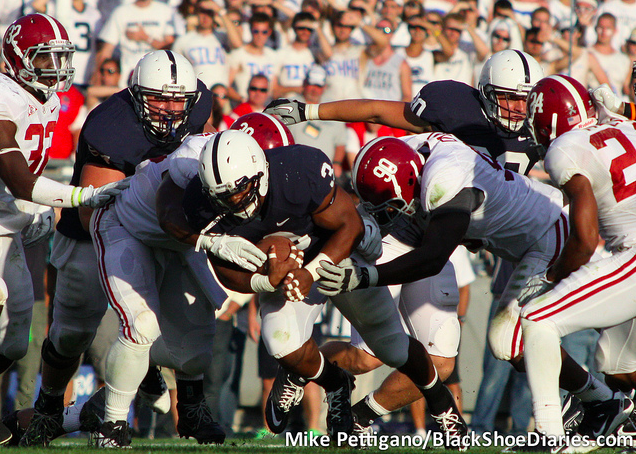 No. 11 Mississippi State at No. 1 Alabama
Ferreira: Alabama 42 - Mississippi State 28: MSU might be undefeated, but they haven't faced any teams nearly as good as Alabama, so a beat down seems imminent. No one has even come close to the Crimson Tide this season, and the Bulldogs won't be the first. 'Bama wins easily, though Mississippi State will come out strong in the first half and throw everything but the kitchen sink at their opponent.
Fuster: Alabama 42 - Missisippi State 24: In order for Mississippi State to win, they will need to capitalize on every single Alabama mistake -- if they make any -- and force lots of turnovers in the process. However, I think the Tide are far too talented to stumble at this stage in the season, with AJ McCarron performing spectacularly so far and without an interception to blemish his record. My score prediction is pretty wide, but it's actually narrower than the Vegas spread, which is currently set at 24 for Alabama.
Piellucci: Alabama 48 - Mississippi State 17: If there's a motif to MSU's season, it's allowing inferior opponents to hang around far longer than they should. That begs a fairly obvious question: if the Bulldogs struggle to muster up a killer instinct to put away teams they're better than, how are they going to find the gumption to knock off the best team in the country on the road?
Tufts: Alabama 38 - Mississippi State 17: For an undefeated team in the SEC, Mississippi State hasn't been given much of a shot against the Crimson Tide - the spread currently favors Alabama by a 23.5-point margin. Alabama has been under fire this season for a weak schedule and will aim to flex their muscle in an SEC rivalry game.