Sports
College Football Week 6 Predictions
The red meat of the college football season is finally here, so let's carve into these enticing Week 6 match-ups. Our writers have a bone to pick over who will come out on top at the swamp, but they all remain unconvinced by West Virginia's chops despite Geno Smith's sizzling showcase against Baylor last week. And out west, the Ducks are expected to slice through a tender Washington State defense. All that, plus the battle of the UCs will be scorching in Berkeley. Bon appetit!
No. 4 LSU at No. 10 Florida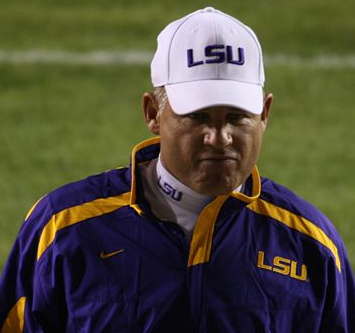 Fuentes: Florida 31 - LSU 24: The least convincing top-10 team the last two weeks has been LSU, which struggled against the notable powerhouse that is Towson. No one questions that the Tigers have a talented defense, but they'll need to step their game up against a Gator team that has proved the naysayers wrong with impressive wins at Texas A&M and at Tennessee. If Jeff Driskel can continue to play mostly mistake-free football, RB Mike Gillislee can do the rest.
Piellucci: LSU 23 - Florida 17: I've said all year that Florida is overrated, but LSU hasn't looked all that great either, and particularly not after the offensive line was thrown into disarray after LT Chris Faulk went down for the year. Ultimately though, the Tigers just have too much speed on defense and too many backs to wear down a talented but thin Gator defense.
Shapiro: Florida 17 - LSU 13: LSU travelling to the swamp to take on Florida is one of the marquee match-ups of the week. This game is going to come down to protecting the quarterback for both squads. Sophomore QB Jeff Driskel will engineer a drive late in the fourth quarter and give Florida a season-defining win.
Tufts: LSU 24 - Florida 17: LSU's defense has locked down against opposing offenses this season, giving up 14 points or fewer in four of their first five games. Florida's defense has been nearly as impressive, coming off a 38-0 shutout against a poor Kentucky team. This game aims to be a close one with points hard to come by, but a big play from Tigers' junior QB Zach Mettenberger will put LSU on top.
No. 5 Georgia at No. 6 South Carolina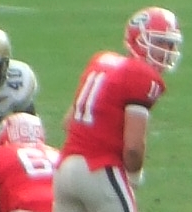 Fuentes: South Carolina 17 - Georgia 14: The Bulldogs will try to pound the ball with talented freshmen running backs Todd Gurley and Keith Marshall, but they took a huge blow this week when top wide receiver Michael Bennett tore his ACL, leaving Aaron Murray without a vital weapon against a tough Gamecock defense. Lastly, considering how well Connor Shaw has played since returning from a shoulder injury, he will be able to lead his team to a victory at home.
Piellucci: Georgia 35 - South Carolina 31: Bar none the toughest pick of the week, and one that's exacerbated by each team's history of falling short of expectations when the hype starts to mount. I'm very hesitantly going with Georgia for three reasons. First, I trust Aaron Murray a lot more than Connor Shaw. Second, South Carolina's biggest advantage - its pass rush versus Georgia's offensive line - is mitigated by Murray's elusiveness. Third, Georgia's defense is loaded with talent and looking to redeem itself after being torched by Tennessee (which has a far more potent passing attack than South Carolina).
Shapiro: Georgia 24 - South Carolina 20: Both teams are relatively untested heading into a colossal SEC East showdown. Georgia has proven that it can light up the scoreboard, but it has yet to face a defense with that of the caliber of a Jadeveon Clowney-led Gamecock squad. Aaron Murray will take advantage of a special opportunity in Columbia and dispel claims that he doesn't step up in big games.
Tufts: Georgia 30 - South Carolina 21: This game looks like a preview of the SEC East Championship and the winner has a legitimate shot of facing Alabama for the conference title. The Gamecocks' Marcus Lattimore has a good history against Georgia, but look for that to end against Alec Ogletree and the Bulldogs' stifling defense.
No. 8 West Virginia at No. 11 Texas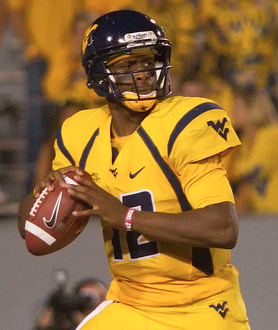 Fuentes: Texas 49 - West Virginia 42: The Longhorns are finally back on the national stage this year, but their defense has curiously been absent thus far. That will allow Geno Smith to rack up some major yardage and touchdowns in Austin. The good news for the 'Horns is that they finally have a capable QB in David Ash, and while they feature a strong running game with Joe Bergeron and Malcolm Brown, it will be Ash that wins this game by air.
Piellucci: Texas 30 - West Virginia 21: It's hard to tell which was more overlooked after Geno Smith's hailstorm of numbers against Baylor - that the woefully inept defense conceded a ghastly 63 points against the Bears, or that the vaunted trio of Smith, Steadman Bailey and Tavon Austin only beat a terrible Maryland team by 10 the week before. Texas and its battalion of NFL talent is not Baylor or Maryland, and should maul the Mountaineers on both lines. The Longhorns have uncharacteristically flown under radar in the Big 12 this year. That ends Saturday when they knock West Virginia from the unbeaten ranks.
Shapiro: Texas 45 - West Virginia 42: It's tough to pick against the Mountaineers and QB Geno Smith, the clear-cut Heisman front-runner after his otherworldly performance against Baylor. With both teams lighting it up offensively, the Longhorns will prevail at home and win in a shootout.
Tufts: Texas 52 - West Virginia 35: West Virginia won't score 70 points this weekend, but this game will be a shootout. Two quarterbacks that are very capable of throwing the ball down the field will trade touchdowns early, but West Virginia's defense is too temperamental and won't hold up the entire game.
No. 23 Washington at No. 2 Oregon
Fuentes: Oregon 42 - Washington 21: Steve Sarkisian found a way to get it done last week against Stanford, but asking him to pull two major upsets in a row might be impossible. Even if QB Marcus Mariota hasn't always played exceptionally, Oregon's offense is simply too high-powered to lose this one. Keith Price will be able to do more against the Ducks' defense than he did against Stanford (he'll get more time to throw the ball), but it won't be enough to win at Autzen.
Piellucci: Oregon 52 - Washington 21: Washington isn't a bad team by any means, but the same two factors that led it to knock off Stanford - better athletes and a raucous home-field advantage - work in Oregon's favor this time. Another problem: Washington's tissue paper-thin offensive line, which must contend with Oregon defensive coordinator Nick Aliotti's smorgasbord of schemes and the fearsome Dion Jordan working off the edge.
Shapiro: Oregon 52 - Washington 21: Washington is riding high after an upset last weekend against an overrated Stanford team. Last week's success will be a distant memory in Autzen when the Ducks crush the Huskies at home, led by a staunch defense and ridiculous offensive speed from the skill positions.
Tufts: Oregon 45 - Washington 21: Washington looked very good against Stanford, but the Cardinal offense pales in comparison to the machine that freshman quarterback Marcus Mariota runs in Eugene. Washington might make it interesting for a quarter, but the Huskies can't keep up with the Ducks.
No. 25 UCLA at California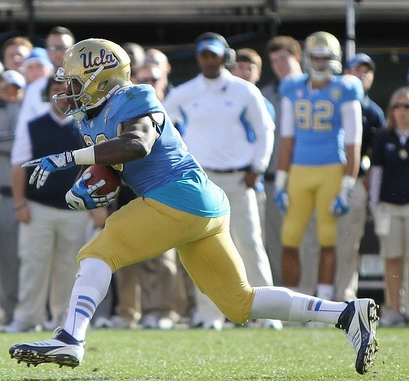 Fuentes: Cal 24 - UCLA 17: The Bears have had a very challenging schedule this season and it's no surprise they've dropped contests to Ohio State, USC and Arizona State in consecutive weeks. Still, Jeff Tedford's team hasn't embarrassed themselves in any of those match-ups, despite a 1-4 record and it's due for a win. QB Brett Hundley and running back Johnathan Franklin have been fantastic for UCLA so far and they're more than capable of winning at Berkeley, but expect Zach Maynard to find a way to get it done on Saturday.
Piellucci: UCLA 35 - Cal 20: "Come one, come all to the latest embarrassment on The Jeff Tedford Farewell Tour! Witness Cal lose its first game at home to UCLA since 1998, and Zach Maynard make more awful mistakes but magically retain his starting job! You don't want to miss this; just seven games remain before the Farewell Tour comes to a close!"
Shapiro: UCLA 27 - Cal 20: Cal's rushing defense has been the team's Achilles heel this season. UCLA will exploit the Berkeley defense and run the ball effectively with Johnathan Franklin and enable Brett Hundley to make big plays at Memorial Stadium.
Tufts: UCLA 24 - California 10: The Bruins can't underestimate the Golden Bears if they want to stay ranked after bouncing back into the top 25 this week. That said, Cal has had trouble with the run in the past and won't be able to contain Johnathan Franklin.