Los Angeles
CicLAvia To Pedal Past USC On Sunday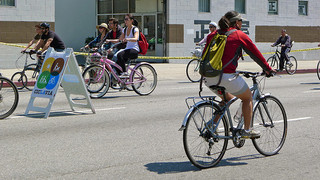 By mid-2009, the still-new
Café de Leche
in Highland Park had plenty of customers and not enough parking. The problem was a Los Angeles cliché. The solution proved anything but.
Working closely with officials at the Los Angeles Department of Transportation bicycling division, cafe owner Matthew Schodorf spent nearly two years navigating bureaucratic hurdles to re-designate a parking space on York Boulevard for bicycles.
Installed in February 2011, the Café de Leche bike corral – a first for the city – is now a landmark for two-wheel commuters.
"There were a couple of local business owners that were a little hesitant that we were using a parking space," Schodorf said. "The hard-core cyclists will tell you that you lost a spot for one vehicle and you created a space for eight."
As Los Angeles prepares to stage its fifth CicLAvia on Sunday – the 9-mile route will be bookended by Chinatown to the north and Exposition Park to the south – dialogue about the potential for cycling both as mass transit and an economic driver is shifting into high gear.
Already in motion is the city's bike plan, which was adopted in 2010 and includes a 1,684-mile bikeway system to be completed by 2045. Cost estimates range from $235 million to $427 million.
Last month Gov. Jerry Brown signed into law a bill that exempts bike lane projects from formal environment impact reports, a move expected to streamline efforts.
The 2011-12 fiscal year brought 76 miles of new bikeways to Los Angeles. LADOT also installed a second bike corral at the Sunset Triangle in Silver Lake, and 601 new bike racks throughout the city.
The momentum is being driven in part by a chorus of diverse voices demanding safe bicycling conditions, said Michelle Mowery, senior bicycle coordinator for LADOT.
"We have built out our system," Mowery said. "We don't have any roadway space left. It is full of cars. The city needs to make a decision about what kind of city it wants to be. We are at the cusp of that now."
Among her goals is to grow bicycle commuting to 5 percent of all trips in Los Angeles within the decade.
"Carmageddon is going to be our daily existence if we don't make some changes, and the change is bikes in transit," Mowery said.
Taking note of the public investment are private businesses. Earlier this year, the company Bike Nation announced plans to launch a fee-based, bike-sharing venture in Los Angeles. Scheduled to kick-off in early 2013, it will include 400 kiosks and 4,000 bicycles in downtown, Westwood, Hollywood and Venice Beach.
"Bikes are the most flexible and least costly form of transportation and we
 see tremendous bike share use potential within the city," Bike Nation spokesperson Jeff Pomeroy said in an email. "Clearly our 
commitment of $16 million signifies our dedication to bike share and its
 value in Los Angeles. Bicycle use throughout the region has increased and the
 city has shown true commitment to building and/or improving bicycle
 infrastructure."
Perhaps no single initiative has injected more excitement into bicycling in Los Angeles than CicLAvia, which will take place for the fifth time Sunday. The public-private partnership transforms vehicle thoroughfares into bikeways for a day, attracting tens of thousands of participants.
Sunday's route runs the length of the Figueroa Corridor near USC. It will trigger street closures until 3:30 p.m.
Aaron Paley, president of Community Arts Resources, which produces CicLAvia in conjunction with the city, said getting the event off the ground meant convincing resistant officials and business owners. Now those same individuals beg him to draw the twice-annual route through their neighborhoods.
"I think that the most important thing is that there has really been a transformation in the dialogue about what is possible in Los Angeles," Paley said. "I think we have completely changed the idea of…how Los Angeles can feel, and the way we navigate around the city. That has opened up the dialogue that so much is possible beyond the current paradigm."
The economic impact of CicLAvia is not yetdetermined – a study is underway at UCLA – but there are plenty of anecdotes, Paley said.
"We know that [some businesses] are having some of their best receipts of the year on CicLAvia day," Paley said. "We know that it works for certain kinds of businesses and certain kinds of neighborhoods."
The Los Angeles bicycle movement was already well developed when CicLAvia launched in October 2010, according to Paley.
"For the bicycling community CicLAvia was a public and mainstream acknowledge of the coming of age of bikes in Los Angeles," Paley said. "I think it has create a common ground for bicyclers and non-bicyclers, and at the same time given them a boost by publicly acknowledging how great it is to get across town without a car."
To be sure, Angelenos remain married to their cars. Just 0.9 percent of the city's 3.7 million residents commute by bicycle, according to a 2010 survey compiled by the League of American Bicyclists. But that number was up by 60 percent compared to 2005.
And all signs point to additional growth. Sierra Jenkins spent her undergraduate years riding around in what she described as the Mecca of urban bicycling – Portland, Ore. But it wasn't until she participated in CicLAvia in 2011 that she decided to take up riding in Los Angeles.
"It gave me that extra little boost to actually try and commute to work on my bicycle," the 29-year-old Boyle Heights resident said. "Of course, then you immediately run into the next problem which is you have to ask the building manager to put in a bike rack."
Still, she is feeling patiently optimistic.
"Rome wasn't built in a day," Jenkins said.
Reach Staff Reporter Megan O'Neil here.