International
Chinese Child Abuse Spurs Calls For Harsher Punishment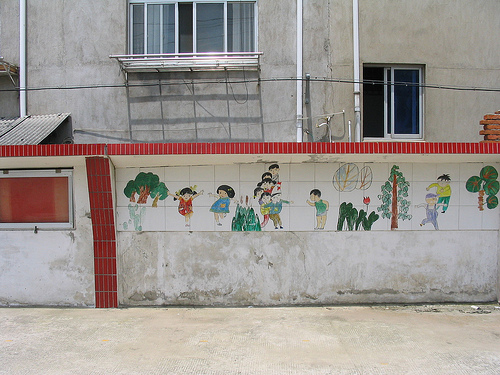 Recently, Weibo, a Chinese version of Twitter, has been bombarded by pictures of kindergarten teachers abusing children, immediately igniting harsh contempt on the teachers and heated discussion nationwide on how to shield children from harm in China.

A photo went viral on Oct. 24 on the Internet in China, showing a kindergarten teacher picking a boy up by his ears.

The boy in the picture was crying while the teacher laughed. The identity of the abusive teacher was exposed to the public. The teacher said she picked up the boy by the ears for fun. That remark further infuriated Chinese people.

The pictures and teacher's remarks garnered so much attention that the police had to interfere.

The police found more than 700 photos on her computer of children abused in different manners, including being thrown into trash bins and having their mouth sealed with plastic tape.

The teacher was fired and detained by police last week.

Last week, another abusive kindergarten teacher attracted an equal amount of attention. She was caught on camera slapping a girl's face violently for more than 10 minutes.

A flurry of recent child abuse scandals has caused Chinese people to contemplate what is missing in education. Legal and education experts are calling for the Criminal Law to be amended considering the loopholes in children's protection.

"Under current law, the crime of abusing children pertains to someone who abuses a family member, thus the kindergarten teacher is excluded from conviction of that charge," Liming Cai, director of the judicial department of the public security bureau in Wenling, told Xinhua News Agency. Wenling is the city where the first case took place.

That is why the teacher in the first case was only charged with "picking fights and provoking troubles" instead of "child abusing." The former charge is when someone assaults a person and provokes and causes public disorder.

Experts are also urging tougher punishments for teachers abusing children.

Jianlong Yao, a legal expert and advocate for better legal protection for children, told China Daily that although the Constitution in China has forbidden abuse of children, the definition of abuse is blurring and the punishment is lenient.

According to a 2008 survey, 40 percent of children in China have once suffered from abuse in different manners and degrees.

Experts believe the threshold of child abuse crime should be relaxed: maliciously making fun of children, humiliating and neglecting children should all be taken into consideration to fall in the category of child abuse.

Some experts tried to evaluate the whole thing in the sociological light.

They said teachers are selected by teaching skills, while their ethics are largely ignored.

In many second and third tier cities in China - a classification for cities based on their economic development - kindergarten teachers mostly choose their jobs not out of a love for teaching and caring for children, but because they have no other choices.

Parents should also take their share of responsibility in such cases, experts said.

According to Wangyi News, experts also suggest children be encouraged and educated to speak out when they are physically, sexually or psychologically injured or abused. A good example to follow in this regard is "Speak Up Be Safe," a child abuse prevention program initiated in United States to teach children to be aware of the harm and speak out the harm.

Reach Staff Reporter Zhao Chen here.