NBA
Center Of Motivation: Bynum Leaving LA Drama For Chance At Stability In Philly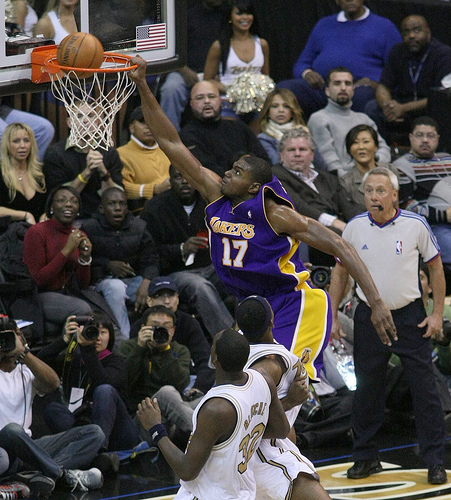 Before I begin: This is not a defense article on Andrew Bynum. This is not a cheerleading article for Andrew Bynum. This article will help you understand why Andrew Bynum needed this trade to the Philadelphia 76ers even more than Dwight Howard.
We already know about the Superman that is new Los Angeles Lakers center and former Orlando Magic All-Star Dwight Howard. Though Bynum spent seven years as a Lakers center, winning multiple championships and becoming an All-Star starter in the process, his mercurial demeanor and at times passive style left him as a pariah of the Lakers drama that surrounded him in the last year.
The last two years especially, I couldn't stand Andrew Bynum at times. I am from Philadelphia, so I (thankfully) don't pledge allegiance to the Lakers fandom. No doubt he showed how good he was last year: 18.7 points a game, 11.8 rebounds a game, 1.9 blocks a game, while missing only six games (most of them at the start of the season due to suspension). While the Dwight Howard drama was going down in Orlando, Lakers fans and basketball analysts alike had a case for saying Bynum may be at least as good as Howard.
But the cheap flagrant fouls, the lack of effort, the stupid comments and actions (i.e., continuing to shoot threes) were just annoying at best and disturbing at worst. Why can't a guy so big, so skilled, put it together for his team every night? Why does he keep pissing everyone off? And why can't he do something about that prematurely graying hair???
The solution: Bynum has had enough of Los Angeles. He's a New Jersey kid. Now that he's in Philadelphia (and in a contract year), Bynum is motivated, happy, and comfortable for the first time in years.
You have to remember that Bynum was drafted out of Saint Joseph High School (N.J.) in 2005. He was the tenth overall pick, and he represented the last of the draftees straight out of high school. He was the youngest player ever drafted, and the youngest player ever to debut in a game. Because the 2006 NBA Draft had no high schoolers, he was still the youngest player in the league in his second season.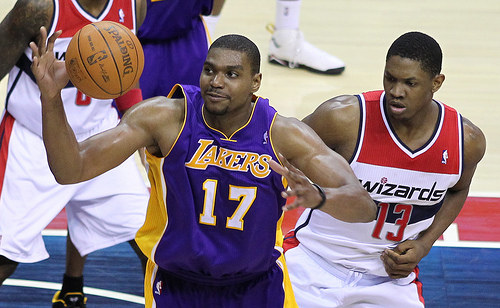 And he wasn't drafted into Siberia (or, as we call it, the Toronto Raptors). He was drafted by the Los Angeles Lakers as they were coming off of their worst season in ten years. He was drafted to replace Chris Mihm at center and to follow in the legacy of the great Lakers centers. He would be compared to Shaquille O'Neal, and the Lakers hired Kareem Abdul-Jabbar to get him up to speed.
Bynum did not have a college experience. He was in Lakers U.
Bynum also had the privilege of being coached by Phil Jackson and having shooting guard Kobe Bryant as a teammate. But maybe that wasn't such a privilege. The Lakers had a chance to trade Bynum to the New Jersey Nets for Jason Kidd; after the Lakers were eliminated from the 2007 postseason, Kobe Bryant was incensed. In Kobe's words, the Lakers should have "shipped his a$s out!"
The next years were marred by injuries for Bynum. The Lakers would trade for Pau Gasol in 2008, but Bynum missed the postseason that year due to a knee injury; the Lakers went on to lose the NBA Finals to the Boston Celtics in six games. Bynum missed 32 more games in 2008-2009, but at least he was back to help the Lakers win their first championship since trading O'Neal (defeating Howard's Magic in five games). In the following year, Bynum stayed on the court in the 2010 postseason despite suffering a knee injury in the first round that would require offseason surgery. The Lakers won their second straight title, defeating the Celtics in seven games.
The wheels started to come off for Bynum and the Lakers the following season. Bynum missed the start of the 2010-2011 season recovering from knee surgery. Jackson instructed Bynum to focus on defense and rebounding instead of scoring upon his return. Bynum also tagged then-Minnesota Timberwolves small forward Michael Beasley with a baseline flagrant foul in a regular season game. Kobe was proud of the dirty play, declaring that Bynum had "earned his stripes."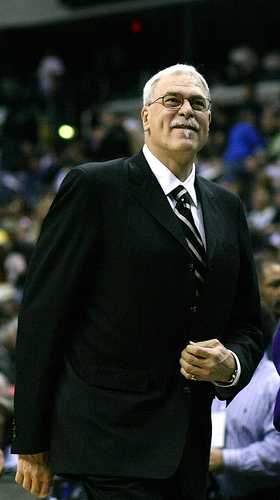 When it became clear that Jackson would be leaving the Lakers after the 2011 postseason, Bynum was at his worst. The Lakers took a while to defeat Chris Paul's New Orleans Hornets in six games, but then were embarrassed and swept by the Dallas Mavericks. The entire team went up in flames, but Bynum's role is interesting. Despite what Jackson wanted Bynum's role to be, Bynum still complained about not getting the ball. Then, when approached by the media in the locker room, Bynum candidly remarked that the team had "trust issues" - and didn't back off that comment when given a chance to explain himself.
But the worst moment had to be the flagrant foul that he laid down on Mavericks guard J.J. Barea, smacking the diminutive guard out of the air while the Lakers were down 30 in the deciding game. Bynum showed no remorse for Barea or any respect for Phil Jackson, removing his jersey as he was ejected from the game. Bynum might have earned his stripes, but it was clear that his frustrations had taken away from basketball.
And of course, the drama that consumed the Lakers permeated the entire 2011-2012 season. The Mike Brown hiring. Kobe Bryant's experimental knee treatment. Metta World Peace. The Dwight Howard trade rumors. The Chris Paul trade that went down, but for "basketball reasons" didn't go down. Lamar Odom being so mentally and emotionally unfit to perform that he was shipped out of LA. Pau Gasol being so mentally and emotionally unfit that trade rumors surrounded him until midseason. The Lakers trading Derek Fisher after realizing they needed an actual starting PG to make up for the absence of the triangle offense. New PG Ramon Sessions crashing and burning in the postseason.
Despite all of this, Bynum thrived. With Jackson and the triangle gone, Bynum was featured in the post over Gasol, and he responded with great play. He also had outstanding individual efforts that went beyond scoring (30 rebounds in a win against the San Antonio Spurs and a playoff triple-double with ten blocks in Game 1 against the Denver Nuggets).
Bynum's maturity and drive were questioned all season. But the only reason anyone cared is because he was balling out. He was more relevant than ever before because of his strong play; consequently, he was that much more frustrating for his inconsistency.
But it's clear that Bynum did not enjoy playing basketball anymore. Not to compare Bynum to a child, but he was acting like a child. But why do children act out? Sometimes, adults don't listen, don't build relationships, and don't use common sense. Mike Brown featured Bynum, then chastised him all season to cover for his lack of control of the team. As long as Kobe Bryant is around, Brown couldn't fully feature Bynum. Though Kobe struggled with his efficiency at points of the season (some of the worse FG% and assist-turnover ratios of his career), there was no way he'd cede touches to Bynum. Trust issues? No wonder why Bynum remarked after the season that he'd play anywhere.
Point is, the Lakers will have Dwight Howard's strengths and weaknesses now. Howard is an explosive big man who loves to chase blocks and rebounds and is monstrous when in dunking range. But Howard is coming off of back surgery (a situation to monitor for any big man, see Brad Daugherty), is an abysmal free throw shooter, is not an efficient ball-handler or passer, and in a worst-case scenario, could leave the Lakers after a year (still a longshot, but it's championship or bust in LA).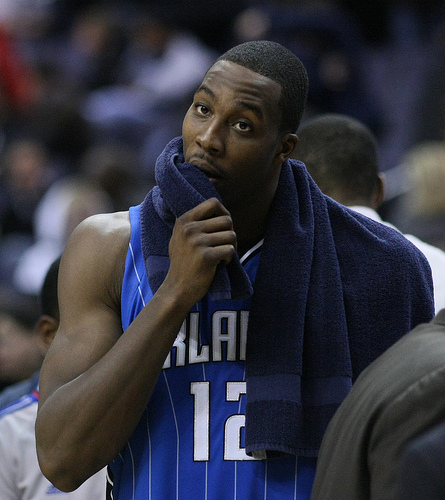 But now, Howard has Bynum's burden. He's another big man who needs to win a championship to justify his place as a great Lakers center. Bynum has a different burden. He's a 76ers center now. There's a lot that could go wrong with that: Philadelphia big men have been cursed by injury, anonymity, and Shawn Bradley-related disappointments since Moses Malone was traded in 1986. Bynum could certainly get injured; he took precautions into protecting his knees by going to Germany for the "Kobe treatment". Bynum could certainly disappoint - can he hold up over the course of the season as the focal point of the 76ers? And what if Bynum ticks off the notorious Philadelphia fan base?
Bynum's in a better place now though. 76ers head coach Doug Collins will feature Bynum and run the offense through him, allowing for a breakout that would never have happened in Los Angeles. Instead of worrying about competing with future Hall-of-Famers for touches, Bynum will be playing with a group of teammates in PG Jrue Holiday and SF Evan Turner who are talented, yet unselfish players who are more than willing to defer. As far as chemistry goes, these 76ers are a very young but strong-minded group, one that finished third in the league in points allowed and gained some valuable experience last postseason.
But most importantly, Bynum looks relieved to be out of Los Angeles. Bynum isn't going to an irrelevant team; he's going to a possible contender in the Eastern Conference. Bynum grew a lot in seven years in Los Angeles, but it was time for a change. In Bynum's introductory press conference in Philadelphia, the public were invited to attend, and the city roared with cheers when Bynum said he wanted to be in Philadelphia. His best years could be ahead of him, and if he and the 76ers can put it all together in 2012-2013, he could be in Philadelphia for the duration of his prime.
It won't get as much coverage as Dwight Howard's legacy in Los Angeles. Though for Andrew Bynum, that might be the best case scenario.
Reach Staff Writer Lawrence Murray via email or follow him on Twitter.