California
Bill Clinton Gives California Democratic Congressional Candidates Some Love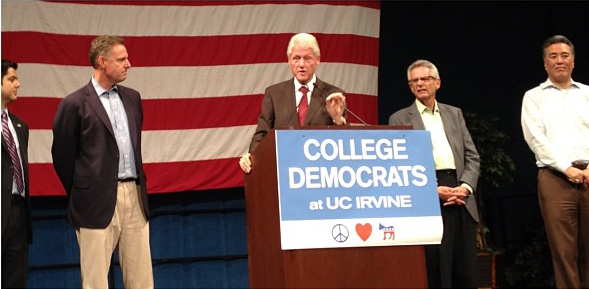 More than 5,000 people stood in line, some for several hours, to hear former President Bill Clinton rally supporters at the University of California, Irvine's Bren Events Center on Tuesday evening.
Clinton was in town to endorse the Democratic Party's candidates for the House of Representatives in Southern California, including Scott Peters, Raul Ruiz, Julia Brownley, Mark Takano and Alan Lowenthal.
"People are the most important resource in the world," said Clinton, "There is too much inequality... There is too much instability."
Playing to a young collegiate audience, Clinton and the candidates all touched on themes of diversity and equality, stressing college tuition, women's and immigration as the touchstone issues of the upcoming November elections.
"President Obama was right to lead young immigrants who came to this country when they were young," said Clinton, referring to Obama's deferred action program.
Candidate Raul Ruiz, a son of migrant farm workers, spoke of his own struggles chasing after the proverbial "American Dream".
"This election is about reviving the American Dream, the idea that with hard work everything is possible," said Ruiz.
The students rewarded the candidates with roaring applause when the speeches turned to tuition. Clinton touted the Student Reform Act, which will go into effect next year.
"The most important thing that has happened in the last four years that nobody knows about is the student reform law," said Clinton, "Nobody has to drop out of college again because they can't pay off their loan."
Candidate Julia Brownley brought women's rights to the night's agenda.
"We have fought these battles already and as a woman its completely unacceptable that were still fighting them today," said Brownley.
Clinton chastised the Republican party for their conservative stance on women's rights.
"This is not about religious rights," he said, "This is about shutting down Planned Parenthood and what they're trying to do to save women's lives."
Where the two parties differ on social issues is where undecided voters seem to waver.
UCI graduate Brad Evans is still not sure who he'll vote for, though he stands with Romney on foreign policy.
"I like Obama's stance on social issues," said Evans.
Katiana Tron, a freshman at UCI, is going to miss the age deadline to vote by four days -- but if she could vote, she says, she'd vote for Mitt Romney.
"Regardless of political preference, its pretty amazing to see a man who controlled the entire country a few years ago speak," said Tron.
Tron and her friend, UCI freshman Sharon Shaoulian, have been following the presidential debates and they think Romney performed well last night.
"I think he held his composure really well last night," said Shaoulian.
After the event in Irvine, Clinton spoke to business leaders at the Goldman Sachs Builders & Innovators Summit in Newport Beach. He told the crowd that politicians need to start compromising and get back in the "tomorrow business," according to posts on Twitter with the hashtag #gsbuild2012. Like at Irvine, he also touched on immigration.
"We must give green cards to entrepreneurs and engineers..they are job multipliers," he said, according to multiple Twitter posts.
Reach Senior Staff Reporter Tasbeeh Herwees here.