MLB
2012 San Francisco Giants Playoff Preview Q&A With Grant Brisbee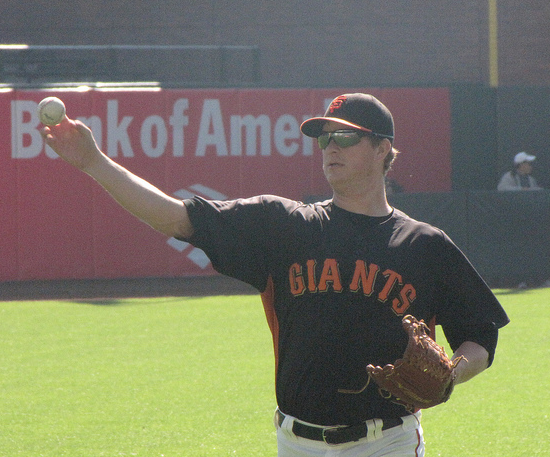 For the second time in three years, the San Francisco Giants won the NL West. While it was not a tense race to the finish as it was in 2010 (or even like their brethren across the Bay this year), the Giants still surprised some who thought the Los Angeles Dodgers -- with their blazing hot start and big money acquisitions -- would run away with the division.
On Saturday, the Giants begin their Division Series against the Cincinnati Reds. To educate all those who, for whatever reason, didn't follow the Giants this season, I talked with Grant Brisbee, founder of McCovey Chronicles and a manager of SB Nation's Baseball Nation.
1. The Giants enter the playoffs with a core that had won the 2010 World Series together. Does that playoff experience give the Giants an advantage over other teams?
I'm not a big intangibles guy, but when I think about my day-to-day life, it's pretty hard to dismiss experience out of hand. From my academic to professional life, I'd like to think I can point to all sorts of events and sea changes and say, "Experience helped me there. Experience helped me there. Experience sure as hell helped me there..."
But I don't think anyone's able to quantify it, or know how much of the secret sauce is experience. Plus, the odds are overwhelmingly good that the Giants' pitching will have a worse postseason this time around -- not because they're worse, necessarily. Just because no one is that good. So I'll say it helps, but in an almost imperceptible way.
2. Do you think it was the right decision to keep outfielder Melky Cabrera off the playoff roster?
Nope. I think a rusty Melky Cabrera, even if he makes the entire locker room uncomfortable, helps this team more than Xavier Nady, and I don't think it's especially close. A switch-hitter with speed, power, and defense, and he can't even find the bench? This is the franchise with a big ol' 756 placard out in right-center -- I think the PR fight is over, so just get the best players.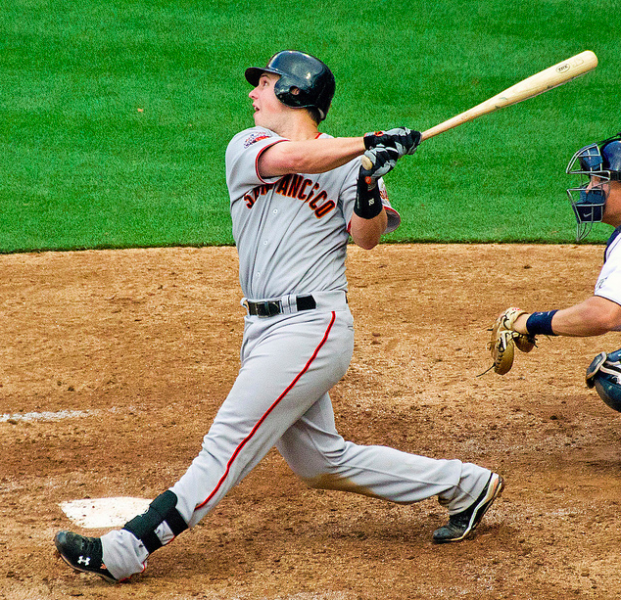 3. Who is the Giants' player to watch?
BUSTER POSEY
4. Well, besides Buster Posey.
Oh. It's the playoffs, so there'll be someone goofy who does better than they're supposed to. Give me Hunter Pence going nuts for some reason and justifying the trade. Note: this happens only if the Reds forget to throw sliders.
5. Since 2008, the Giants have been known for their superlative pitching. Do the Giants have the best pitching of the playoff teams?
No, unfortunately. I'll take them over the Cardinals, just slightly, but I wouldn't take the Giants' staff over the Reds or Nationals. If the Giants advance, either their pitchers have a renaissance, or they'll hit their way to the next round.
6. There is a good possibility that Hector Sanchez, who has been Tim Lincecum's personal catcher most of the season, will start at least one playoff game, pushing Buster Posey to first base and Brandon Belt to left field. What is your opinion on that whole situation?
Bleh. Just bleh. I like Sanchez's future, and I'm excited to see what kind of catcher he can be. But he's so raw defensively, and he's beyond raw offensively. Plus, when the Giants play him, it makes three positions weaker defensively -- catcher, first, and left.
I don't understand it, but I've almost made my peace with it.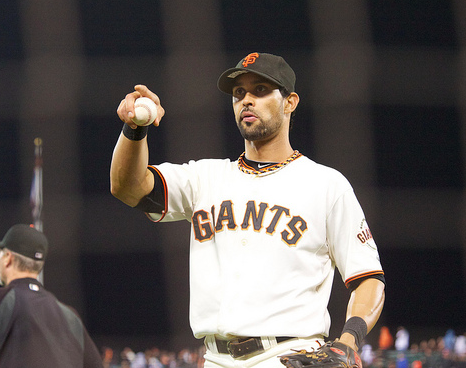 7. What aspect of the 2012 Giants would be most surprising to the fans and media who don't really follow the Giants?
They can hit. Sixth in the league in runs, even though they play in a canyon of a ballpark, and even though they don't hit home runs. The lack of homers is a litter overstated because they have way more triples than most teams -- for example, the Dodgers had 116 home runs and 23 triples; the Giants had 103 home runs and 57 triples. I'd give the advantage to the Giants on that.
8. How well do you think the Giants' unconventional closer-by-committee of Jeremy Affeldt, Javier Lopez, and Sergio Romo will hold up in the playoffs? Will injured closer Brian Wilson be missed?
He'll be missed, but not necessarily in the obvious way. I'm not worried about the lefty/righty combo in the ninth, as if they'll make me pine for Wilson. I'm worried about the overall depth, as Wilson was a good reliever, and now everyone moves up a slot. So where in 2010, Santiago Casilla was coming into the sixth inning of games, this year he'll be in the seventh or eight. And taking Casilla's old slot will be George Kontos or Guillermo Mota. I'm not worried about Wilson's absence in the ninth; I'm worried about it in the sixth and seventh, if that makes sense.
9. Finally, how confident are you in the Giants' possibilities of winning the World Series this year?
I'd guess they have between a 10- to 15-percent chance of winning it, just like every team. It's silly to be confident in an eight-team baseball tournament. Too many weird things can happen. The Rangers got beat last night because Robert Andino had a big hit, and Joe Saunders shut them down. The Braves were beat because their best pitcher allowed four runs for the first time this season. Stuff like that happens. Buster Posey could go 0-for-20 just as easily as he could go 15-for-20. You just have to sit back and let the baseball come to you.
Of course, that's a lot easier to say because the 2010 World Series is still fresh in my mind. I wasn't this zen a couple of years ago.
Check out the rest of our MLB playoff Q&As.
Reach Staff Writer Ann Frazier via email or follow her on Twitter.