Arts+Culture
A Thrill-Seeker's Guide To Conquering The World's Highest Bungee Jump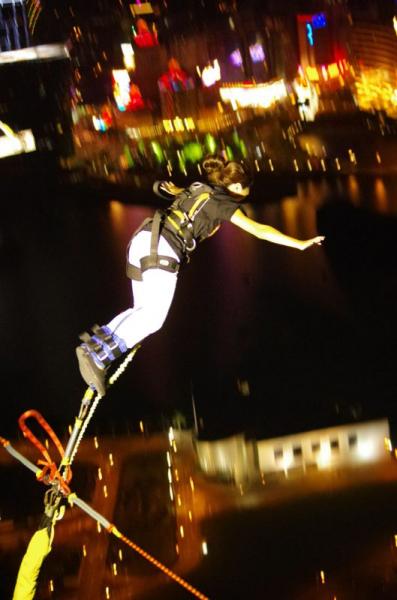 Seeking for some fear-inducing thrills? Are you daring enough to jump off the world's highest bungee jump platform just to have a near-death experience?
Being a high sensation seeker, I made a daring decision to visit Macau, China last summer to have a once-in-a-lifetime experience—jumping down the Macau Tower at 764 ft and at the same time breaking my very first Guinness World Record.
AJ Hackett Macau Tower Bungee Jump is the World's highest bungee jump according to Guinness Book of World Records. Many thrill-seekers and voyagers visit Macau Tower to try out the bungee jump every year, just to add another momentous accomplishment in their own travelogues.
In order to make this novel experience more thrilling and unique, I chose to jump at night so I would have a bird's-eye view of Macau's gorgeous skyline while jumping down. Simply riding the elevator up to the observatory deck required a bit of nerve. But after being fully equipped with the safety harness and tethers, my heart started to pound at an exponential rate, as I was asked to stand on the edge of the deck to get ready to make the leap. I decided to close my eyes and wait for the special moment.
As the operators started to count down, I stepped off the edge, feeling all the blood as well as a sense of euphoria rush into my brain. The extremely high speed put me into a state of extreme fright which was coupled with a sense of ecstasy. While the accelerating speed made me feel like I was going to smash into the ground, and break into pieces, I was blown away by the breathtaking view, which distracted me from the horrifying height.
Jumping from the top to the bottom lasted only about eight seconds, but rebounding from the fall felt like it took forever. The elastic cord pulled me straight up and down, leaving me to linger in the air for almost 30 seconds. Altogether, these 38 seconds was the most divine and unforgettable moment in my life so far. Amid the operators' cheering and congratulating, I was awarded with a legitimate Guinness World Record certificate.
I am proud that I am officially a member of this exclusive club of bungee jumpers and if you consider yourself as a high-sensation seeker like me, come join the club!
Does Macau seem a little bit too far away? Here are some recommended adventurous places around L.A., that offer activities just thrilling as bunjee jumping:
1. Speed Zone
Located in the City of Industry, Speed Zone offers Turbo Track, Slick Trax and Grand Prix Track, where you can satiate your need for speed and experience the thrilling life of a professional racer.
Nothing comes closer to bungee jumping than skydiving. Instead of a cord that is tying you down to a man-made structure, you are strapped to a parachute before you freefall from a helicopter from thousands of feet in the air. Sounds appealing? Make your first jump at one of the premier skydiving locations in California and prepare for the thrill of your life.
Six Flags offers some of the world's most popular and fear-inducing roller coasters such as Scream, X2 and Tatsu, all of which would definitely give you the much needed adrenaline rush similar to a bungee jump.
Reach Staff Reporter Vanessa here.