Science
WitsOn: An Online Mentorship Program to Guide Women into Sciences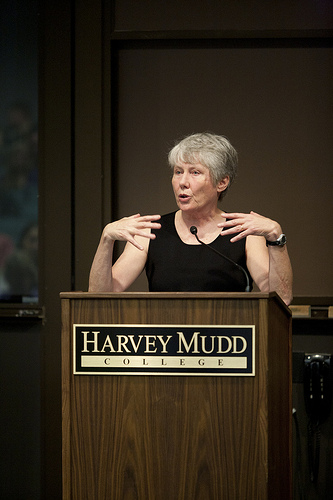 A six-week program granting young college women mentorship from hundreds of prominent women in the fields of science, technology, engineering and math launches next month, according to
The New York Times
.
Maria Klawe, the president of Harvey Mudd College and board member to Microsoft, has organized the massive open online course (MOOC ) to encourage young women to pursue careers in STEM fields. The project is called Women in Technology Sharing Online, or WitsOn.
"Getting more women into STEM is my passion in life, and every institution that's set up mentorship programs for young women has been successful at increasing their numbers, so I think this can make a real difference," Klawe said to The New York Times.
Heather R. Huhman at Forbes points out that the problem starts as early as grade school. since young girls are rarely encouraged to pursue math and science. This is problematic considering studies show a lack of belief in intellectual growth can actually inhibit it. In addition, there exists an unconscious bias that science and math are typically "male" fields while humanities and arts are primarily "female" fields, and these stereotypes further inhibit girls' likelihood of cultivating an interest in math and science.
A 2011 report by the U.S. Department of Commerce found only one in seven engineers is female. Additionally, women have seen no employment growth in STEM jobs since 2000.
Today, women hold only 27 percent of all computer science jobs, and that number isn't growing. This is unsurprising when we take into account how many women are actually studying computer science in college; less than 20 percent of bachelor's degrees in computer science go to women, even though female graduates hold 60 percent of all bachelor's degrees.
To raise those numbers, Klawe has recruited six prominent women as lead mentors, including Mae C. Jemison, the first black female astronaut; Jacqueline K. Barton, the chairwoman of the chemistry department at Caltech; and Padmasree Warrior, Cisco's chief technology officer — as well as nearly 300 other mentors. They will answer questions submitted online by students at any of the universities participating in the project,
With no curriculum, no exam, no grades and no credit, the program's main goal is connecting young students with accomplished women working in STEM fields. Prominent universities — including the California Institute of Technology, Cornell, the Georgia Institute of Technology, Harvard, the Massachusetts Institute of Technology, Princeton, Stanford and the University of California, Berkeley — have been quick to sign on, contributing mentors and publicizing the program to students.
Read the full story at The New York Times.