Los Angeles
Villaraigosa Future Hangs On Performance In Los Angeles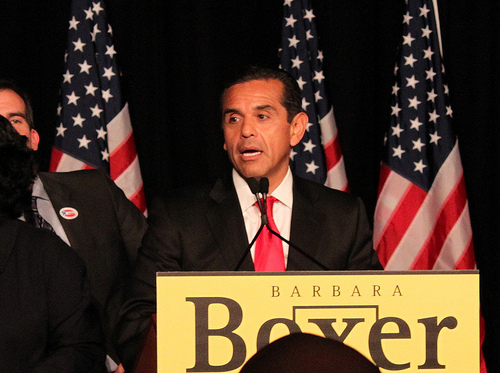 Los Angeles Mayor Antonio Villaraigosa may have his eyes set on Washington D.C. or Sacramento, but his chances at either city will depend on how he's spent his time in Los Angeles.
"The best recommendation for your next job is your performance at your current one," said Raphael Sonenshein, executive director of the Pat Brown Institute at CSU Los Angeles.
Sonenshein made it clear that it was unlikely Villaraigosa would run for president.
"It's more likely he'll end up in a federally appointed position or an elected position in California," he said. He also mentioned that the mayor could end up at a university or a foundation.
Speculation persists over where Villaraigosa is headed. He's mentioned possibly running for governor, but has mostly shied away from talking about his future plans.
Instead, the mayor has turned his attention to high-profile issues beyond city limits -- a move that has brought mayor into the national consciousness and closer to President Barack Obama.
The vocal Democrat has appeared on national T.V. countless times to defend President Obama's record. He's sparred with rival politicians on cable news, and he's also made appearances in states with Latino voters to rally their support for the November presidential election. A week ago he landed the mother-of-all-political gigs with a stint as chair of the Democratic National Convention in Charlotte, North Carolina.
During the "God and Jerusalem" debacle, it was Villaraigosa who made the call to reinstate the disputed clauses back into the Democratic Platform. The call resulted in an awkward, unscripted moment: loud boos which Republicans later used to ridicule the Democrats. But it was a Democratic mayor that looked confused on stage, not the president.
"He sort of took one for the team, which won't be forgotten," said Sonenshein. "Having the good will of the White House will certainly help him in whatever he's doing."
Despite such good will, Sonenshein made it clear that the mayor's future will be dictated by his actions now. He said that the mayor should spend his final weeks addressing L.A. issues if he wants to secure his legacy. The two-term mayor cannot run for re-election in 2013.
Sonenshein noted that many Angelanos remain divided over Villaraigosa. Scandels ranging from accepting thousands of dollars worth of concert and sporting tickets to cheating on his ex-wife with a Spanish television reporter have not helped his public image.
"There are some people who don't like his style," said Sonenshein. "There are some voters who haven't really forgiven him for his affair."
Last week the LA Weekly launched a scathing attack on "Barack Obama's Top Cheerleader," lambasting Villaraigosa for spending only 11 percent of his time "on the nuts-and-bolts work of running the nation's second largest city" during a 10-week period in 2008 and slashing funds for public libraries while channeling $42 million to maintain his giant staff. Attached to their piece -- a vandalized mural in East Hollywood of Villaraigosa with red paint splattered all over his face:
There's more we could share with American voters, but we'll leave it there for now.
Sonenshein, on the other hand, had nicer things to say about Villaraigosa's performance. He said while the mayor certainly has his "ups-and-downs," he's been able to fulfill his promises on expanding the city's police force and improving the city's public transportation system by succesfully lobbying for federal dollars.
"He promised to increase the police force by 10,000," said Sonenshein. "Right now he's a few dozen short."
Sonenshein made it clear that Villaraigosa must secure his future political career soon.
"It's an opportunity you have to take at the right time," said Sonenshein. "It's only there for a short time."
Reach Aaron Liu here.
Follow him on Twitter.