Technology
Valve's "Big Picture Mode" For Steam Begins Beta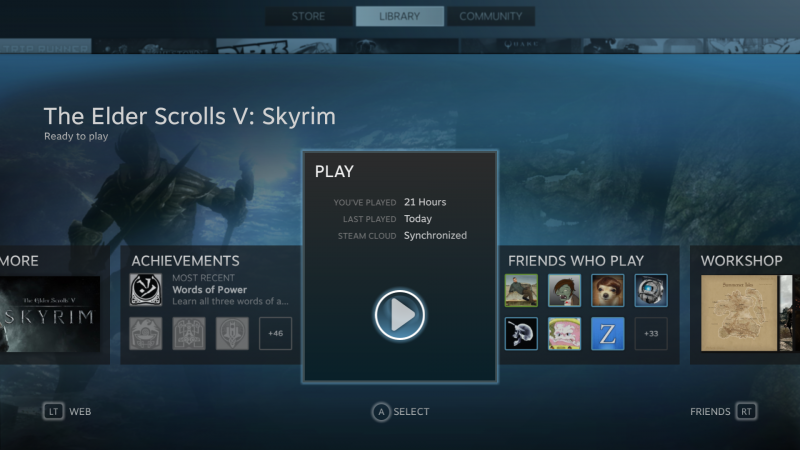 Valve launched the beta of a new television-friendly interface for its digital distribution platform, Steam today, September 10th, a move aimed at making PC gaming more accessible and convenient.
According to a report by Kotaku, who had early access, the interface, called Big Picture Mode, is designed with gamepads as well as mouse and keyboard setups in mind. To use the feature, users must simply hook up their computer to their TV and click a button in the Steam window.
From Kotaku:
It sort of looks like the dashboard on an Xbox 360, minus the advertisements and other clutter that can make that system so irritating to navigate. And it allows you to do almost everything you can do on vanilla Steam: you can buy games, browse the web, and even chat with your friends using the platform's standard in-game overlay.
The interface uses larger fonts and icons for easy viewing on television screens, and menus are designed for quick navigation using a controller, though keyboard input works as well. It also uses a radial keyboard menu used to type with controllers called "Daisywheel," to make text-chat easier.
Steam's built-in web browser also receives a controller-friendly overhaul while Big Picture Mode is active, using thumb-stick movements and zoom features to navigate pages. Valve promises that the browser navigation will work better than the notoriously hard-to-use TV-friendly browsers that appear on consoles like the Playstation 3.
In an interview with Kotaku, Valve employees said the company believes that the living room is where most people prefer to play video games.
"[Customers] want a full-screen experience," said Greg Coomer, who led the team that designed the interface, "They want to be in the living room. They want to use a game controller. They wanna have a social gaming experience. And we have this platform that lets us ship a significant portion of that experience."
Big Picture Mode has rekindled speculation about Valve's ambitions to enter the console hardware market as well, though Coomer remained coy with Kotaku on the subject, saying the interface is more of an experiment to see how Steam's 50 million users react.
Users wishing to participate in the Big Picture beta will have to opt in to the feature in Steam's settings menu, after which it will be enabled with the newest version of steam.
You can reach Staff Reporter Shea Huffman here and follow him on Twitter.