USC Sports
USC Practice Notebook: Trojans Defense Ready For Luck-Less Stanford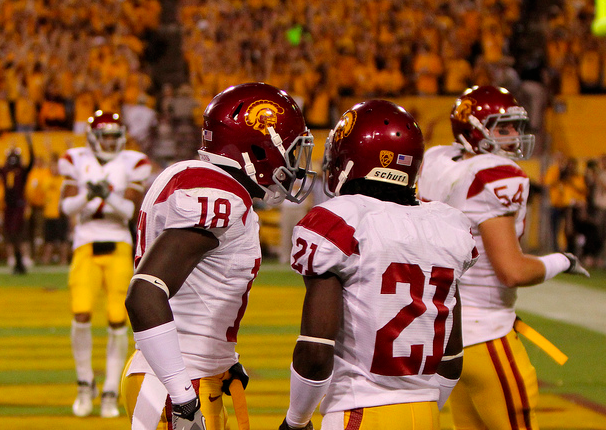 Yes, they know. Quarterback Andrew Luck is not going to be giving any more trouble to USC.
"He's one in a million," linebacker Dion Bailey said of the No. 1 draft pick who engineered three straight victories over the Trojans.
But it's Josh Nunes now at QB. And even though he may have the same playcalling experience as Luck, he is still commanding a Top 25 Stanford team.
"That's the only think Luck [brought] to the team that this quarterback probably hasn't shown yet, is the ability to kind of be like Peyton Manning out there, run the offense on his own," Bailey said.
And Luck or no Luck, head coach Lane Kiffin knows what to expect from Stanford's offense.
"They're going to play a lot of extra linemen, play tight ends, they're going to run the ball and they're going to play-action," Kiffin said. "I think they're really well-coached, one of the better-coached teams in the country.
"They came out last week to throw the ball and try to balance that out after the first week of being so lopsided," Kiffin added. "When Luck was there, they were still a running team first. I don't think they've changed all that much. Hopefully we can get them into the fourth quarter and make the new guy have to make plays."
Cornerback Nickell Robey got the key fourth-quarter interception of Luck last year, and ran it for a touchdown that nearly cinched the game for the Trojans. But how much does it help to take Luck out of the equation?
"It helps a lot," Robey said. "But just as far as the Stanford guys that are here, we need to prepare our tails off right now."
Robey has been to Stanford before and knows what to expect from the crowd in this key matchup.
"It's going to be a crazy atmosphere. I'm expecting it to be loud. I expect it to be sold out. When we do take the field, we know it's going to be a big crowd, we know that it's going to be a hostile environment."
-------------------------------
REPORTER BANNED
Lane Kiffin would not comment on the report in the Los Angeles Daily News that kicker Andre Heidari underwent surgery and will miss three weeks.
Reporter Scott Wolf has been banned from USC practice for two weeks and from the press box for the team's next home game. USC football has a policy that writers may not report on practice injuries or participation.
"Our administration is going to address that with your editors later in the day," Kiffin told Gary Klein of the Los Angeles Times. "We felt that it was very clear what our expectation was, so they'll address that later today."
Klein pointed out that Wolf's report did not include information that Wolf could have obtained merely by observing practice.
"I think for those of you that were here that day, including yourself, you saw what question was asked directly about off-the-record stuff and saw my response," Kiffin responded. "Once you start going with everything off-the-record, you're going to write whatever you want and say it was off the record and say, 'I didn't write it, because I saw it.'"
When asked to clarify about what Wolf wrote that was off the record, Kiffin answered only, "it will be addressed later."
-------------------------------
THE HIT: A YEAR LATER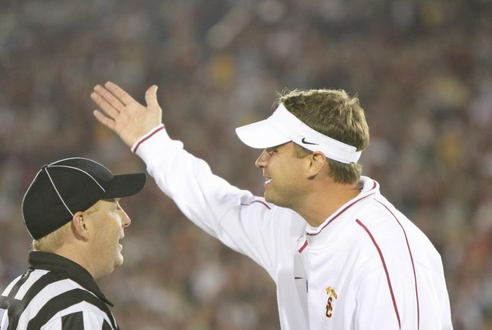 In last season's loss to Stanford, USC safety T.J. McDonald was flagged for a hard hit on Stanford receiver Chris Owusu. The senior says the incident has not deeply affected the way he plays the game.
"Just bring my arms more and making sure I wrap up... So it's not so much of a collision as far as one person bouncing off another," McDonald said. "But I'm still going to play physical. That's the only way I know how to play this game.
"I'm never going to try to aim for anyone's head," he added.
Kiffin was fined $10,000 for criticizing Pac-12 officials that called a personal foul on McDonald. Nearly a year later, the coach has not backed off much his stance that McDonald's hit was clean.
"I still don't know, will never know... how that could have been stopped. I think it's impossible," Kiffin said. "I think it's people slowing things down in slow-motion making decision. If you understand the game of football and how fast that was, there's no way."
-----------------------------
DION FINALLY SEES THE LOSS
Bailey left last year's USC-Stanford game before it finished, due to an injury. That might explain why his thirst for revenge may not be as strong as that of his teammates.
"I got knocked out of the game so I've technically never seen us lose the game," Bailey said to some laughs. "I haven't seen the end of the game until today. So from my memory, we were winning.
Now in his first trip to "The Farm," the 6-foot, 210-linebacker is looking to prove he can match up to a physical Stanford offense.
"I take it as a challenge to prove to everybody that I can handle the physical aspect of the game. That's one of the big question marks about me as a player: can I play in a physical run game," Bailey said. "So when I get a chance to play a team like Stanford, I take it as an opportunity to prove the quality of the player I am."