USC Sports
USC Football Upset By Stanford 21-14, Cutting Down Championship Noise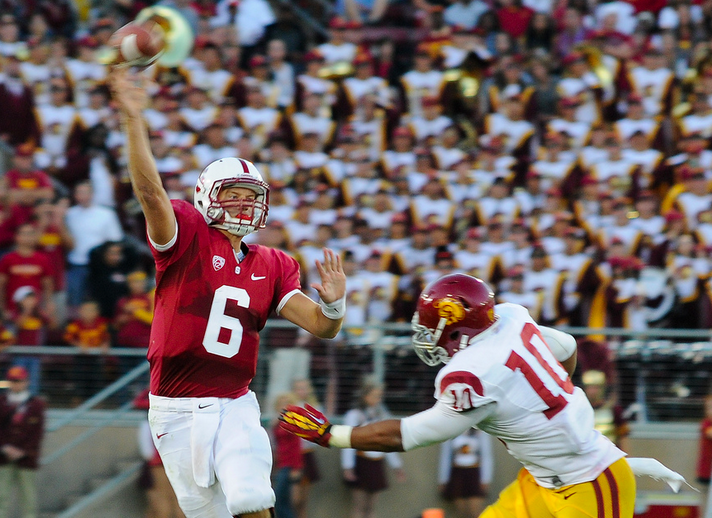 The questions would have to wait. There was too much noise.
About an hour after Stanford's 21-14 upset of No. 2 USC, the Spirit of Troy band was playing and marching directly past Stanford's post-game press conference.
But instead of sitting quietly for the noise to die down, Stanford defensive end Ben Gardner danced in his seat to the drum line. A disappointed USC band must have been music to his ears, after listening to a week's worth of media noise surrounding the Pac-12-favorite USC football team.
"We heard all the talk all week about Barkley, Woods and Lee. And rightfully so, they're a talented bunch," Gardner said, referring to the Trojans quarterback and main receivers. "But we were really confident... We knew if we came out with a lot of energy tonight and played our hearts every snap, that good things would happen."
For the Stanford defense, those good things came in bunches: they held USC's fearsome running back tandem of Curtis McNeal and Silas Redd to 54 yards, with 26 of those yards coming on the last play of the first half. Missing star center Khaled Holmes was a certain factor, as the Trojans could only generate 2.7 yards per carry.
"That's one of the best front sevens in the country, and they showed it today," USC head coach Lane Kiffin said.
Stanford also sacked quarterback Matt Barkley four times, including three times on first down. The pressure and coverage kept Barkley from completing more than half his passes, marking the first time Barkley could not reach a 50-percent completion rate since his freshman year.
"They played better football than us," Barkley said.
The usually gregarious USC quarterback offered only one-sentence responses after a nightmare evening, if he said more than one word at all.
----------------------
Flash back to last December, when the noise all began. Barkley announced to the crowd on USC's campus, and to the nation: "This team has some serious unfinished business to attend to, and I intend to play a part in it."
The noise erupted as the Spirit of Troy marching band played "Fight On!" The noise around Barkley grew and grew; the term "Heisman candidate" became casually attached to any stories. And the noise around the team itself had fans thinking about a National Championship.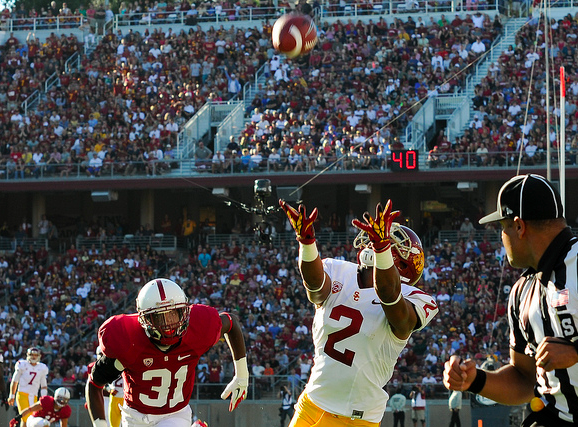 There was no reason to doubt all that noise early on. After both sides traded early punts, Barkley struck first with a 48-yard completion to Nelson Agholor to Stanford's one-yard line. Redd punched it in for a 7-0 Trojans lead.
The Cardinal responded immediately, with running back Stepfan Taylor shaking off USC defenders and sprinting 59 yards to tie it back up.
Following another trade of punts, USC started a lengthy drive. After 12 plays and the possession extending into the second quarter, the Trojans found themselves with a 4th-and-19 at Stanford's 25-yard line. Without starting kicker Andre Heidari, Kiffin put his trust in Barkley. The QB delivered with a 24-yard completion to Robert Woods. Redd pounded it past the goal line again for a 14-7 USC lead.
For all the noise about the supposed best offense in the nation, 14 points would be all the Trojans would get.
The second quarter ended as follows: Barkley intercepted by Jordan Richards. Next play, Stanford QB Josh Nunes intercepted by Dion Bailey. Next play, Barkley intercepted by Terrence Brown. Next drive, Nunes intercepted by Jawanza Starling.
A slow 3rd quarter gave Stanford the chance to come back. Nunes tied the game on a 23-yard pass to Taylor. Following a USC three-and-out, he came back again with a 37-yard touchdown strike to Zach Ertz to put Stanford up 21-14.
Stanford's second-half attack was marked by Taylor pounding away at USC's young front seven. He carried the ball 18 times in the final two quarters, eating away at the yards and the clock.
"We were going to go down the stretch, going to get tired," Taylor said. "We were just going to keep chugging at it."
As the minutes ran down, the noise of 50,360 fans at Stanford Stadium only grew and grew. While the Trojans sported a loud faithful crowd themselves, it was the Stanford crowd that shouted them down. The home fans came to a crescendo on third downs, helping their defense keep the Trojans to a measly 1-for-13 on converting third downs.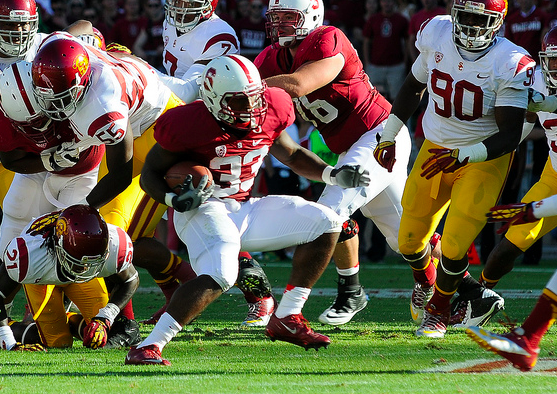 The noise was at its highest on a last-gasp drive for the Trojans. Barkley had under three minutes to take his offense from its own 11-yard line to the end zone.
Two short completions and a miss to Agholor left him with a 4th-and-5. He connected with Lee along the sideline, but the receiver was ruled out of bounds. It looked like "game over," and the noise reached a fever pitch. The sound decreased a bit when video replay showed Lee had caught the first-down pass inbounds.
Life for the Trojans was followed by a 20-yard connection to Agholor that put them in Stanford territory. But the field shift was short-lived. McNeal was tackled in the backfield. USC was called for holding. Trent Murphy sacked Barkley with 43 seconds left. After another USC penalty, Barkley was sacked again by Chase Thomas and attacked by the roar of the home crowd.
Even the preseason Heisman favorite couldn't weave his magic on a 4th-and-40. Once Stanford got the victory kneel, the sound and fury of USC's championship hopes were muted.
Hundreds of Stanford students pushed on to the field in an improptu party of organized claustrophobia. They yelled and screamed and held signs that said "It's not all about Luck," a reference to their departed number-one-pick quarterback. Their ears are probably still ringing.
The media noise may now shift from USC as a title contender to Stanford as a dark horse. But Stanford's head coach stressed he won't let his team buy in to the change.
"We have to keep working and not worry about the noise that's going to be around us," coach David Shaw said. "We haven't accomplished anything yet."
--------------------------
At least one piece of business remains unfinished: Matt Barkley ends his USC career 0-4 against Stanford. Same for fellow senior T.J. McDonald.
"It's disappointing," McDonald said. "You never want to lose... You got to rebound, you gotta respond."
But with nine regular season games remaining, plus a possible rematch with Stanford in the Pac-12 Championship Game, McDonald and USC will try to use Saturday's loss as motivation.
"We gotta make sure that we keep this feeling in our hearts, in the back of our heads," McDonald said.
It was uncomfortably quiet in the USC press conference. That silence may stick around for a while.
Above are the best game pictures from photographer Jerry Ting.