USC Sports
USC Football Notebook: Passing Offense Looks To Put It Together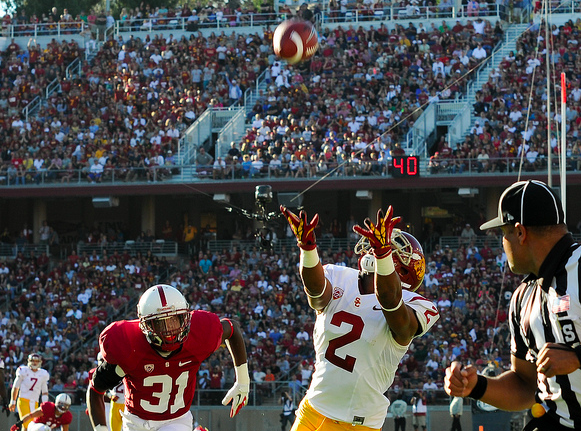 The expectations were enormous for the USC passing game in the 2012 season.
After all, the Trojans were among the best in the nation at throwing the football last year, ranking 15th in yards per game, eighth in completion percentage and sixth in passer rating.
But despite returning quarterback Matt Barkley and three top receivers Robert Woods, Marqise Lee and Randall Telfer, the overall numbers have gone south in 2012: 46th nationally in yards per game, 54th in completion percentage and 45th in passer rating.
"Teams made adjustments, so now it's our turn to make the adjustments," Lee said after Sunday's practice.
Quite simply, the Trojans have not been able to pick up where they left off.
"We did have an offseason in between. It's not like we were just going to start right back up," Woods said Sunday. "We've got the same guys, pretty much. It just needs to trigger in our heads that we got to get going.
"There's spurts of it," Woods added. "We have a great run game, great aerial game. We just gotta have that continuously, throughout the whole game, not just a quarter or two. And not just one game, we gotta have it every day and every quarter."
The statistical output from Woods (25 catches, 203 yards, four touchdowns through four games) has become the object of criticism from USC fans. Woods was asked if he is frustrated with his production heading into Thursday's matchup at Utah.
"Not at all. I'm just trying to get open," Woods responded. "I'm just trying to make the best of the opportunities I do get. Other than that, just keep doing the same thing."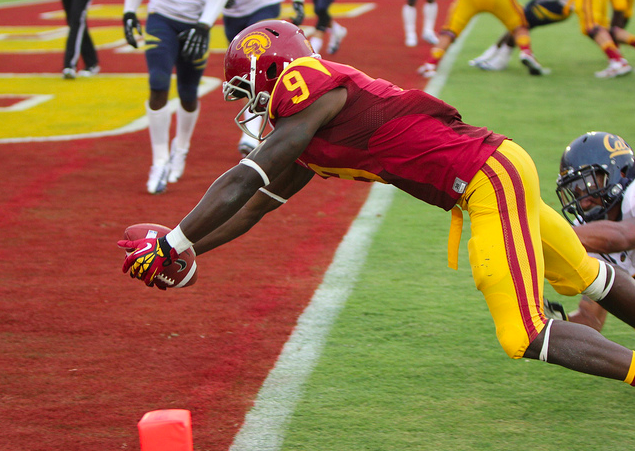 Lee has posted better numbers than his counterpart (40 catches, 457 yards, six touchdowns), but doesn't see that as cause to be concerned about Woods.
"People start to assume things based on what they see. We're with Robert 24/7. Robert's fine. We're really not worried about anything. It only becomes a problem if we lose. At the end of the day, numbers don't mean anything as long as you get the win."
The sophomore receiver also added that he and Woods are seeing double coverage "all the time," only facing man-to-man coverage "a couple plays here and there."
Of course, it all comes back to the quarterback delivering his throws.
"His plays will come," Barkley said about Woods. "I think it was great for us to establish the running game last week, and those will come to Robert and Marqise."
COACHES STATE THEIR CASE
The passing troubles have dropped USC's overall scoring offense from 16th in the nation in 2011 to 45th so far this season. So, head coach Lane Kiffin, how do you get Robert Woods going?
"Throw him the ball more early would help. Teams have done a good job of taking him away," Kiffin answered. "Even though his numbers aren't as big as they have been before, teams are still gameplanning for [Woods and Lee]."
Wide receivers coach Tee Martin has not noticed any rust or troubles in Woods' game.
"Not at all, he's good. He's actually playing great, honestly," Martin said. "You watch him on tape, he's doing a great job... He's still getting open, he's still running great routes. We just have to get him the ball a little more and see what happens."
Martin also acknowledged the preparation and gameplans opposing defenses are putting up against USC.
"Robert Woods and Marqise Lee, they're not secrets anymore," Martin added. "We're seeing people do things they didn't even show on film to try to manage what No. 2 and No. 9 can do... We're seeing some of the toughest coverages you can possibly see for a guy to get the ball."
OTHER NOTES
>>> Thursday's starter at left tackle has not been decided yet between sophomore Aundrey Walker and freshman Max Tuerk.
"[Aundrey] played his best game by far last week," Kiffin said. "But we opened it up again this week and split the reps right down the middle. We haven't made a decision on the game yet."
For what it is worth, USC's game notes for Thursday list Walker as the starter at left tackle, along with Khaled Holmes as the starting center.
>>> Another offensive position battle remains that of the third wide receiver, a spot freshman Nelson Agholor has claimed.
"Nelson has it right now. Hopefully George Farmer will come back and get into that mix. But Nelson's doing really well," Kiffin said.
Farmer is still trying to get back to 100 percent from seemingly perpetual injuries, but his position coach is upbeat.
"The last few days of practice, [Farmer's] been looking great," Martin said. "He's had three good practices, and hopefully we can keep him on the field."
>>> USC's only loss this season came in their only true road game, at Stanford. And on Thursday, they will go up against Utah in what many folks in Salt Lake City are calling the most important home game in school history.
"I think that any time that there's no other game going, everybody's going to watch you," Kiffin said. "It becomes more of a statement game for the team that is considered to be the underdog."
Oh, did we mention it's a night game?
"I heard it's a loud stadium, same thing as Oregon last year," Lee said. "I'm prepared. I'm not really focused on the outside aspect of things."
>>> One big topic of conversation after practice was West Virginia's 70-63 victory over Baylor on Saturday, including WVU quarterback Geno Smith completing 45 of 51 passes.
"I don't know you do that. It's just amazing to me," Kiffin said. "It's hard to do on air versus a service team."
Smith finished his day with 656 passing yards, including 303 to receiver Stedman Bailey.
"The numbers are outrageous," Lee said, noting that he only saw the stats and the highlights. "Great receivers for both teams... That was crazy."