USC Sports
USC Football Notebook: Kiffin Returns To Business As Usual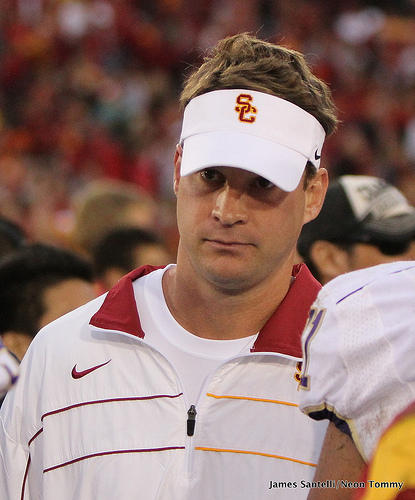 There were more than a few people expecting fireworks at Thursday's practice a day after Lane Kiffin left his post-practice media session in less than 30 seconds following a reporter asked a question about a player's injury status.
They didn't even get a bottle rocket.
Following a crack speculating if Thursday's session could break the one minute-mark, Kiffin proceeded to address the media for close to seven minutes.
And with that, it was business as usual at Howard Jones field two days before USC tries to rebound from their upset loss at Stanford with a home win against Cal.
"They're excited to get back out and play and that's really the only way you can get rid of a game like that where you feel so bad that you performed so poorly," Kiffin said of his team. "Saturday can't come soon enough."
Balancing Act
One of the biggest culprits behind the Stanford loss was the running game, which stumbled its way to a putrid 26 yards on 28 carries, good for 0.9 yards per attempt.
It prompted running back Curtis McNeal to say earlier this week that the team will need a more balanced attack moving forward, a sentiment Kiffin echoed on Thursday.
"Our goal always is to be 50-50," he said. "You gotta have that balance or the offense doesn't work and that's how you get no points in the second half."
Yet as crucial as the play calling is, the USC head coach also stressed it only goes so far without execution.
"Every game's different, some games we'll run more and some games we'll throw more but you're not going to win many games doing what we did on the ground regardless of how many carries there are.
"We had a gift run in the first half or else, really, we would have rushed for zero yards the entire game."
Prepping for Cal
Like last week, Kiffin has his eye on the running game when scouting this weekend's opponent, the California Bears.
Unlike last week, which featured a pair of known commodities in Stepfan Taylor and Anthony Wilkerson, one of Cal's biggest game-breakers is new on the Pac-12 scene. Sophomore Brendan Bigelow ripped off 160 yard and two touchdowns on just four carries last week against Ohio State, and the Trojans are among the many who took notice.
"I think you have three guys that really cause you issues," Kiffin said when asked to describe Cal's running backs. "We thought it was two going into the last week and then they gave the ball to Bigelow and he was so explosive, so fast on those runs and hard to tackle on returns also. Any time you have three quality backs, you worried about getting worn down if they run the ball really efficiently."
Shifting to the passing game, USC will have their hands full attempting to contain all-conference receiver Keenan Allen – who Kiffin concedes creates plenty of "matchup issues" – but there's another fresh face playing opposite Allen who has impressed.
"Bryce [Treggs] really stepped in," Kiffin said. "We know that's hard to do as a true freshman to make plays, line up and fit right in, so it says a lot about him."
LT job still open
The left tackle battle between sophomore incumbent Aundrey Walker and freshman challenger Max Tuerk has yet to sort itself out, but Kiffin says he's been pleased with the play of each throughout the week of practice.
"I'm not sure where we're going to go yet," Kiffin admitted. "We'll go back and look at this but I know this - we have two really young kids... that are very talented."
---