USC Sports
USC Football Notebook: Bye Week Tuesday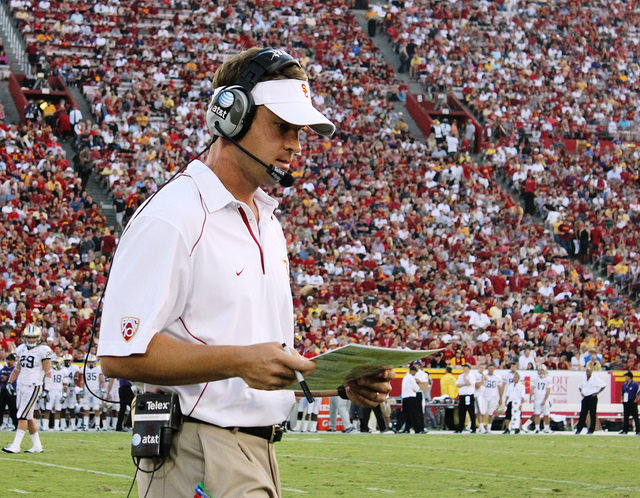 USC has a week and a half's respite before its next game, and head coach Lane Kiffin believes it comes at an ideal time for his banged-up team to lick some of its wounds.
"This was critical for us to get guys back," Kiffin said to the media after practice. "Even though there may not a number of guys that are out not playing – there are some of those we're hoping to get back – but [there are] also some guys playing at 80 to 90 percent. We can get them fully healthy, and also give us a chance to work with some of our backups and clean some things up."
The latter is a crucial ongoing project for Kiffin and his staff. With the Trojans limited to 75 scholarship players due to NCAA sanctions, quality depth is at a premium and developing that is something Kiffin concedes is a work in progress.
"It's something we've continued to try to do every week [and] this gives us a little more time to focus on that in all three phases of the game," he said. "It's going to be critical down the stretch because as we know, injuries are going to happen and we're going to need to those guys."
Hard Work Pays Off For Markowitz
One of the backups who's made the necessary strides is OL Abe Markowitz, who slid into the starting lineup at left guard to make his first career start in Saturday's win over California.
It was a special moment for the fifth-year senior, a former walk-on who's battled injuries throughout his career only to eventually earn a scholarship and, now, his first shot at extended playing time.
"I was just really grateful," Markowitz said of his emotions. "Just grateful to be here. I have my scholarship… I [didn't] know how I was going to pay for school just a month before [getting] that. It was always tough, the first two years because you're short on money. I've had a campus job since my freshman year and I still work at it today. I have less hours but I've always worked there to make a little extra money. Parents and family here in LA… they'll help me out [and] bring me some groceries, take me out to lunch.
"I knew my dream and in my heart that all I had to do was work hard and just be in the two-deep. That's what I tell guys who come here with the dream to walk on is that if you want to play here all you gotta do is get in the two deep. You show the coaches you can play, you be the backup and when you get your chance you just jump in there and can do it," he added.
Homecoming King
Kiffin may be happy to see the bye week fall when it does, though if junior G John Martinez had it his way, the Trojans would go right back to work.
That's because the Murray, Utah native has to wait an extra week to play in his home state for the first time since high school when USC takes on Utah next Thursday.
"Oh, I can't wait," he said. "I've already asked a whole bunch of questions like 'can I get tickets to the game?' Obviously, a bunch of guys on [Utah's] team are talking a bunch of crap. I'm getting all this coming from everywhere."
But while burly road grader is excited to play in familiar surroundings, he won't let himself get caught up with distractions.
"You've just got to take it every other game, you know. I can't let the factor of me playing against those guys get in my head. I've just got to do what I do best and just play football."
Notes
With the bye week in full swing, several coaches are out recruiting and were not at practice. Kiffin said "a lot" of the road warriors departed Sunday and will return on Wednesday…Freshman Jabari Ruffin will likely redshirt. The Downey native came to USC as a linebacker, but Kiffin said the team is working toward developing him as a pass rushing defensive end…USC hopes to have tailback D.J. Morgan back for the Utah game. The redshirt sophomore underwent knee surgery Sept. 5…Kiffin did not elaborate on the medical status of cornerback Brian Baucham for legal reasons. According to the Los Angeles Times' Gary Klein, Baucham was hospitalized after the Cal game for a respiratory issue…