Sports
USC Football Behind Enemy Lines- Q&A With Stanford Blogger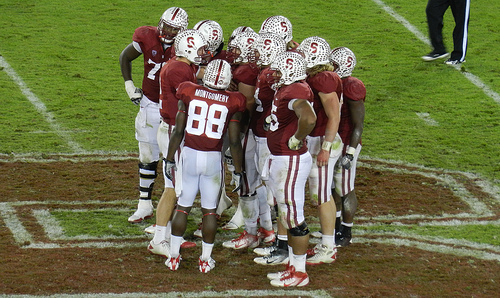 A recap of last year's USC-Stanford game is hardly necessary, because most Trojans fans will never forget it. After cornerback Nickell Robey intercepted Stanford's Andrew Luck and took the ball in for a 33-yard pick six to give the Trojans a 34-27 with just over three minutes remaining, it looked the Trojans were going to do it. They were going to stun the fourth-ranked Cardinal and prove themselves as the Pac-12's best. It was happening right in front of us.
Then Andrew Luck proved why he went first in 2012's NFL Draft. Luck led a ten-play, 76-yard drive to tie the game at 34-34. The Trojans failed to score by the end of regulation, and the overtime marathon began. Five touchdowns and a game-clinching Curtis McNeal fumble into the end zone later, the Cardinal emerged winners in one of the most heart-breaking Trojan losses in recent memory.
Replacing the proclaimed best college quarterback since John Elway is not an easy task. Then again, Stanford has been USC's kryptonite as of late, winning three straight and four of their last five against the Trojans. Along with Oregon, the Farm has emerged as USC's biggest challenger year in and year out for Pac-12 supremacy.
While Luck is gone, running back Stepfan Taylor is back after running for 1,330 yards and ten touchdowns last season. Josh Nunes won the starting quarterback job over Brett Nottingham in the spring, and looks to be trending upward after struggling in his debut, a 20-17 Cardinal win over San Jose State. Nunes threw for 275 yards and three touchdowns in a 50-13 win over Duke last week, and could find his stride for the 21st-ranked Cardinal just in time for Pac-12 football season.
While the Trojans are ranked second in the AP Poll heading into the weekend, all is not well in for coach Lane Kiffin's squad. The Trojans had some lumps, especially on the defensive side, last week in a 42-29 win over Syracuse at MetLife Stadium in New Jersey. The offensive statistics are impressive- quarterback Matt Barkley threw for six touchdowns and the running game amassed 258 yards. Yet, penalties and poor coverage in the secondary were among the problems seen in the rain-delayed victory. Not to mention Kiffin's decision to effectively not attempt field goals after kicker Andre Heidari's leg injury earlier in the season.
The Trojans will be given a run for everything they have on Saturday, so we brought in Scott Allen, a lead blogger for SBNation's Stanford blog, Rule of Tree, to give us the Stanford perspective on Saturday's Top-25 showdown.
1. Which side of Stanford will we see? The one that beat San Jose State by three points in the opener or the Cardinal squad that crushed Duke 50-13 last week?
Allen: If the Cardinal plays like it did against San Jose State, the game will be over midway through the second quarter. If the Cardinal plays like it did against Duke, they might hang around into the second half. Stanford's struggles against San Jose State were somewhat understandable. Josh Nunes was making his first career start. There were fresh faces along the offensive line and in the secondary. The Cardinal look much improved against Duke, but it was far from a flawless performance. I think we'll see a side of Stanford that we haven't seen yet this year, a better side than the previous two weeks. Whether that'll be enough to beat a mighty impressive USC team remains to be seen.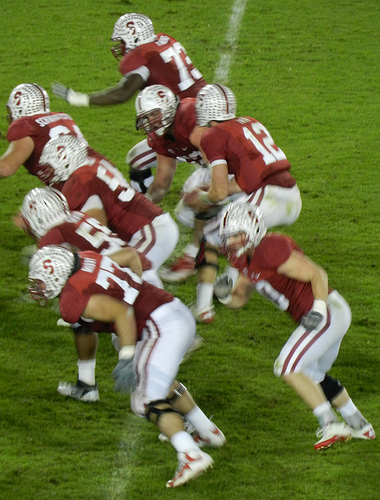 2) Running back Tyler Gaffney signed a contract with the MLB's Pittsburgh Pirates this offseason. Will starter Stepfan Taylor flourish against the Trojans defense, or does Stanford need another running back to pitch in more than the backups have so far?
Allen: Taylor hasn't received a ton of work in the first two weeks, so he should be pretty fresh for Saturday, but given what Stanford would like to do on offense -- run the ball down opponents' throats -- it's important that he gets some help. Gaffney was a revelation last season and was especially good out of the Wildcat formation. Saturday would be a good time for a backup -- Anthony Wilkerson, Ricky Seale, Kelsey Young or someone else -- to step up.
Fullback Ryan Hewitt, who missed the first two games with an injury, is expected to return against USC. While he's not much of a running threat except in short-yardage situations, his presence could be a big lift for the Stanford offense. He was one of Andrew Luck's primary targets inside the red zone last season and his return should really benefit Josh Nunes.
3) What are the impressions with Josh Nunes through two games? What are his strengths and weaknesses from what you've seen so far?
Allen: Nunes has been solid. He's got a completion percentage close to 60%, is averaging 7.4 yards per attempt and has four touchdowns against only one interception. His decision-making has been good, which is what David Shaw expected when he named him the starter over Brett Nottingham, but he's also made some impressive throws in his first two games. One of his strengths is the chemistry he has with his receivers already. One of his weaknesses is his ability to recognize and make the right adjustments to blitzes. That should come with more experience.
4) How do tight ends Zach Ertz and Levine Toilolo fit in the Cardinal passing game? What role does each tight end play?
Allen: Both guys were integral parts of the Stanford passing game last year and there roles are likely to increase with Coby Fleener now in the NFL. Drew Terrell has looked good at WR opposite sophomore Ty Montgomery through two games, but Nunes is going to lean heavily on his tight ends. He's especially fond of throwing fade routes to Toilolo, who, at 6-foot-8, can't out-jump most defenders for the ball. Ertz has a lot of success on seam routes, sneaking behind linebackers.
5) Chase Thomas and Shayne Skov lead one of the nation's best linebacking corps. What will this group need to do in order to help the secondary in limiting Barkley and the Trojan passing game? How important is the linebacking unit to the overall performance of Stanford's defense?
Allen: Stanford's entire front seven is crucial to Stanford's defensive success because of the inexperience in the secondary. The Cardinal can't afford to give Matt Barkley all day to throw; they need to generate a pass rush and get him out of his comfort zone. When Barkley throws quick-hitters, Thomas, Skov and Co. have to make the tough open-field tackles, or at slow the USC receivers down enough to let the secondary finish the job.
6) Who is the player flying under the radar that you think could make a huge impact in Saturday's game?
Allen: Ty Montgomery has been pretty quiet this season. He had a big drop in Week 1 that should've gone for a touchdown. I'm convinced Stanford will need to throw a fair amount to win and I look for Montgomery to have a big day.
7) 10 true freshmen have played for the Cardinal with many more redshirt freshmen seeing time. Who has shined among the freshmen, and what mistakes have resulted from such young players seeing game action?
Allen: None of the true freshmen have had a major effect yet, but Alex Carter has looked pretty good as a kick returner and Andrus Peat has done a solid job in his limited time at left tackle. Stanford's played mostly mistake-free football through two games, though the new starters along the offensive line are taking some time to jell.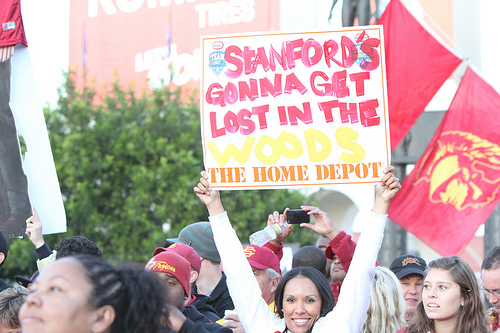 8) After last year's thrilling 56-48 triple-overtime victory by Stanford in Los Angeles, the Trojans will looking for revenge. Stanford lost a four-year starter and No. 1 Overall draft pick in Andrew Luck, as well as offensive line studs in Jonathan Martin and David DeCastro. How do you think Coach Shaw is preparing a much different-looking Cardinal team to forget last year and treat this game like any other?
Allen: Whatever Shaw said after the San Jose State game to refocus his team seemed to work, as Stanford didn't show many signs of looking ahead to this week's game against Duke. I don't think it's lost on the Cardinal that most everyone expects them to take a step back this year without Luck, Martin, DeCastro and others. I imagine that fires them up to prove that the Cardinal's success in recent years hasn't been about one ridiculously talented quarterback or a collection of NFL draft picks. The defense, especially, seems to be playing with a chip on its shoulder this year. The reality is this game isn't like any other. It's a game against a national title contender and the favorite to win the Heisman Trophy. Stanford's been hearing about USC since the end of last season. The Cardinal has a chance to enter the Pac-12 title conversation with a strong performance.
9) On that note, do you think the USC-Stanford rivalry is here to stay? How are the Trojans currently viewed in comparison with Stanford's traditional rival, Cal?
Allen: Given their recent history and their respective recruiting successes over the last few years, I think the USC-Stanford rivalry is set up for a good run. While Stanford fans will always be excited for Big Game, no matter the teams' records, the annual Stanford-USC matchup has become a bigger deal. Some Cardinal fans would consider it blasphemy, but if I had to pick one, I think I might rather beat USC than Cal this year. Did I just type that?
10) What's your projection for the game? (Include score)
Allen: I was prepared to pick USC by at least 10 points, but that was before I watched both teams play last week (or maybe that's just what I tell myself to rationalize what was always going to be a homer pick). I say Stepfan Taylor gets rolling, Nunes and Montgomery connect for a couple of big plays and Stanford prevails, 35-31.
Many thanks to Scott Allen for his time and insights.
Reach Associate Sports Editor Jacob Freedman here or follow him here