USC Sports
USC Football Behind Enemy Lines - Cal Edition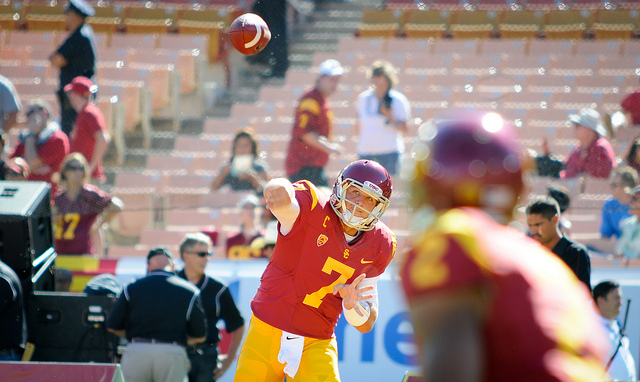 After losing its first game of the season last weekend against Stanford, USC will be looking to rebound this week against California. Cal, who lost an extremely close game against Ohio State, will be looking to upend the Trojans at the Coliseum. Avinash Kunnath, the editor of Cal's SB Nation blog, and Kodiak, also from Cal's SB Nation blog, team up to provide an informative Q&A session about the game this weekend.
1. Cal is ranked 103rd in the nation in pass efficiency against, with a 148.8 rating. How do you think will Cal plan on improving its pass defense against one of the more prolific aerial attacks in the nation?
Avinash Kunnath, Pacific Takes: The Bears have two issues they need to fix. One is their pass rush, which has generally not been good even in obvious passing down situations. The D-line struggle to get push and most of the zone blitzing from the linebackers gets picked up.
This was less of a problem against Braxton Miller, who is an inaccurate passer even when given plenty of time to scan and throw the field. It is a definite concern against Matt Barkley. Unfortunately, we then get to safety play. The Bears have frankly struggled to defend passes, as the defensive backs play close to the football but don't seem to be able to make enough good plays.
Kodiak, California Golden Blogs: With our third corner out for the year with a knee injury (Stefan McClure), and his back-ups playing poorly (Kam Jackson, Adrian Lee) we've been forced to slide one of our pre-season starters at safety over to nickel (Josh Hill). That leaves two inexperienced starters at safety in nickel packages, Michael Lowe and Alex Logan. With two new and inexperienced starters at ILB (Forbes, Jefferson), there have been plenty of holes in the interior when we play zone. Our starting corners are solid, but they haven't been getting much help. I expect Coach Pendergast to try to confuse Barkley with a variety of looks and pressure packages. He will blitz anyone at any time from anywhere. And then he'll throw a change-up by rushing just three and dropping eight.
2. Is Cal planning on running a similar offensive plan as Stanford last week against the Trojans with a ground-and-pound philosophy? How do you expect the carries to be split by Brendan Bigelow and Isi Sofele?
Kunnath: I would imagine the strategy will be similar. Cal will try and do their best to get Sofele the football between the tackles while utilizing C.J. Anderson partly as a power runner but also get him the football in pass-catching situations.
Bigelow will play a little. It'll depend on how satisfied the Bears feel with their pass protection against the USC blitzers. Sofele (and Anderson) are the best all-around backs we have, and we'll need both of their contributions to keep our quarterback upright.
Kodiak: We seem to be at our best when we use our running game and short passing game to set up manageable 2nd and 3rd downs. Our O-line is agile but not exactly made up of maulers. We haven't been getting a lot of straight-ahead push up the middle. Most of our better runs have come from attacking the edges and taking advantage of our linemen's mobility to pull and get to the second level. I'd expect a rough split of 10-15 carries each for Isi Sofele and CJ Anderson, 5-8 carries for Bigelow. It may depend on how well our O-line pass protects against your depleted Dline. Sofele and Anderson are very good blockers but can also leak out as safety valves in the flats. We'd all like to see our coaching staff get creative with finding ways to put the ball in Bigelow's hands out in space.
3. The biggest story has been USC's weakness at offensive line. Do you think Cal's defensive front has enough talent and consistency to disrupt USC's offensive rhythm?
Kunnath: Possibly. There's definitely talent. Kendrick Payne and Aaron Tipoti aren't the most overwhelming guys, but their energy and hustle really cause offensive lines problems when they're in the game. Then you have Deandre Coleman, who is so big inside that he can do a real good job of plugging up inside gaps. Viliami Moala is still working into his body, but I wouldn't be surprised if he plays a lot, particularly in short-yardage situations to try and plug the inside.
The bigger issue is defensive end. Coleman plays DE, but he's more of a DT, so Cal generally moves him over to the three technique when he's on the field and plays a LB at the DE spot. Todd Barr is really developing week-by-week and is going to be a great starter down the road. The big question is whether Mustafa Jalil can return to action--he's been banged up all of fall camp. He's probably our most experienced DE that suits the position.
Kodiak: I hope so. That could be the game right there. Our starters have been solid, but it's been some of the backups who have really flashed some pass-rush ability. Todd Barr and Keni Kaufusi have been impressive.
4. Cal quarterback Zach Maynard had a very good showing against Ohio State last week, what adjustments/improvements has he made this season?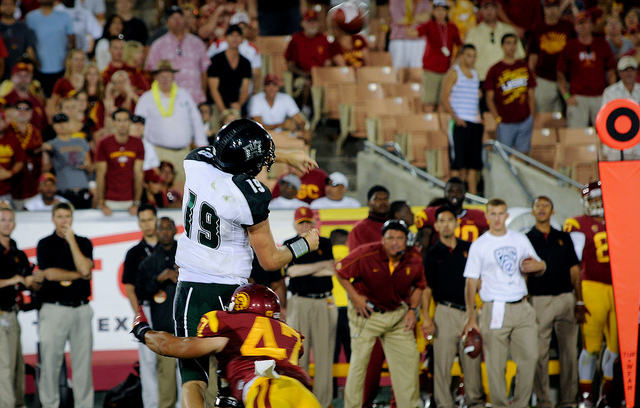 Kunnath:
Not turn the football over? Other than two picks (one of which was caused by a bad block on a whiffed screen attempt, the other when facing inside pressure), Maynard has played about as well as I could expect him to play. He struggled in his first two games and missed a few throws, but there were teamwide issues (WR drops, O-line breakdowns at tackle, not enough running plays). Now that Cal has reestablished themselves on the ground, Maynard seems to be more comfortable with playing off that action with short throws, screens, and executing all the passes he's capable of executing.
I imagine USC is capable of blowing a lot of those schemes up, so we'll see what happens.
Kodiak: I can neither confirm nor deny rumors that shock therapy was used in the off-season whenever he thought about throwing the ball to anyone with "McDonald" on their jersey. Against tOSU, Maynard showed off better feet. Calm feet in the pocket lead to poise, good decisions, and accurate throws. We really didn't see this the first two games. If this is indicative of how he'll play the rest of the year, then this position is solid.
5. Cal has not beaten USC in eight years and has not beaten the Trojans in Los Angeles in 12 years. Why has USC been such a bad matchup for Cal over the years?
Kunnath: Cal has a demanding pro-style offense they recruit for that requires solid players that can execute in all phases of the game rather than specialists who would excel in a particular college scheme. There are high barriers to entry here.
USC does all those things better, particularly in finding the linemen in the trenches and the quarterbacks for their system.
Kodiak: I should probably make the obligatory crack about how our players simply aren't as motivated for these games because they're not paid. If you're just looking at match ups, I think it's ultimately been O-line/D-line talent followed closely by quarterback play. 'SC is usually able to make Cal one dimensional by shutting down the run with just their front seven.
And when you factor in that for some of those years, we just haven't had reliable play at QB, that just snowballs. Throw in a bet-on-it specials teams gaffe or three per game, and we've got our current streak.
Moving beyond the field, I think the players and coaches have this weird mental block. I'm not sure if they get overly amped or what. But the Trojan mystique seems to be alive and well in our locker room.
6. Who do you think the X-factors for Cal are on offense and defense in order to compete in this game?
Kunnath: Offense: Healthy tight ends. You see how much trouble USC has with Stanford, and much of that has to do with dealing with those massive tight ends because of the versatility they present in both the run and passing game. But Spencer Hagan is probably out and Richard Rodgers is hobbled. Rodgers probably needs to see the field if Cal is going to have any real shot at an upset, or otherwise Jacob Wark will need to have the game of his life.
Defense: Inside linebacking play is a big key. Can we plug up the middle of the field and keep Redd and McNeal from breaking out on us? Can they watch the middle of the field and defend tight ends capably?
Kodiak: It's not exactly an X-factor, but it's O-line/D-line for me. If you're looking for an underrated matchup, I'd look to see how Cal's TEs and backs do with blitz pick on offense. Defensively, our safety play needs to get better or we'll be lit up.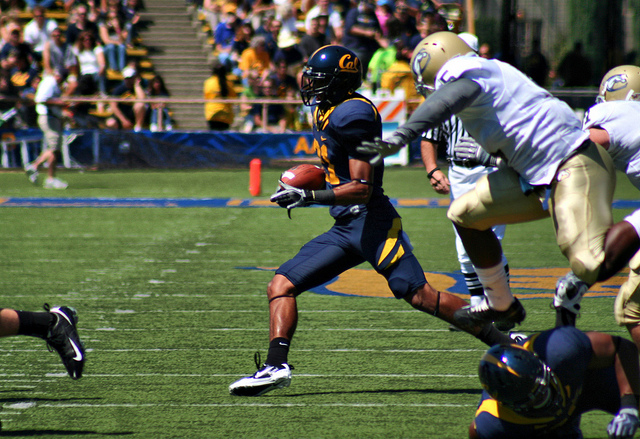 7. Which position matchup are you most looking forward to in this USC-Cal matchup?
Kunnath: Cal's wide receivers vs. USC's defensive backs. Keenan Allen will likely do his thing, but how will youngsters like Chris Harper, Bryce Treggs and Darius Powe deal with returning to Southern California? They need to have big games and they're definitely talented enough to take advantage of the Trojan secondary if given the opportunity.
Kodiak: Maynard vs. Bailey and McDonald. They scare me in coverage, and I'm afraid of Maynard getting baited into a pick-fest.
8. In what aspect has this Cal team changed the most from last year's team that lost 30-9 to USC?
Kunnath: We look a lot more polished offensively. The Bears offense was a stuttering mess much of last year with Maynard being thrown into the fire and Anderson learning on the job. But the freshman wide receivers have stepped up big with nice plays in every game they've been in and the new O-linemen have been a bit more consistent.
Kodiak: It looks like we've taken a step forward offensively with better execution and a variety of playmakers. Defensively, we've taken a step back with the graduation of both starting ILBs and both safeties.
9. What is your prediction for what will happen on Saturday? And what do you think the final score will be?
Kunnath: USC probably wins a two-touchdown game. The Bears don't quite yet have a defense that can cause the havoc that Barkley felt last week, and their coverage game needs a lot of work. I like the offense, but I'm afraid that we miss too many opportunities because of our weak pass protection and we struggle with penalties.
Kodiak: Pre-tOSU, I would have worried about being blown out. I have no idea which team will show up. Let's go with 31-28, and one of the kickers redeems themselves with a walk-off.
Reach Associate Sports Editor Max Meyer here. Follow him here.