National
U.S. Car Sales Motor Ahead Despite Rising Gas Prices
The following is part of our series wading through the economic jargon, Crunching Numbers.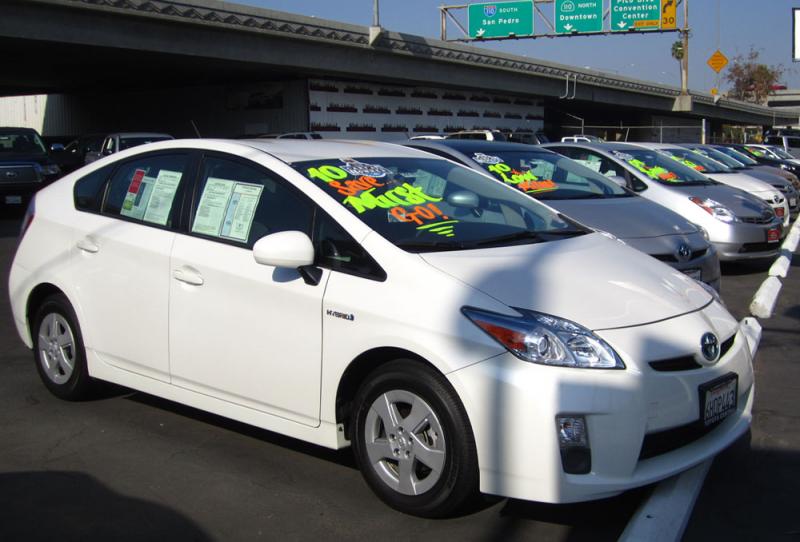 Soaring fuel costs convinced Carlos Dulguime to trade in his Toyota Tundra CrewMax for the more fuel-efficient Camry.
The senior sales manager at the Cerritos Auto Square's Power Toyota dealer said the switch saved him about "$400 or $500" in gas a year. Dulguime's desire to cut down on his gas bill might be part of what is driving an industry-wide boom in car sales.
August figures show that nationwide car sales grew 19.9 percent compared to the same time last year. The 1.28 million vehicles sold were the highest monthly sales figure for any August since 2007, according to Autodata Corp. Overall, the industry has sold 9.71 million vehicles for the year, or about 14.7 percent higher than the pace set in 2011.
There may be a number of factors contributing to the spike in sales. Many drivers deferred buying a new car during the depths of the recession and are now eager to trade in their aging clunkers. The average vehicle on the road is roughly 11 years old, meaning car companies have an expanding market of prospective car buyers hoping to replace their vehicles to capitalize on.
"Toyota has 0 percent financing and two-year maintenance," Dulguime said. "Their cars are getting old so the incentive is too hard to pass up this deal."
The boost in sales came even with the cost for a gallon of regular gas about 27 cents higher than a year ago, according to AAA's Fuel Gauge Report. Consumers appear to be opting for more fuel-efficient cars to fight rising gas prices. Power Toyota of Cerritos sold more than 200 new cars during the Labor Day weekend, with the Corolla, Camry and Prius driving most of the purchases, Dulguime said.
Toyota moved more than 21,000 of its popular Prius model in the U.S. in August to post a 122 percent growth in sales compared with year-ago numbers, according to Toyota's sales summary. The 164,000 units sold so far in 2012 is also a 96 percent jump over 2011 year-to-date figures.
"As gas prices go up, we've seen the marketplace respond," said Automobile Club of Southern California spokeswoman Marie Montgomery.
But while the auto industry as a whole seems to be motoring forward, the sale of large SUVs has been left behind. Only about 17,700 large SUVs were sold during August, a steep 30 percent decline from one year ago.
Although the Prius was one of Toyota's top sellers, the company saw its entire portfolio of brands make gain. Toyota sales are up 46 percent in August, but rival Honda did even better, with a sales increase of 59.5 percent. Meanwhile, Ford and General Motors benefitted from August sales increases of 13 and 10 percent, respectively.
In another sign that the American market is regaining strength, Ford announced plans to build 725,000 vehicles in North America during the fourth quarter, up 7 percent from a year ago, according to a company press release.
And if fuel prices continue to flirt with the $4 per gallon mark, then the same might also be said about car buyers and their relationship with going green.
"People are definitely interested in switching and economizing as much as they can as gas prices go up," Montgomery said. "You're probably going to see a greater interest in saving fuel."
Read more from Neon Tommy's Crunching Numbers series here.
Reach Senior Staff Reporter Danny Lee here; follow him on Twitter here.