Film and TV
"Survivor: Philippines" Episode 2 Recap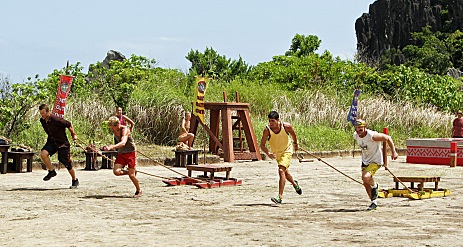 Last time on Survivor, we saw three returning players, a former TV child star, and a former baseball player get all the screen time. This week, we get more of that, plus wet girls in bikinis!
Now that I've gotten the attention of the 18-30 male demographic, let's begin with the recap.
We start things off with Swan thanking the rest of the Matsing tribe for not cutting his second chance short early by voting him out. As the tribe goes to sleep, temperatures drop and a storm is on the horizon. Malcolm and Angie, who made an alliance last week, are freezing and decide to huddle together to keep warm. Seminary student Roxy sees them together and immediately smells showmance. She declares in a confessional that one of them needs to go before they become a threat.
But while Roxy is going on and on about Malcolm and Angie, she doesn't realize that she is making herself a target with her behavior. In between rants to Swan and Denise about who they should boot next, she does no camp work and goes into a breakdown during the storm. She later sits on the shore and starts praying for more sunlight, even going into some chant in a different language. Her prayers in strange tongues put off the rest of the tribe, especially Denise, who says she is sick of people injecting Yahweh into Survivor and declares she will get her strength from herself.
And let me tell you something, after watching Coach and Brandon turn Survivor into their own personal televangelist superchurch last year, it is so good to see someone like Denise on the show. If she keeps on being a no-nonsense player, I will be pulling for her to the end.
At Tandang, the storm is taking its toll, but that's okay because here come those bikinis I promised you! Specifically, it's a leopard print bikini worn by RC, who finds the clue to the hidden immunity idol inside the rice bag while checking to make sure the rice hasn't gone bad. She takes the clue and shares it with her alliance partner Abi as a sign of trust. But RC is about to learn just how paranoid her new BFF can be. While she is telling Skupin to stop accidentally chopping up his hands with the machete, Abi comes over and asks what they are talking about. RC tells the truth, but Abi thinks that she is keeping secrets from her. In a fit of paranoia, she tells RC to not keep secrets from her and that she's dead if she attempts a blindside. RC looks worried, and she should be. She might want to reconsider her partnership with Abi, because paranoid alliance partners can come back to bite you if you don't sever ties with them fast enough.
Meanwhile, TV star Lisa has run out of the cheerful exuberance we saw in the first episode. Her introverted demeanor has led her to become the outcast of the group. RC continues to spread rumors about Lisa, saying that she's shifty and is probably searching for the idol. Instead, she's by the water well crying and praying for strength, and in tasteful fashion, the hashtag #survivorbreakdown appears next to a shot of a tearful Lisa. Wow, way to keep it classy, "Survivor". And why is RC singling out Lisa as the quiet one when there's Artis, the silent black guy who is the only Tandang member we haven't heard in a confessional yet? The imbalance of screen time between the cast is frustrating. There's a good one-third of the cast that we have yet to properly get to know.
Over at Kalabaw, we get the obligatory confessional from Jeff Kent in which he compares "Survivor" to baseball. Whatever. What's more important is that the storm is keeping the entire tribe in the shelter, which annoys Penner because he believes the immunity idol is hidden somewhere around camp, but can't search for it because there are too many witnesses. Eventually, he suggests that the group move to a nearby cave, and stays behind to "search for his glasses." He looks everywhere around camp and can't find anything, but once the storm passes, he has an epiphany. He remembers that the pot holding the rice bag has a red wooden talisman on the lid with a water buffalo on it, Kalabaw's tribe emblem. Penner pries off the talisman, and sure enough, it is the hidden immunity idol. So the idol is on the rice pot, but will Swan, RC, or Abi be able to follow their clues to find it?
Also, raise your hand if you can name any member of Kalabaw other than Kent or Penner. Yeah, neither can I. Again: screen time imbalance. It happens when you put celebrities and returning players on a one-hour reality show.
Well, it's time for the Immunity Challenge. In this game, members of the tribe will take turns in pairs hauling a heavy sled down a dirt field and picking up puzzle pieces at three different stations. They can only go to one station per relay. Once they get all the pieces, two tribe members must use them to solve three large puzzles, with a third member looking on from above to help them. First two tribes to finish the puzzles win immunity and a tarp for their shelter. In addition, the first place tribe will get some pillows and blankets.
Early on, Swan and Angie struggle with the sled while Kent builds a lead for Kalabaw. Malcolm gets Matsing caught up when he quickly completes the first puzzle, but Tandang pulls away as Lisa does a great job guiding her tribe on where to put the puzzle pieces and leads her tribe to a first place finish. Kalabaw and Matsing fight to the end, but Penner figures out where the final pieces are supposed to go just before Swan can figure it out, and Kalabaw sends Matsing to another Tribal Council.
Swan is, to put it not-so-mildly, P I S S E D off. He throws a puzzle piece and rants to Probst about how some members of the tribe are not showing the fight it takes to stay in the game. His rant continues back at camp, as he complains about Angie and Roxy not pulling their weight in the challenge. Angie struggled with the sled and Roxy admitted that she hadn't had enough water before the challenge. Of course, there's also the fact that Swan also struggled with the sled and loaded the pieces onto the sled in an incredibly sloppy fashion, but hey, that's not-leader-Swan for ya, never taking responsibility for his own mistakes.
Nevertheless, the vote is coming down to Roxy and Angie.. Roxy complains that Angie is a worthless pageant girl that will only bring everybody down while she remains safe thanks to her alliance with Malcolm. Swan notes that while Roxy is a weak link, she has provided him some great information and is probably his only ally. Malcolm and Angie, meanwhile, are irritated with Roxy's rumor-mongering and decide to target her next. So now it comes down to Denise, the safest person on the tribe and the likely swing vote. She notes that she made an alliance with Malcolm earlier and that voting for Angie would ruin that alliance, but also wonders if Malcolm will choose to protect Angie instead of her if things get tight later on.
At Tribal Council, Roxy and Angie lay their cards out on the table. Roxy says that it would be an absolute mistake for Swan and Denise to vote her out instead of Angie. As for Angie, well, she doesn't break a sweat! When Probst asks her what the tribe needs the most right now, what does she say?
Cookies. For the love of Richard Hatch, she said cookies.
Probst, the biggest subscriber to the "Sur-Vy-Ver iz serius business" mentality, tries to get her to second guess her ballsy statement by reminding her that THIS IS A MILLION DOLLAR GAME OUT IN THE WILDERNESS AND YOU NEED TO BE INCREDIBLY CUT-THROAT BECAUSE THIS IS PRIMETIME TELEVISION AND STUFF, but Angie just shrugs, and to double the shock for Probst, Malcolm sticks by her on this, saying that the tribe needs food! Swan, of course, saves Probst's sanity by saying that Angie isn't taking this seriously enough and that she needs to go all out in the challenges.
Except Angie doesn't need to go all out in challenges right now. Despite being a target going into this vote, she is in a secure spot. She is protected by Malcolm, who has made a deal with Denise and has her vote. She's safe, she's hot, and she's sitting in a tribe with a hotheaded former player and a paranoid rumor engine that are bigger targets than her. Angie is proving to be level-headed while the rest of Matsing collapses, and she's more than happy to sit back and let Swan and Roxy dig their own graves while they moan about her supposed apathy.
And that's exactly what happens. Malcolm and Angie shoot down the rumors of romance, saying they were just huddling together because they were two cold, gorgeous people that needed refuge from the cold. The tribe spoke, and Roxy was voted out 4-1. Yes, even Swan voted for Roxy! Why he did this I am not sure, nor am I sure if he realized that with this vote he will likely be the next one to go if Matsing loses again and he doesn't find that hidden idol on the rice pot in time. However, with one tribe down to four, there's the chance that the Matsing tribe will be split up and assimilated into the other two tribes, so we'll see what happens.
On the next episode, Skupin continues to destroy his own body with his clumsiness, Swan decides to follow Roxy's example and get angsty about whether or not being in this game is God's will, Lisa attempts to claw her way back into Tandang's social circle, and Kalabaw does nothing of interest as usual.
Reach Staff Reporter Jeremy here. Follow him on Twitter here.