Politics
Schwarzenegger: 'Meaningful Change Takes Balls'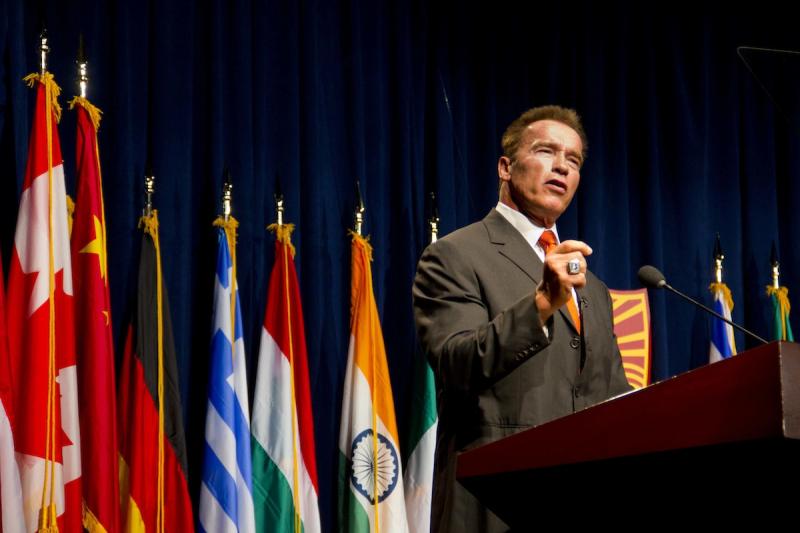 Movie star-turned-politician
Arnold Schwarzenegger
had some of the biggest names from Hollywood and D.C. on hand to launch the new
USC Schwarzenegger Institute for State and Global Policy
on Monday.
The former California governor kicked off the first symposium for USC's new think tank with a panel discussion featuring power players from Washington. About 750 people attended the Tutor Campus Center Ballroom event, while a couple hundred had to be turned away due to limited seating. A separate panel featuring Hollywood household names like director James Cameron was conducted during the afternoon.
"USC never fails to bring the best minds together. I'm proud to have you as my partner," Schwarzenegger said during his opening remarks.
The morning panel was highlighted by political heavyweights such as Sen. John McCain, R-Ariz., former Florida Gov. Charlie Crist, former U.S. Senate Majority Leader Tom Daschle, former New Mexico Gov. Bill Richardson and former Pennsylvania Gov. Tom Ridge. ABC News' Cokie Roberts moderated the discussion.
The Monday launch came exactly one week before the scheduled release of Schwarzenegger's memoir titled, "Total Recall: My Unbelievably True Life Story." In the book, the former bodybuilder reveals details about the affair with a housekeeper that derailed his marriage to Maria Shriver.
Schwarzenegger spoke little about his divorce except to emphasize a point that he "never looked at the Democrats as villains."
"Remember, I was married to a Democrat for 25 years," he said, attempting to illustrate the institute's objective of "promoting a new era of post-partisanship" in a political landscape plagued by division on the basis of party and ideology.
During the panel discussion, McCain called out both parties for the saturation of negative television ads, in what he called "the most bitter campaign that I've ever observed."
"The Obama campaign spent hundreds of millions of dollars while the Republican campaign was going on, vilifying Mitt Romney and now his unfavorable [ratings] are up," the Arizona senator said. "That may have contributed a lot to this polarization that's going on."
The 2008 GOP presidential candidate also made a bold prediction on what it would take to reign in the impact that campaign money has had on creating a partisan climate.
"There will be major scandals because there's too many billions of dollars washing around our political campaigns, and then I hope we will reform after that," he said, drawing loud applause from the crowd.
Ridge suggested that the news media plays a significant role in fueling the partisan atmosphere across America. The first Secretary of Homeland Security said many viewers tune into their favorite news networks only to see their own opinions reinforced.
"Back then you've got Walter Cronkite. Today you have people on Fox News and MSNBC that are not as much referees as participants in the political process," Ridge said.
Richardson said voters could make a statement come November "that's going to scare a lot of incumbents."
"Just as I want to see more moderates in our party, I hope that they emerge and that the message be 'this extremism is not going to work,'" Richardson said, referring to the far right's influence on the GOP.
Lawmakers worrying about hanging onto their jobs is what keeps them from taking political risks by crossing the party line, Schwarzenegger said.
"If you don't have political courage, you have nothing," he said. "Meaningful change takes balls."
He even drew a comparison to soldiers fighting in a war to make his point.
"Every time one of our brave men and women go to Iraq or Afghanistan, they risk their lives," he said. "If they can risk their lives for our country, why wouldn't the politicians be willing to risk their office to make the right decisions?
The Schwarzenegger Institute is part of USC's Price School of Public Policy. It will be funded by a $20 million pledge from the former governor, with some of the money coming from his own personal donation and the rest from fundraising.
Schwarzenegger will chair the institute's Board of Advisers and hold the Downey Professor of State and Global Policy chair, named for John G. Downey, the only other immigrant to be governor of California.
See more Neon Tommy coverage of Arnold Schwarzenegger here.
Reach Senior Staff Reporter Danny Lee here; follow him on Twitter here.