USC Sports
Running Game, Defensive Pressure Give Trojans 14-3 Halftime Lead Over Orange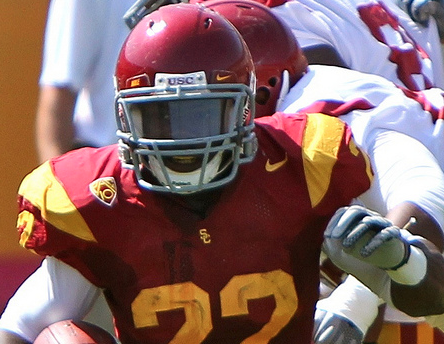 Despite a slow offensive start, the USC Trojans lead the Syracuse Orange, 14-3, behind a strong two-headed rushing attack, intense defensive pressure and a few quality touchdown throws from Matt Barkley.
After winning the coin toss, the "home" Orange elected to kick the ball to the Trojans. And "home" is in quotes, because the game is being played at a neutral site, MetLife Stadium.
On Barkley's 22nd birthday, the Trojans started off a little slow. Coach Kiffin made the risky move to go for it on 4th and short from the Trojans' own 42-yard-line. The gamble would not pay off, as fullback Soma Vainuku was stopped short of the first down, forcing a turnover on downs. Fortunately for SC, the Trojans D was able to return possession to its offense quickly when USC brought intense pressure on Syracuse quarterback Ryan Nassib. Feeling the heat, Nassib threw an ill-advised pass that was intercepted by linebacker Dion Bailey.
With reliable-kicking Andre Heidari sidelined due to injury, the Trojans had another decision to make on 4th and 12, 26 yards from the end zone. After calling a timeout, Kiffin's confident bunch went for it, but failed to convert. Intended receiver Robert Woods and Kiffin wanted a pass interference call, but the closest referee held his whistle.
The Trojan offensive line struggled early to protect the birthday boy, as the Trojans could only manage a total of 70 yards through their first three posessions. But early in the second quarter, the offense began to assert itself. Tailback Curtis McNeal, who didn't get many opportunities in last week's opener, spearheaded a successful drive that was capped off by a Barkley-Lee touchdown connection on a perfectly placed slant pass. Later in the quarter, Barkley found his other favorite receiver, Robert Woods, for a 29-yard touchdown strike.
To its credit, the Trojan defense has limited Nassib to 82 passing yards through the first half. The senior quarterback, who passed for a whopping 482 yards and four touchdowns against Northwestern last week, has been pressured often by the Trojans. Although he's been plagued by a number of drops from his receivers, Nassib has looked "jittery" in the pocket at times, and that's a testament to the intense pressure that SC has been bringing.
With the half winding down, cornerback Brian Baucham made a touchdown-saving play by knocking down Nassib's pass that would have otherwise surely resulted in a TD. The play ultimately forced the Orange to kick the 37-yard field goal, heading into the break. Through one half, McNeal and Silas Redd have combined for more than 100 yards on the ground, for an average of nearly six yards per carry. All the while, the Trojans defense has held the Orange to 128 total yards.
Reach Senior Sports Editor Aaron Fischman here or follow him on Twitter.